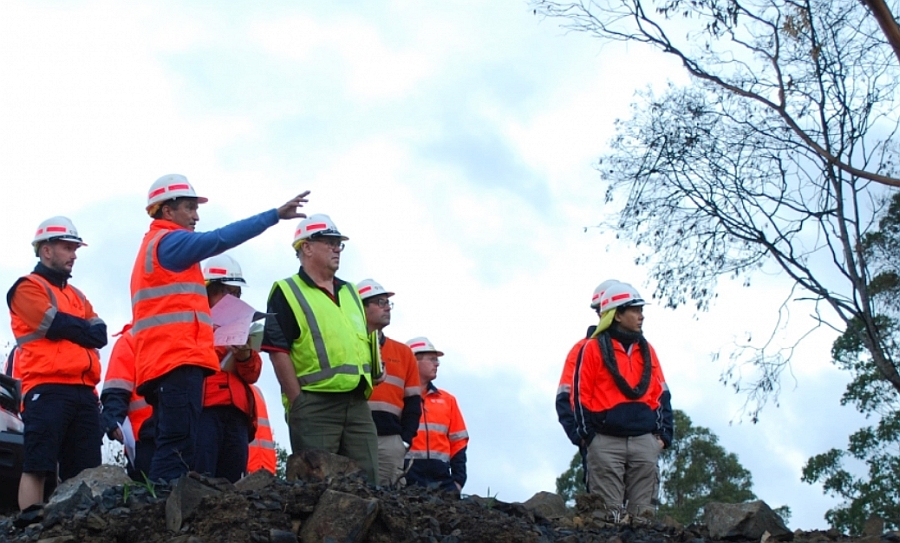 In 2019, Sustainable Timber Tasmania (STT) submitted to an audit against the new Forest Stewardship Council (FSC) National Forest Stewardship Standard of Australia. This followed their failure to achieve certification in the 2014 audit.
They have now released the full report as prepared by SCS Global Services. The 2019 Audit Report is available here.
It was recommended that STT not be awarded FSC certification as a 'Well-Managed Forest'.
The audit concluded that SST has not demonstrated that their system of management is capable of ensuring all of the requirements of the applicable standards are met over the forest area covered by the scope of the evaluation. A total of 10 Major Corrective Action Requests (CARs), 5 Minor CARs and 5 Observations were issued as a result of this full evaluation audit against FSC-STD-AUS-V1-2018.
The report found that STT complies with some of the required criteria of the FSC standard, with further refinement required regarding three important issues: the management of swift parrots; greater retention of habitat trees in harvest areas; and better understanding the impact of fire and other disturbances on old growth.
STT say that they are taking action to address the issues. A summary of the issues and STT's actions in response is available in the Summary of key issues raised by the auditor document, reproduced below. This summary was prepared by STT and is not necessarily an accurate reflection of the SCS report.
"Sustainable Timber Tasmania is committed to FSC certification as part of our adaptable landscape approach to forest management. Following monitoring of the effectiveness of the changes implemented in response, the auditors will be invited to return to verify the new approaches.
Sustainable Timber Tasmania supports third party certification, both FSC and PEFC (Responsible Wood), as a means of providing confidence to consumers that the forest from which their products are sourced are managed responsibly." – STT statement.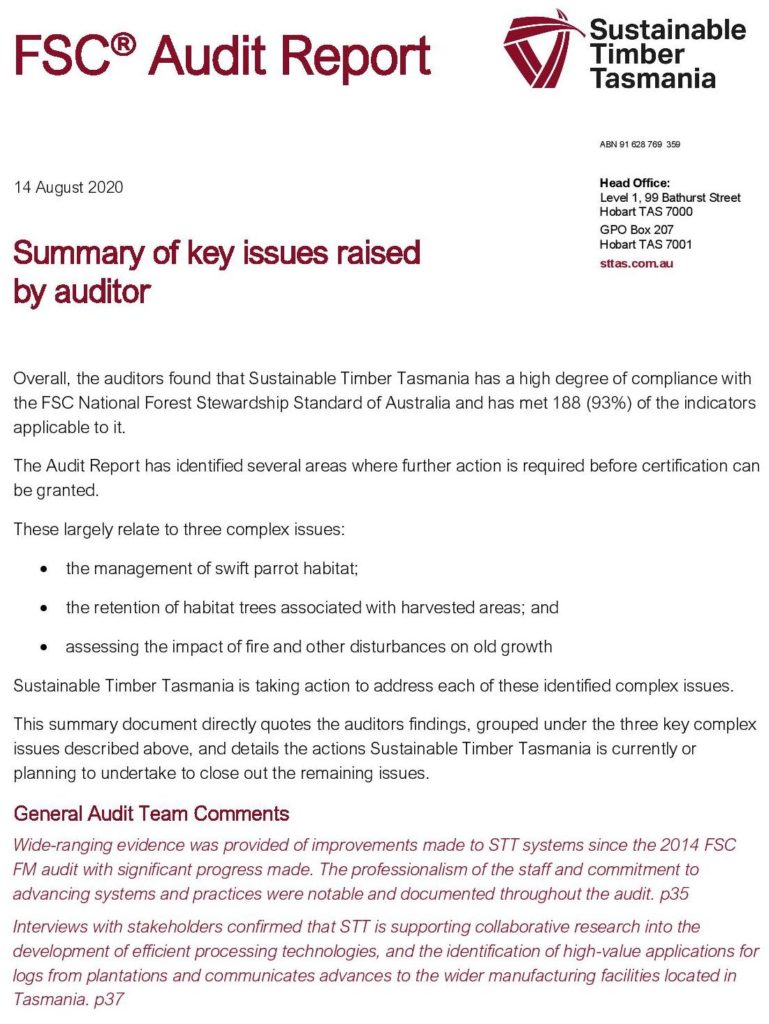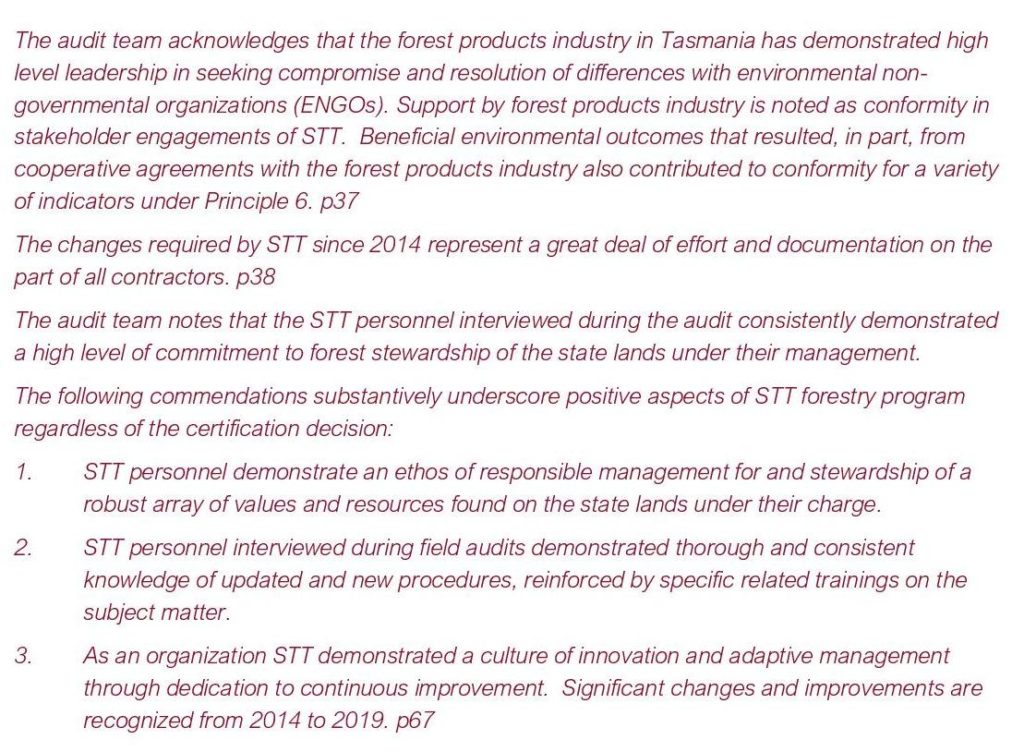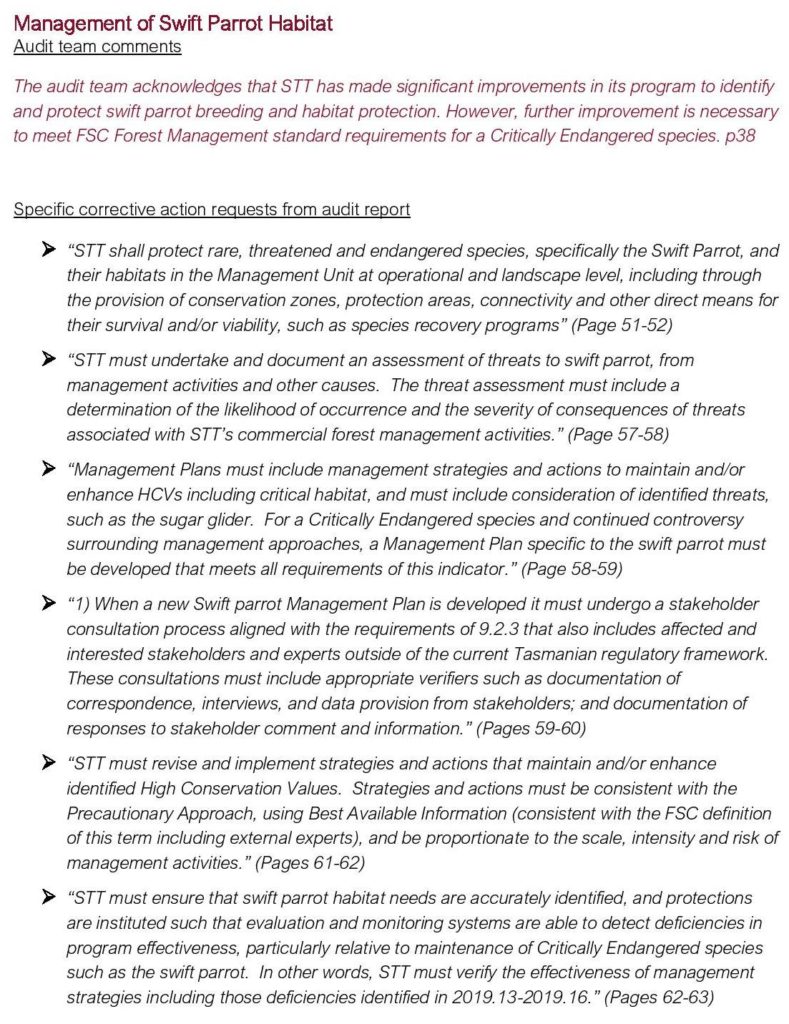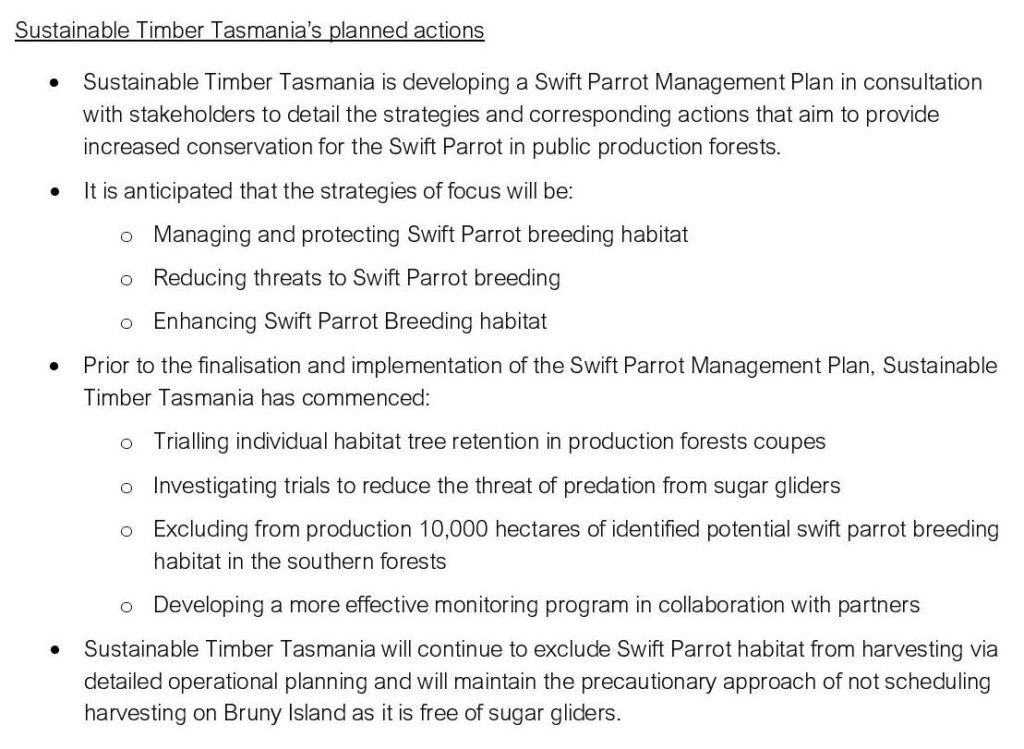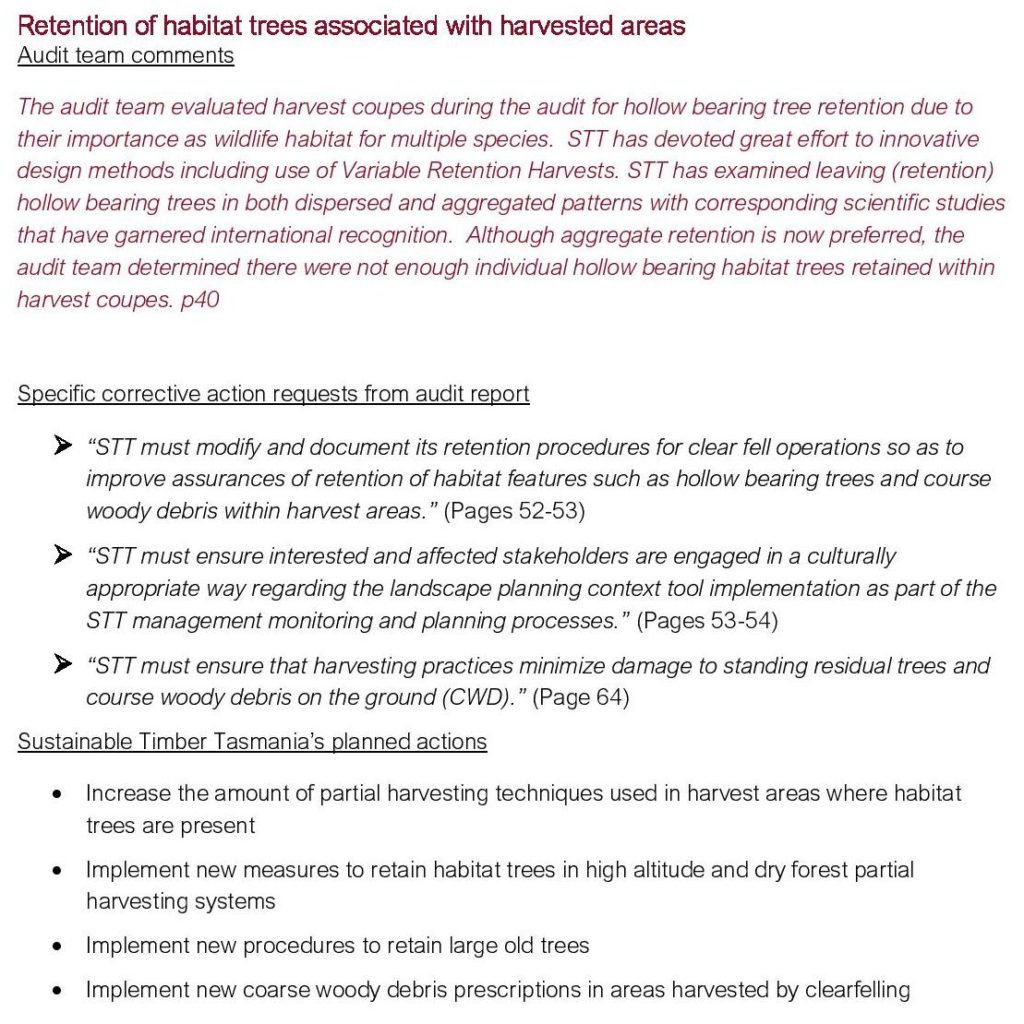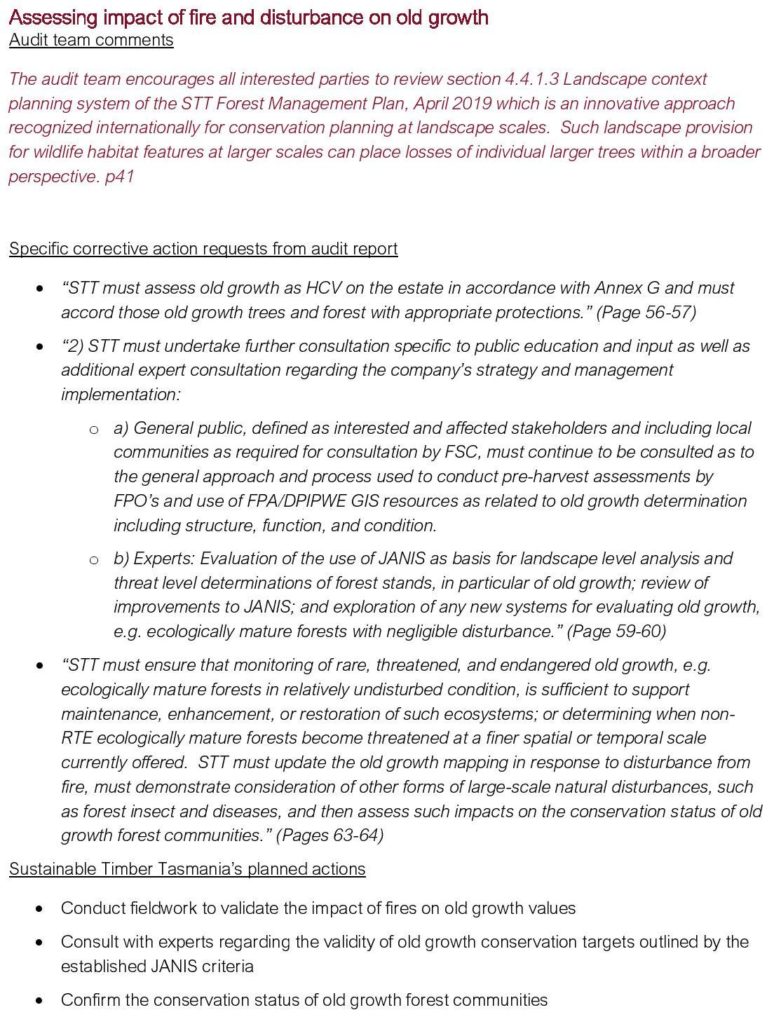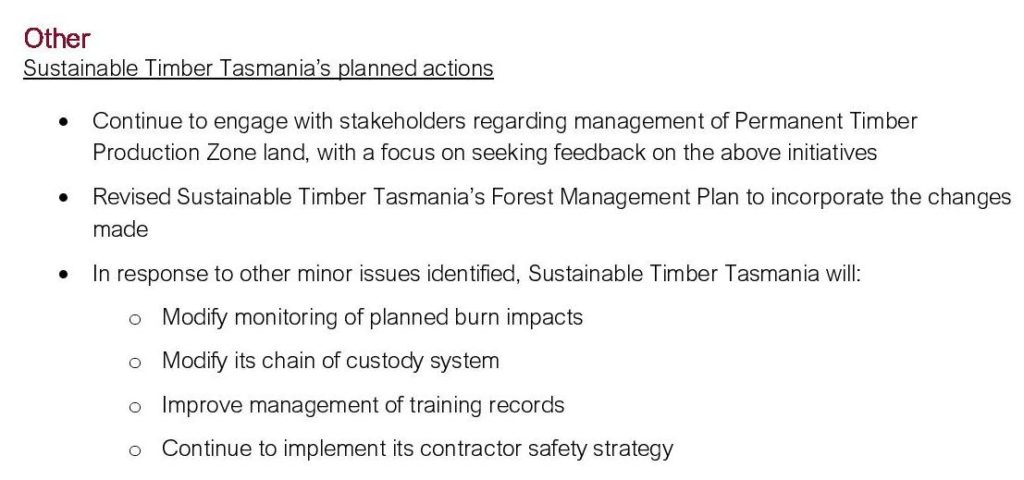 ---
MEDIA RELEASES: Swift Parrot Public Authority Management Agreement.
Source: Tasmanian Times https://tasmaniantimes.com/2020/08/stt-releases-2019-fsc-audit/#utm_source=rss&utm_medium=rss&utm_campaign=stt-releases-2019-fsc-audit