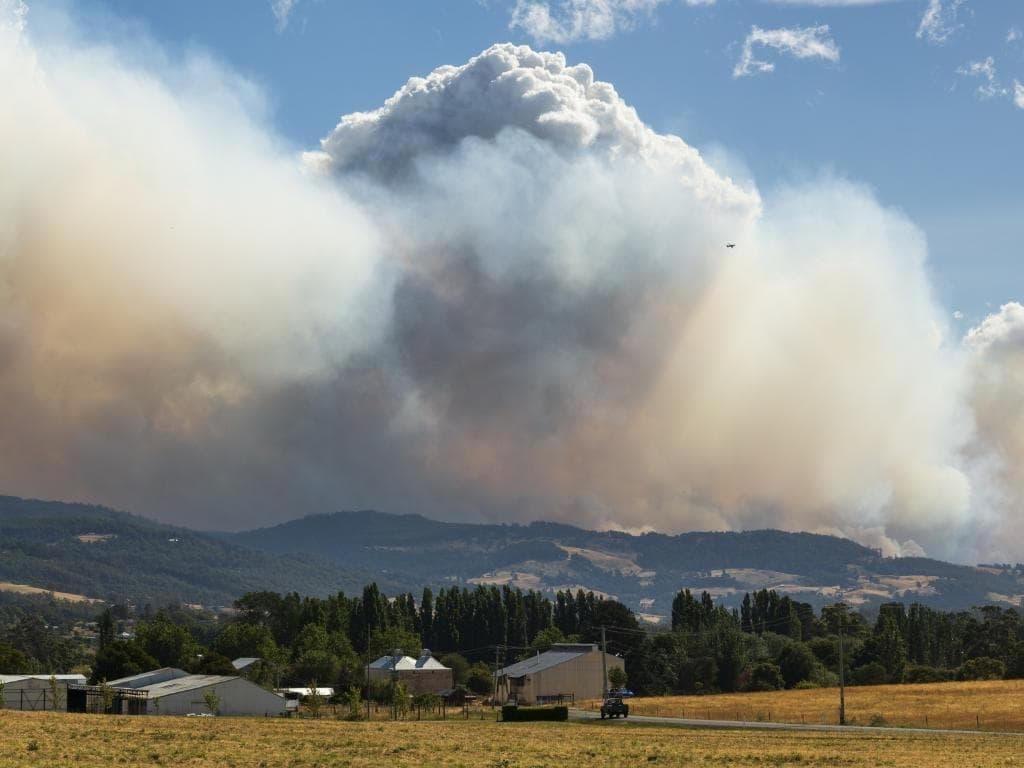 You don't have to be a rocket scientist to know that what goes up must come down. It's an inescapable fact of life.
That said, there's no doubting last summer's prolonged bushfire activity on the margins of Tasmania's Huon Valley and D'Entrecasteaux Channel brought wine producers back to earth with a bump after the sequence of high quality vintages they had experienced there in recent years.
"As a winemaker with more than 25 years' experience, I'd previously encountered bushfires and issues associated with smoke taint in other parts of Australia," explains Glazier's Bay vigneron and 'Pinot-phile,' Jim Chatto.
"This was the first time I'd ever had to address those same issues with a crop of grapes in my own vineyard. I reckon we had about eight tonnes of Pinot Noir awaiting harvest. Some of it was the best fruit we'd ever produced on our tiny little vineyard here in the Huon Valley. It should have been a great vintage."
Taint
"Instead, we lost the whole lot to smoke taint. The irony is that the bunches on the vines looked really beautiful. They looked perfectly healthy. But when we carried out a small trial pick and had it analysed by the Australian Wine Research Institute in South Australia – and by research scientists at Melbourne's La Trobe University – their figures showed us that our fruit had had very significant exposure to bushfire smoke. It looked highly likely we would have to leave it all out in the vineyard rather than pick it and make poor quality, smoke-tainted wine.
"Our worst fears were confirmed when I then tested some grapes myself in several small micro-ferments I conducted at the winery. The wines they produced were horrific. They smelled like really smoky lapsang souchong tea. They were totally undrinkable."
Now looking out over successive rows of Pinot Noir carrying bunches for 2020's harvest period in another two or three months' time, the one-time Hunter Valley resident is once again upbeat about the Chatto Wines project he shares with his wife Daisy.
That's hardly surprising. In late September, Chatto was named 2019 Gourmet Traveller WINE Winemaker of the Year by the Sydney-based national wine publication. The award recipient is decided by a vastly experienced judging panel that includes a bevy of industry luminaries: Peter Forrestal, Peter Bourne, Nick Bulleid MW*, Huon Hooke, Andrew Caillard MW, Mike Bennie and Toni Paterson MW.
Included among the panel's shortlist of eight finalists were fellow Huon Valley winemakers Gilli and Paul Lipscombe. In addition to making their Sailor Seeks Horse wines, Gilli Lipscombe has been the quiet achiever responsible for Home Hill's extraordinary successes on the national wine show circuit for much of the past decade.
Indeed, southern Tasmania scored something of a double win in 2019, with the Gourmet Traveller WINE award for Young Winemaker of the Year going to D'Entrecasteaux Channel vigneron Jonny Hughes. Hughes, along with his brother Matthew, are responsible for growing, making and marketing Mewstone and Hughes & Hughes wines.
Survival
"Our initial reaction to the total loss of our crop was to start wondering what we would do to survive," Chatto muses.
"Fortunately, we've got some great friends in the industry, including friends in the north of the State who were either able to sell us a small parcel of their grapes or were able to provide us with some network connections that led to us purchasing grapes from other vineyards. We were really very fortunate. It mightn't be quite the same as making wine from your own grapes but we've still managed to make wine in 2019, and it's kept us in business."
"In fact, if there's an upside to the story it's that we've been able to diversify our business. And reduce our risk exposure by purchasing fruit from other good growers."
Indeed, in an odd twist that really does sound like the stuff of fiction, in August and September last year Chatto joined former Melbourne hairdresser Jane Eyre – yes, her real name – to experience his first vintage in Burgundy, France.
Even better, genial Jim managed to talk his way into a grape-buying arrangement that will allow him create an entirely new Pinot Noir for his Chatto Wines portfolio – one sourced entirely from a specially selected plot in a Savigny-les-Beaune premier cru vineyard.
Truly a remarkable outcome, you'd have to say. Taint bad at all.
*MW = Master of Wine. The MW program is based in the UK and since its inception there's only about 300 people that have succesfully completed it. Along with 'The Knowledge' in London, it's reputed to be among the most difficult courses you can study.
---
Hobart's Mark Smith wrote his first weekly wine column back in 1994. Now more than 1600 features and 25 years later, he continues to chart the successes of Tasmania's small scale, cool climate wine industry with regular contributions to some of Australia's leading industry publications.
---
PICK OF THE CROP

NV Jansz Tasmania Premium Rosé $30
North-east Tasmania has a virtual monopoly on premium fizz production in Australia. That's not only due to the district's cool climate, it's the high levels of humidity that characterise its vineyards and result in superb Pinot Noir, essential for refined and elegant sparkling Rosé. The Jansz recipe adds spicy savoury notes to those gentle berry flavours, creating an excellent food wine with real pizzazz. www.jansz.com.au

2018 Freycinet Vineyard Riesling $28
Freycinet Vineyard on Tasmania's East Coast has been a stomping ground for top-notch Riesling since the property's earliest vintages. New releases like this are invariably fresh, vibrant and citrussy, and simply delightful with regional scale fish and oysters. Over time, the wines develop a subtle toastiness, adding interest and enjoyment. The 2008 is a joy right now and the 2018 should follow in its wake. www.freycinetvineyard.com.au

2015 Dawson & James Chardonnay $58
Wow, wow, wow… This is an extraordinary wine, now approaching its fifth birthday yet still incredibly lithe and vibrant. For me, it's perfect for drinking now – elegant, intense, somehow combining power with finesse. Citrus, grapefruit and roasted hazelnut characters are transported on a stream of fine acidity. If this was from a top Margaret River producer, the price tag would have three-digits. Brilliant. www.dawsonjames.com.au

2018 Pooley Pinot Noir $46
With recent plantings now yielding commercial wine grape harvests, Pooley Wines at Richmond has an abundance of Pinot Noir riches. This is one of five fastidiously grown and made wines the family produced in 2018. It exhibits the deep, rich colour and flavour that typifies the vintage here, and offers more current drinking enjoyment than many of its cellar-worthy stablemates. Good stuff. www.pooleywines.com.au
The post Pressings: Chatto Wines, a Year of Ups and Downs appeared first on Tasmanian Times.
Source: Tasmanian Times https://tasmaniantimes.com/2020/01/pressings-chatto-wines-a-year-of-ups-and-downs/#utm_source=rss&utm_medium=rss&utm_campaign=pressings-chatto-wines-a-year-of-ups-and-downs