Who Is Ms. Rachel? Meet The Social Media Star Moms Call Their "Co-Parent"
Published: in Moms News by 1news.info.
Every generation has a savior show that helps moms and teaches kids. Is YouTube's Ms. Rachel the next big thing in parenting little ones online?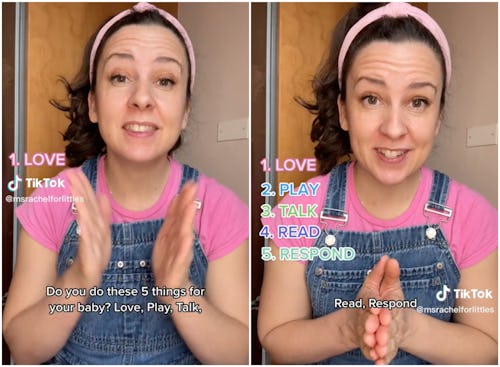 Every generation has seen its run of popular kids' shows. There was Lamb Chops and Barney, Sesame Street and Mister Rogers. Kids today are obsessed with Blues Clues and Bluey. Unlike in the past, though, kids' shows have also made their way onto the internet and social media. During the pandemic, your kiddo's best friends most likely became Blippi and his best friend, Meekah. While the Blipster is still wildly popular, there's yet another well-loved kids' show superstar making waves with the "under-four crowd." Ms. Rachel's Songs For Littles offers simple, educational songs, and conversational tones have seeped into your kid's preferred viewing and have even become earworms for many parents.
This collective fascination with Ms. Rachel from kids and adults is understandable. She writes her songs herself and records them with the help of her husband and a small team of musicians. With her two puppet friends, Georgie and Herbie (operated by her husband), Ms. Rachel teaches younger children everything from colors and shapes to opposites. Kids respond so quickly and enthusiastically to her voice and cadence that, before you know it, you find yourself echoing her when instructing your child.
One mom recently took to TikTok to share that using a bubbly, informative tone like the YouTube star's helped refocus her youngest child during a stressful parenting moment.
"I would like to thank our Lord and Savior, Ms. Rachel, my third co-parent, for having a YouTube show," starts TikTok mom OllieRose. "I was about to have a mental breakdown today, but I Ms. Rachel'd my way out of that mental breakdown."
She explains that her 17-month-old loves to help empty the clean dishes out of the dishwasher, but she doesn't want him handling the dirty ones. Of course, he doesn't understand this, so she has to redirect and move him constantly. In this particular moment, she remembered Ms. Rachel. "I could feel myself getting so frustrated. I really wanted to yell. But instead of yelling, I went, 'Oh, no! Those dishes are dirty! Those dishes are dirty. Can you keep your hands to yourself, to yourself? And it worked."
That wasn't the only time it worked for the mom, either. Moral of the story for OllieRose? "From now on, instead of ever getting frustrated, I'm gonna talk like Ms. Rachel."
But, who is Ms. Rachel, and why is she so amazing at her job?
Ms. Rachel is the brainchild of Rachel Griffin Accurso, a former New York City preschool teacher with a Master's degree in Music Education from New York University. More importantly: She is the mother of a child who had a speech delay as a toddler. In a recent interview with Today, she said she spent her child's younger years looking for something useful and relatable for the two of them, as they struggled to communicate for roughly the first two years of his life.
"I needed experts to help me," she told Today. "I thought, 'Wouldn't it be great if there was a show that really encouraged language development and worked on these important milestones and was slow-paced and a real person and very interactive?'" When she couldn't find it, she decided to make it. Backed by real data and a team of expert helpers, Accurso created Ms. Rachel.
One of the best examples of Ms. Rachel's efforts to help children learn to speak? She almost always repeats her observations, gives close-ups of her mouth, and gives ample time for your child to respond. Thanks to her helpful and addictive show, Ms. Rachel has amassed two million subscribers and over a billion views. For many moms, it's just another cute little kids' ditty to get stuck in your head. For many fans of Ms. Rachel's Songs for Littles, it's a vital part of their education and growth.
And, yes, sometimes she's great at helping parents get chores done, both because she's an easy distraction and because she teaches us how best to communicate with those littles.
Source: Scary Mommy https://www.scarymommy.com/entertainment/ms-rachel-songs-show-youtube-tiktok