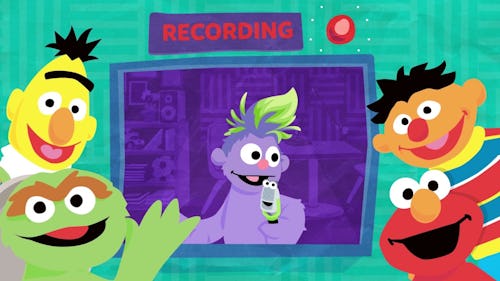 Boy, oh, boy, do kids experience some awfully big feelings — many of which aren't the most pleasant and seemingly come out of nowhere. Luckily for us, so many wonderful resources are available for our littles today. While Sesame Street certainly isn't new (the beloved series has been helping parents navigate kids' big feelings for decades), The Sesame Street Podcast With Foley and Friends is relatively fresh on the scene. And you'll see in the exclusive clip below, Season 3 should be a tool in your toolbox when teaching kids to recognize and manage their feelings, even when they're angry.
In "Get Out Your Grouchies" from the upcoming Season 3, Foley has a case of "the grouchies." Of course, there's only one person to talk to when you feel like a grouch: Oscar! Before she talks to our favorite green grouch, Mikee helps Foley find a song that reminds her that feelings don't last forever. The song, led by Elmo, reminds Foley (and everyone else) that "feelings come and feelings go." They even help Foley, Elmo, and listeners come up with ways to shake "the grouchies" and get into a better mood. From looking at clouds to making up silly dances to getting hugs from many, many, many friends, there are so many ways to make yourself feel better.
Take a listen to the song and try not to get it stuck in your head.
"Get Out Your Grouchies"
The takeaway from Mikee? "See, Fols. You won't be feeling grouchy forever."
The song does double duty, too. It takes a moment to share how sometimes we feel differently about the same thing. That lesson is perfect for kiddos who might be having a hard time understanding why their friends think dinos are scary, even though they think they're cool. Or why one sibling loves broccoli and another hates it.
Discussion Ideas
After you listen to "Get Out Your Grouchies," take time to talk about some of the things you've learned together:
Make a list of things that make us grouchy.
Talk about things your kiddo loves, but their friends don't.
Discuss what to do when something makes you sad but makes someone else happy.
Come up with ways to "get out your grouchies" and make a list to refer back to on bad days.
Practice making the faces of different emotions. (This feels silly for kids, but it also helps them better recognize the emotions of people around them.)
About The Sesame Street Podcast With Foley and Friends
Foley and Friends is Sesame Street's outstanding foray into the podcast world. If you're unfamiliar with it, Foley is a "sound-maker monster" who runs a podcast with her friend, Mikee. Even cooler, they record their podcast right on Sesame Street. You know what that means! On any given episode of Foley and Friends, kiddos can expect visits from other favorite Sesame Street friends and neighbors. Everyone from Abby Cadabby to Grover and even, on this episode, Oscar the Grouch stops by to chat (and sometimes sing) with Foley and Mikee.
Podcasts geared toward kids are still few and far between, but that hasn't stopped Foley and Friends from focusing on fun, engaging, and enriching content.
Source: Scary Mommy https://www.scarymommy.com/entertainment/sesame-street-podcast-foley-friends-season-3-grouchies-song-clip