This Boy Spotting His Family In The Crowd Is Proof That Showing Up Matters
Published: in Moms News by 1news.info.
A viral TikTok video shows just how important it is for parents to show up for their kids after a teary-eyed boy turns elated after spotting family.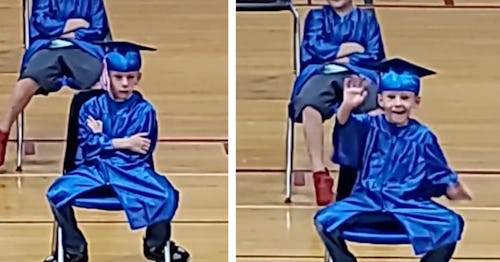 When it comes to raising a happy, healthy human, you could look on TikTok, Instagram, or any and every parenting book to give you the varied amount of "dos and don'ts." There is so much conflicting advice for how to be the best parent you can be, but I think there is one universal truth that everyone can agree on — the importance of showing up for your kid.
Simply showing up to your kids' school play, sporting event, or any other activity can help boost their confidence and build trust. A video posted to TikTok by Mindy Hyer (aka @mindy_hyer) shows just how true this is.
The video begins at a her boyfriend's son's kindergarten graduation ceremony. He walks to his designated seat in his blue cap and gown. He appears to be wiping tears from his face as he looks devastated, slumped down in his seat.
Hyer wrote on the video, "This is why you show up for your kids. Literally wipes his tears thinking nobody was there for him."
However, as soon as the kindergartener sees his family in the audience, his face lights up, and he waves at them with enthusiasm.
The viral video garnered over 16.5 million views and 2.8 million likes on TikTok. 12,000 TikTok users also commented on the heartwarming post, noting that seeing this little boy go from such sadness to elation all because of his parent's presence is something really powerful.
One user noted that as someone who has absent parents, she knows that this little boy just made a core memory. "As someone who has absent parents, he's going to remember this forever ... you go mama."
Hyer responded, clarifying that she was not the boy's mother. He does not have one in his life. Hyer then noted that she dated the boy's son and decided to remain in his life. "Thank you. This young man doesn't have a mom. I dated his father briefly and stayed in his life."
Others chimed in with their own heartbreaking stories of their parents not showing up for their special events and how now, as adults, they still remember. "My family didn't show up for my high school graduation," another TikTok user commented. "I will never forget how horrible I felt that day. Always be there for your kids."
Several moms entered the chat and shared stories of regret for not being able to be there for their children's special moments. "I missed my son's first kinder performance because I had to work and he was so sad when he came home. It haunts till this day and it's been 8 years."
The video also went viral on Reddit where users shared their experiences with the grief of not seeing family at their events, noting that they would break that chain of generational trauma and do things differently for their own kids.
"Any parent who struggles with making the time for these types of things; try your best to go. I got to live one of these types of moments, and have never missed another school event since. F**k the job, boss, and stress. A few times per year I am leaving early to watch my kid at school, and if that's not okay; fire me," a Reddit user.
Another wrote, "It really does matter. My parents decided to watch TV instead of going with me to my high school graduation after I busted my ass to get great grades. It felt like I didn't matter and no one had my back. Now that I'm a mom, I make sure I'm there for absolutely everything for my son. Every event no matter how small it may seem. It matters in such a huge way."
Source: Scary Mommy https://www.scarymommy.com/parenting/boy-reacts-to-spotting-family-in-the-crowd-viral-video