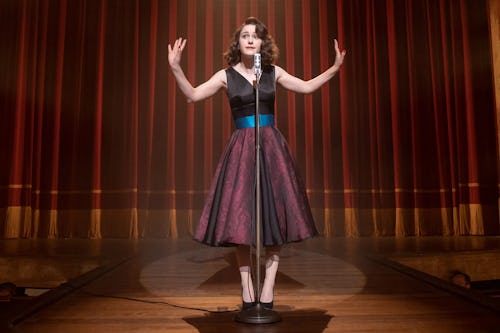 The saying goes that there's no business like show business, but as the last four seasons of The Marvelous Mrs. Maisel have proven, the journey to the top can be a tumultuous climb. Still, while Miriam "Midge" Maisel has certainly faced her fair share of ups and downs along the way, it seems things may finally be looking up for our favorite fictional female comedian. The Marvelous Mrs. Maisel Season 5 kicks off its first three episodes on Prime Video on Friday, April 14, and if the teaser trailer is any indication, Midge's future has never looked brighter. (Seriously, that paparazzi flash photography packs a powerful punch to the ol' retinas!)
Will Midge finally get the fame and recognition she's dreamed about ever since she first stepped up to the mic? Viewers will just have to wait and see how it all plays out. Before we all dive into a brand new season chock full of comedic punchlines and witty retorts, though, it might help to break down everything we know about The Marvelous Mrs. Maisel Season 5 thus far, as well as refresh our memories of where Midge and Co. left off at the end of the fourth season.
What happened at the end of Season 4?
Spoiler alert! Pertinent plot points ahead.... proceed accordingly.
While a vast majority of the season centered around Midge working as an MC of an illegal strip club, she eventually got an opportunity to open for Tony Bennett. However, she ultimately decided to turn it down, prompting a heated exchange with Lenny Bruce, who accused her of self-sabotaging her career. The two of them had also just recently slept together, which may have made his words cut a little deeper than usual. Regardless, it was clearly the motivation she needed to "go forward." The final scene showed Midge looking up at a massive billboard of The Gordon Ford Show. Could she finally end up on that coveted late-night show once and for all?
Meanwhile, Rose continued to pursue her new career as a romance broker; Moishe suffered (and is now recovering) from a heart attack; Joel discovered he was having a baby with his girlfriend, Mei; and Susie worked on building her clientele for her new talent agency. All-in-all, there's a lot of meaty material to work with heading into Season 5.
What will Season 5 be about?
Not too many specifics are known prior to the premiere, but the official logline reads: "In the fifth and final season, Midge finds herself closer than ever to the success she's dreamed of, only to discover that closer than ever is still so far away." In other words, Midge is more determined than ever to make it to the big leagues of comedy — and she may very well get there by the time those final credits roll.
Who's returning For Season 5?
Along with the main ensemble, which includes Rachel Brosnahan as Midge, Alex Borstein as Susie, Tony Shalhoub as Abe, Marin Hinkle as Rose, Michael Zegen as Joel, Kevin Pollak as Moishe, and Caroline Aaron as Shirley, it was announced last April that Jason Ralph (Mike Carr), Alfie Fuller (Dinah Rutledge), and Reid Scott (Gordon Ford) will serve as series regulars for the upcoming season. Additionally, Kelly Bishop and Milo Ventimiglia will reprise their roles as guest stars from Season 4. Needless to say, it's once again going to be quite the star-studded cast of characters.
However, it's also worth noting that Luke Kirby's role as Lenny Bruce remains a bit of a mystery. Though the actor was bumped to a series regular for the fourth season, his name is conspicuously missing from the official Season 5 cast list, leaving many to wonder if the character will show up at all. Considering the tragic end of the real Lenny Bruce, it's possible Kirby's time on the series has already come to a close.
Will there be a Season 6?
This one's easy to answer: no. Just ahead of the Season 4 premiere, Prime Video confirmed that the fifth installment of the series would, indeed, be its last.
"Amy, Dan, and The Marvelous Mrs. Maisel have blazed an unparalleled path, elevating the stories we tell about women, challenging the norms in our industry, and forever altering the entertainment landscape with their one-of-a-kind storytelling," said Jennifer Salke, head of Amazon Studios head Jennifer Salke said in a statement in February 2022, per The Hollywood Reporter. "This series has meant so much to Prime Video, and the effects of its success will be felt long after its final season. I can't wait for fans and our worldwide Prime Video audience to savor each moment as we embark on the culmination of this groundbreaking and unforgettable series."
Series creator Amy Sherman-Palladino and executive producer Daniel Palladino later discussed the show's cancelation with the outlet, revealing why they felt it was time for Mrs. Maisel to take her final bow. "We always had a general endpoint in mind for the series, but it was somewhere at four or five or six, or something like that. And it just seemed to fit in season five," Palladino explained, with Sherman-Palladino adding, "When it came down to five and out, we sat down and said, 'OK, now what do we do to make sure that we stick the landing?' Because that's the most important thing."
It's always difficult to say goodbye to a beloved show, but fans can at least take heart in knowing that the creators were given ample time to tie up the series and give Midge the sendoff she so greatly deserves.
Source: Scary Mommy https://www.scarymommy.com/entertainment/the-marvelous-mrs-maisel-season-5-release-date-cast-trailer