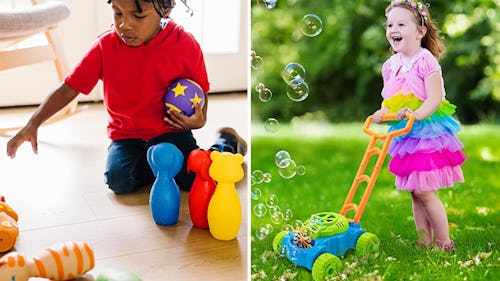 It happens in what feels like the blink of an eye. Your baby turns 1 and is officially a toddler. And while those toddler years (ages 1 to 3) will go by faster than you may think, they are some of those most active years in childhood, which means you'll need to keep up with your LO's constant need to learn and discover as they go from crawling to walking — and then climbing and biking. The best toys for active toddlers are designed to stimulate their motor skills and keep them entertained while burning tons of energy so you can get stuff done. Scary Mommy reached out to early childhood development expert Lisa Lohiser to learn more about what to look for in the best toys for active toddlers, so they can burn off all that energy.
The Expert
Lisa Lohiser, manager of early childhood development research at Fisher-Price Lab, has 15 years of experience as an early childhood educator/researcher with the iconic toy brand. She earned her doctorate in learning and teaching in social contexts at University of Buffalo, has a master's degree from Buffalo State University, and a bachelor's degree in elementary education and learning from State University of New York At Fredonia. She has a passion for the power of play in the early years and is a firm believer that parents and children playing together in meaningful ways helps children develop essential social, critical thinking, and problem-solving skills. In her years at Fisher-Price, she has conducted observational research with infants and toddlers, provided curriculums and resources, and advised on educational trends and age grading.
What Do You Buy An Active Toddler?
As anyone with a busy toddler can attest, not all toys are capable of holding their attention. "Active toddlers are constantly on the move so they do best with toys that can keep up with their busy bodies and active minds," Lohiser says, "As toddlers discover how to [...] navigate where they are going, they are practicing important balance and coordination skills. They are also developing their spatial skills while gaining self-confidence and independence as they go from place to place on their own."
Lohiser says the best toys for active toddlers help develop and engage gross motor skills, specifically recommending ride-on toys and games that encourage toddlers to move around. Any game or toy that can be played with siblings or friends helps toddlers "develop listening and friendship skills while activating their gross motor skills," she adds.
Taking cues from the expert, we've rounded up the best toys for active toddlers that engage them physically, challenge them mentally, are loads of fun, and maybe best of all, will keep them busy while doing so.
In a hurry? Here are the top picks for the best toys for active toddlers.
1. This Ride-On Scooter That Plays Music: Fisher-Price Laugh & Learn Smart Stages Scooter
2. A Bowling Set With Friendly-Faced Pins: Melissa & Doug K's Kids Bowling Friends Play Set
3. This Cult-Fave Push Toy That Blows Bubbles: Lydaz Bubble Lawn Mower
This Ride-On Scooter That Plays Music
Fisher-Price Laugh & Learn Smart Stages Scooter
Amazon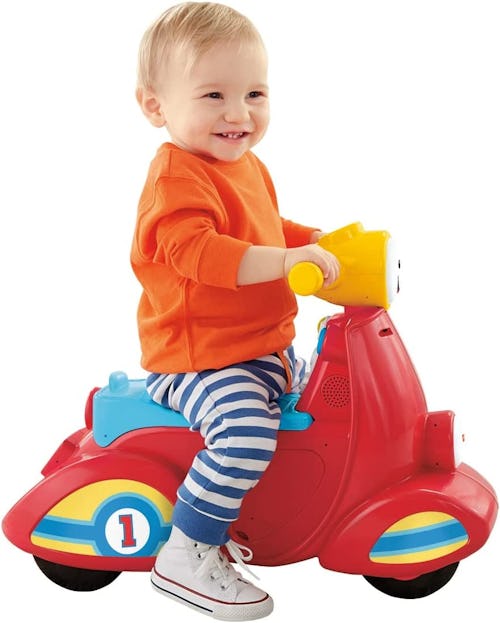 This learning scooter by Fisher-Price is like a Vespa for toddlers. Not only is it easy (read: stable) and fun to ride, it also teaches letters, numbers, shapes, colors, and opposites. The wide design makes it easy for little ones to get on and off. Toddlers will love honking the horn, the turn-key clicker, and activating the songs, sounds, and phrases — there are over 50 of them. Don't worry — there's an off switch, too. It's an overall great choice for encouraging both gross and fine motor skill development, thanks to all those buttons to press. This pick requires three AAA batteries (not included).
Helpful Review: "My sons loves this. My mom bought it for him for his 1st birthday. Now, just a few months older he is scooting on it. It's perfect on carpet. He loves the music it makes and pushing the buttons. It doesn't take up a ton of room like several toys at this stage. It's lightweight and wellmade. It comes mostly assembled, you just have to screw on the handle. I haven't had to change the batteries and we are 4 months in."
Recommended age: 12 months to 3 years old (Weight limit: 55 pounds)
A Bowling Set With Friendly-Faced Pins
Melissa & Doug K's Kids Bowling Friends Play Set
Amazon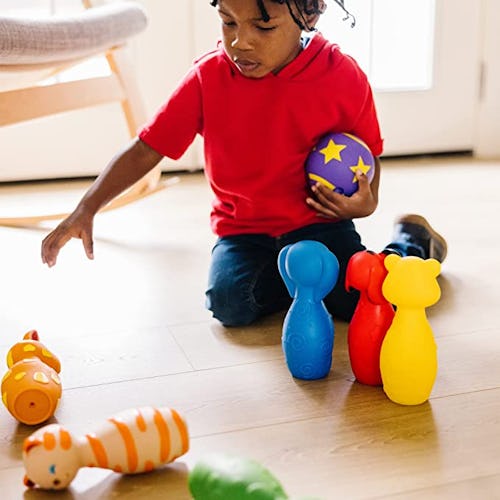 Toddlers love making a mess. This kid's bowling set by Melissa & Doug will make doing just that even more fun while challenging their hand-eye coordination as they try to knock down the six adorable animal bowling pins. Toddlers can even learn a lesson in tidying up after playtime by packing the set away in the included carrying case with a zippered closure. Each pin is weighted, so toddlers have an easier time of setting up the pins when it's time to play again.
Helpful Review: "The shape of the pins are perfect for littlehands. The pins are sturdy and heavy enough to sit upright on carpet and light enough to fall over when the little ball hits them. The ball is easy to hold and has enough weight to roll on carpet. The carry case makes it easy to contain the parts in one place. The bright colors and smiling animal faces inspire play. We all enjoy bowling with our 2 1/2 year old and he continues to enjoy this toy."
Recommended age: 2 years old & up
This Cult-Fave Push Toy That Blows Bubbles
Lydaz Bubble Lawn Mower
Amazon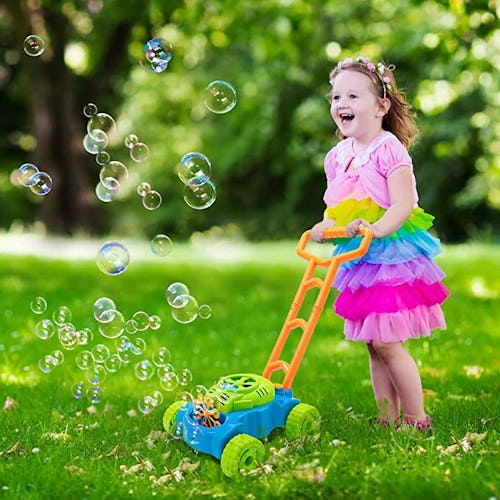 This lawn mower toy encourages toddlers to practice walking and entertains with tons and tons of bubbles that blow out of the front, giving them something to chase after. It's a great toy for the warmer months that will keep toddlers busy for hours — it's no wonder this one is a cult favorite with over 16,000 perfect five-star ratings on Amazon. The toy comes with three bottles of bubble solution and requires three AA batteries, which aren't included.
Helpful Review: "I purchased this for my 1 year old. He loves being outside and "helping" with yard work. This product was helpful for him to walk outside and the bubbles kept him busy for hours. Highly recommend!"
Recommended age: 18 months old & up
A Toddler Trampoline That Burns Off All The Energy
Little Tikes Trampoline
Amazon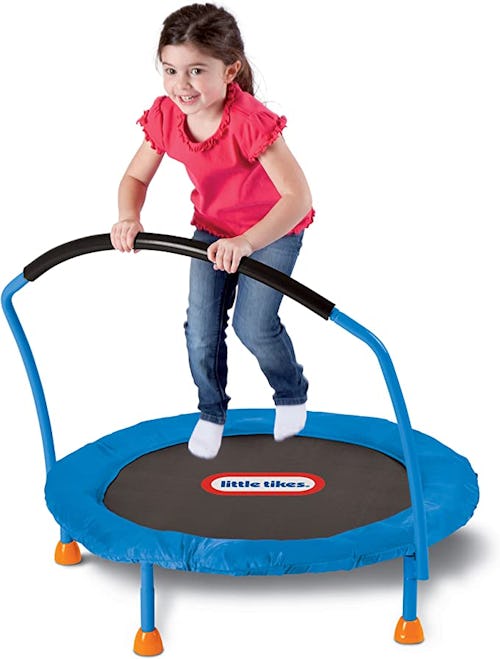 This Little Tikes trampoline is designed to be safe for young kids, with helpful features like a handlebar that provides stability and a padded edge that helps prevent bangs and bruises. With over 24,000 five-star ratings, it's a parent-approved indoor toy that promises to burn off all that pent-up toddler energy.
Helpful Review: "I live in a small apartment, and my toddler had so much energy. Buying this has been amazing. He gets exercise, I get a minute to breathe. I wouldn't say that it makes no noise, but it's pretty quiet for a toddler's toy."
Recommended age: 3 to 6 years old (Weight limit: 55 pounds)
These Popular Stepping Stones Perfect For Teaching Coordination & Balance
Hapinest Turtle Steps Balance Stepping Stones
Amazon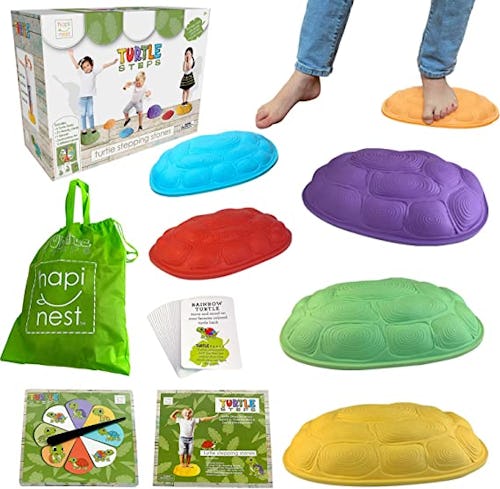 Kids love hopping on stones in nature and now toddlers can safely get in on the fun at home with these colorful turtle shell stepping stones. The six stones are made of durable, non-slip plastic so toddlers can work on their balancing and color identification skills at the same time. They're a fave among caregivers, who give this set a near-perfect overall Amazon rating after over 2,000 reviews. The set comes with 24 activity cards that include fun turtle facts and a colorful spinner for added play options. Prepare for many games of "Floor Is Lava."
Helpful Review: "These balance stepping stones are awesome! They grip really well to carpet, laminate and wood flooring as well as to a wooden porch. [...] It's great for the winter months when kids are stuck inside because of cold weather and has provided an outlet for a very energetic toddler!"
Recommended age: 3 years old & up
Editor's Choice: This Cute Memory Foam Ball Pit For Toddlers
Little Big Playroom Ball Pit
Amazon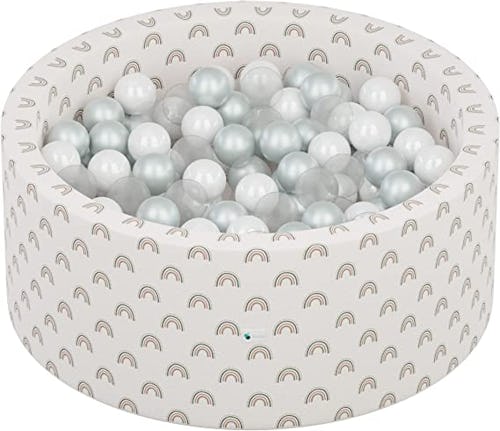 This aesthetically pleasing ball pit is just the thing to keep toddlers busy and safe. They can bounce around while tossing the 200 balls in the air, burning off energy and learning coordination skills. The memory foam construction makes it super soft and the washable cover is ideal for easy cleanup. Plus, the covers come in 10 stylish patterns.
Editor Praise: "This ball pit is a staple in our kids' play area. Both of our kiddos fit in it, and we've logged lots of time throwing those balls around. The soft memory foam walls mean my youngest can just crawl right into the pit — he loves that. And the cute cover is a nice bonus, too." — Ileana Morales Valentine, Scary Mommy Associate Editor
Recommended age: 2 years old & up
This Wooden Activity Cube With 8 Activities In 1
HELLOWOOD Wooden Activity Cube
Amazon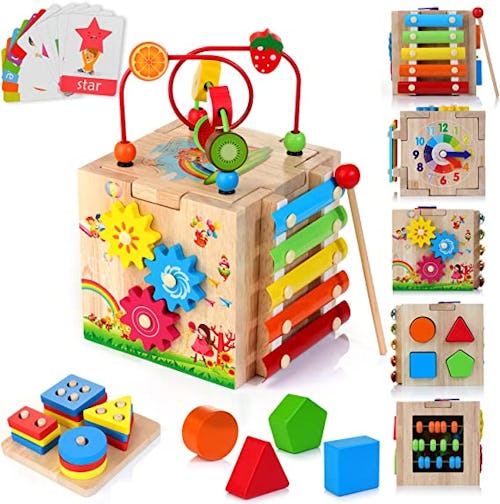 Activity cubes are a classic toddler toy and are especially popular in Montessori learning environments that advocate for non-electronic toys made with natural materials. This wooden activity cube features eight learning activities, like a shape sorter and xylophone, that teach colors, shapes, patterns and stimulate audio recognition, hand-eye coordination, and fine motor skills. Unlike some other activity cubes, the removable lid on this one means that section can be played with separately or you can turn it over to store the cube a bit easier. Bonus: It arrives in cute gift packaging.
Helpful Review: "This cube provides many educational activities for toddlers to do in their own. My son absolutely loves this toy and it keeps him entertained. It helps with his fine motor and problem solving skills. I absolutely recommend this toy for anyone with a toddler."
Recommended age: 12 months old & up
A Musical Piano Mat For Toddlers
Joyjoz Music Dance Mat
Amazon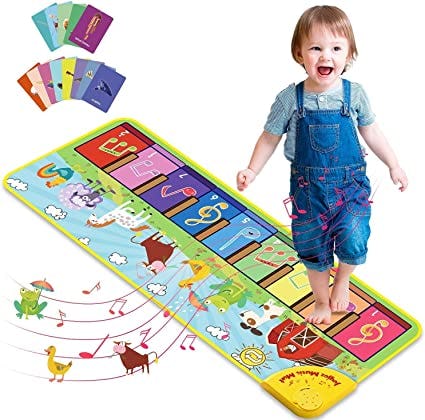 Another popular toy on Amazon, your active toddler will find endless entertainment playing with this colorful musical piano mat. They can use their hands or feet to tap the keys, activating an array of 25 sounds and songs that are fun and educational. The mat is soft and foldable (hooray easy storage!) and comes with 13 music cards for even more activities; it requires three AA batteries that are not included.
Helpful Review: "There are many different sounds (including piano, animal), my child loving it. [..] There is a on/off button on top which first I kinda looked for on all the other sides. It makes my toddler smile everytime it starts playing. Keeping her active, jumping and learning."
Recommended age: 12 months old & up
This Soft Dart Board For Toddlers
WinkleStar Toddler Dart Board
Amazon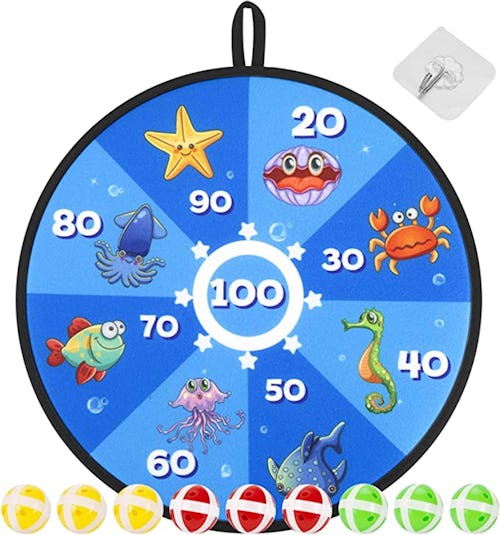 This toddler dart board is great for exercising motor skills and developing hand-eye coordination. The cloth "board" features a colorful under-the-sea theme that is sure to catch any toddler's attention while they practice aiming and throwing the sticky balls at the different numbers and pictures. It comes with a removable wall hanger so that the board can be easily stored when not in use.
Helpful Review: "Love that it comes with three set of balls which is perfect for the kids. The balls stick very well but also come off easily so it doesn't destroy the board and young kids can do it alone."
Recommended age: 3 years old & up
This Interactive Musical Toddler Toy To Get Them Dancing
Fisher-Price DJ Bouncin' Beats
Amazon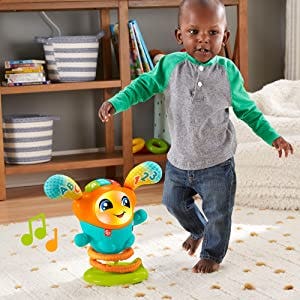 There's nothing like dancing to burn off energy, and this musical toy is one to get your toddler dancing. It has over 75 songs and teaches the alphabet, colors, counting up to 10, and opposites. The adorable light-up character bounces up and down, encouraging toddlers to do the same. This toy requires four AA batteries and, wait for it, they're included.
Helpful Review: "I bought this for Ellie's first birthday. It was a good gift for her because its tall enough so when she is sitting they are face to face. She bounces when it bounces. It lights up, plays tunes , so it keeps her happy. I would recommend this toy to any looking to give a younger toddler a gift."
Recommended age: 9 months to 3 years old
A Twist & Spin Toy That's Out Of This World
MindSprout Light-Up Space Twister
Amazon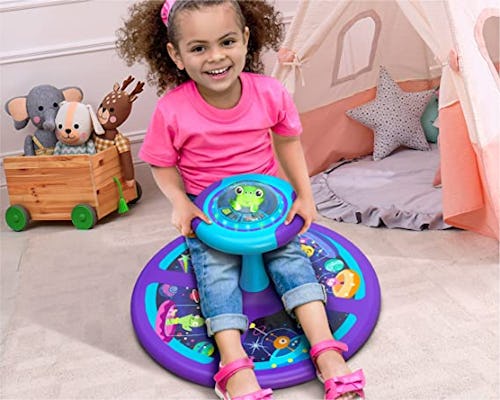 Sit-and-spin toys debuted way back in the '70s and have been a beloved classic ever since. This MindSprout twist-and-spin toy version builds upon the original idea, allowing kids to spin until their hearts are content while adding a vivid space theme with a cute light-up alien in the center. It's especially fun in the dark. And since it's low to the ground, it's safe for toddlers. This toy requires three AAA batteries, which aren't included.
Helpful Review: "I've been looking for fun indoor toys as the weather gets colder to entertain my toddler. This is awesome. He get to move around and be active in the house, and it's super cute. It feels really sturdy, and we love the bright colors and lights. This toy should last a long time! Very satisfied."
Recommended age: 18 months old & up (Weight limit: 42 pounds)
This Classic Wooden Hammer Bench Toy
Melissa & Doug Deluxe Pounding Bench
Amazon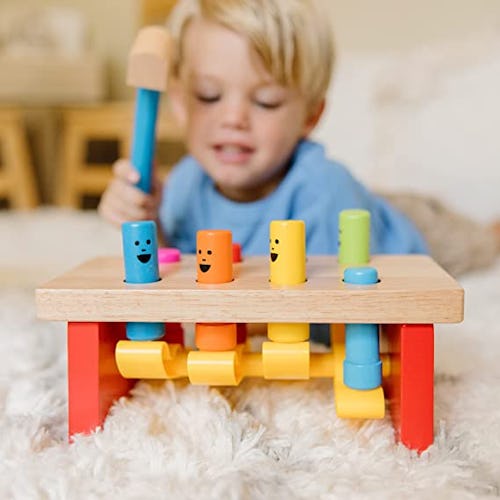 This hammer bench toy is another classic pick for toddlers to encourage fine motor skills. Made of solid wood, your little one can pound the non-removable pegs 'til their hearts content. It comes with a mini hammer for a fun game of peek-a-boo while they watch the little faces move up and down. More than 13,000 shoppers give it five stars.
Helpful Review: "My daughter loves this toy. I think it's a fantastic toy to teach hand/eye coordination. My daughter is 2 but this is perfect for younger children as well. It's designed so that when one peg gets hammered another pops up unlike some where you have to left them back up manually. Great buy!"
Recommended age: 2 to 4 years old
A Climbing Triangle Toy & Ramp For Hours Of Play
Climber | Pikler Triangle Set
Piccalio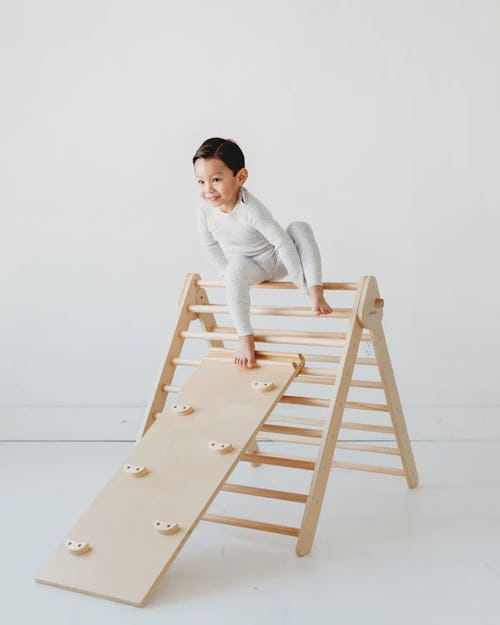 Give all that high toddler energy a place to burn with this climbing triangle set. Made of sustainably sourced birch plywood and New Zealand pine wood, the set includes a Pikler triangle for climbing and a reversible rock wall/sliding ramp. Climbing and sliding on this toy will engage your toddler's gross motor skills, improve balance, and encourage independent play. And you'll love that it folds up for flat storage.
Editor Praise: "I got this for my toddler son as an outlet for some of that energy during our long Midwest winters, and it's been such a hit — even with my older daughters. They keep moving it into different configurations for new ways to play, and it is definitely great for working on balance. The best part is that the hinges make it easy to fold up and put away so it's not a space hog." — Kate Miller, Scary Mommy Commerce Editor
Recommended age: 6 months to 6 years old (Weight limit: 132 pounds)
This Inflatable Bouncy Toy Toddlers Can Ride On
Babe Fairy Giraffe Bouncy Horse Hopper
Amazon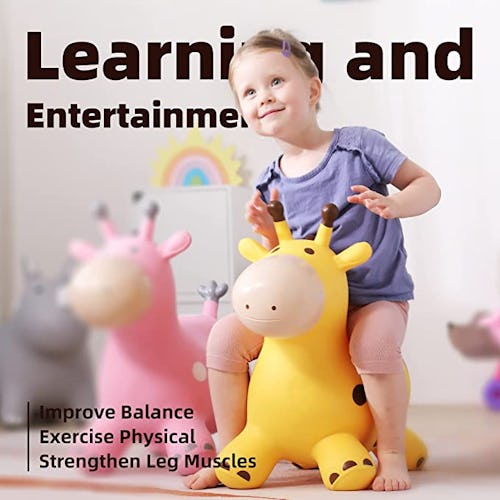 Bouncing just got even more fun with this adorable bright yellow bouncy toy giraffe. Toddlers can practice their balancing skills while they hold on to the giraffe's "horns" for stability. It's a simple yet effective toy for active toddlers who have tons of energy. It's also available in several different colors and in a dino design.
Helpful Review: "I ordered this as a suggestion for active kids as my kids love to jump up and down non-stop. The moment I opened the box my toddler hugged him and named him! Every morning they ride on it to breakfast, bathroom, battlefield, yard, play and at night they park them next to their bed! This chubby cutie bouncing dino is one of the best TOYS my kids had as they don't take much space and create fun. They help kids with storytelling and many healthy activities such as racing, jumping, teaching them how to share their ride with their friends, and so on."
Recommended age: 18 months to 6 years old (Weight limit: 220 pounds)
This Award-Winning Rocking Board For Endless Fun
Fat Brain Toys Teeter Popper
Amazon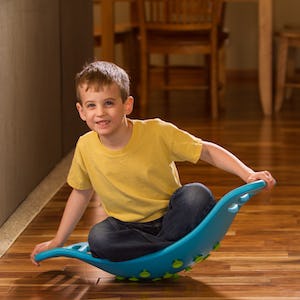 Older toddlers will absolutely love the teeter popper — they can sit in it and rock back and forth while the suction cups on the bottom make popping sounds coming on and off the floor. Your kiddo will engage gross motor skills and improve their balance and coordination. This durable toy stands up to hours of play, and it won the American Specialty Toy Retailing Association (ASTRA)'s Best Toys for Kids Award in 2014.
Helpful review: "Perfect toy to keep my toddler busy and occupied. Helps build core strength and balance, plus offers many ways to use and have fun on. Whether she is standing or laying in it, the rocking motion fills those sensory cups and allows her to have good indoor fun during these cold winter months. Definitely recommend."
Recommended age: 3 years old & up
The Play Gym Set With A Near-Perfect Rating
ECR4Kids SoftZone Climb and Crawl Activity Play Set (5 Pieces)
Amazon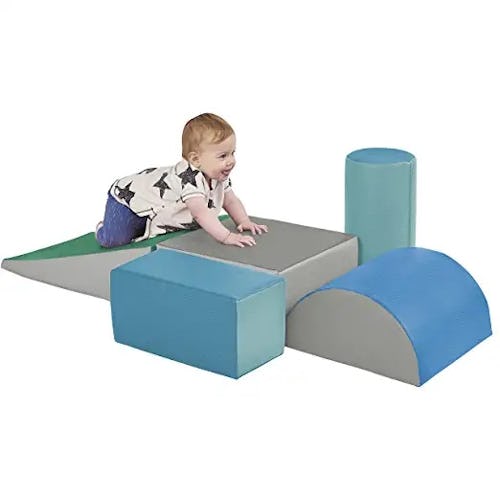 Encourage your toddler to crawl, move, and explore with this activity play set for open-ended play. It's more of an investment than our other picks, but it's also durable enough to withstand years of use (especially great for sibling play). Each foam piece is a different shape with non-slip textured bottoms, so the arrangement can be constantly changed up to develop your toddler's gross motor skills.
Helpful review: "My toddler absolutely loves these. Climbs on them all day long. Lovely colours, well made. Highly recommend!"
Recommended age: 2 to 5 years old
Expert:
Lisa Lohiser, Ed.D., Manager, Early Childhood Development Research at the Fisher-Price Play Lab
An Interactive Alphabet Chart That Hangs On The Wall
Just Smarty Interactive Alphabet Wall Poster
Amazon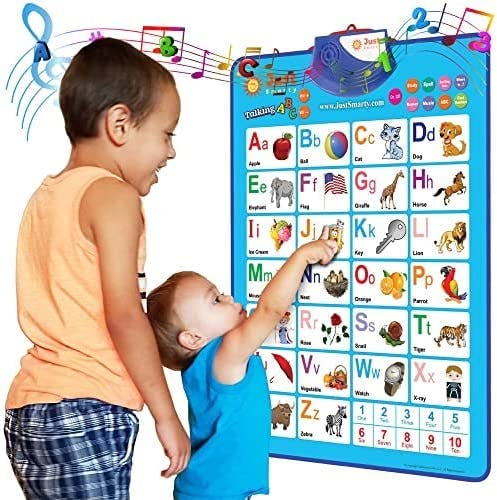 This interactive alphabet chart features colorful imagery and engages toddlers to practice standing, reaching, and pointing while they learn their ABC's and dance along to educational games and songs. Simply hang it on the included wall hook and let the fun — and fine motor skill practice — begin. Over 21,000 shoppers give it a perfect rating, and many mention it's easy for toddlers to use.
Helpful Review: "Was trying to get my toddler to point instead of using his hand or thumb. We were both frustrated trying a bunch of different things. Then I buy this and in a few days he's pointing naturally at random things he wants me to see. Success!"
Recommended age: 2 to 5 years old
Source: Scary Mommy https://www.scarymommy.com/parenting/best-toys-for-active-toddlers