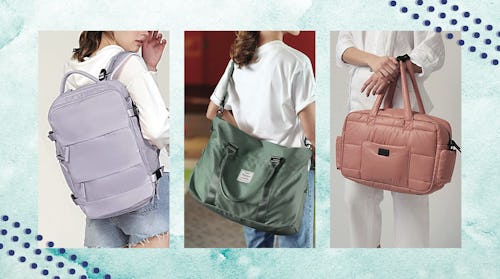 It's no secret that moms carry around a lot of stuff. And when traveling with the family, that stuff multiplies seemingly infinitely. That's why you need a good carry-on bag, and the best carry-on bags for moms are practical with pockets for things like bottles, diapers, and wipes, as well as personal items like makeup, a wallet, and possibly a laptop.
When shopping for a carry-on bag, here are a few things to consider:
Size: Carry-on bags must meet size requirements from the airlines. The standard domestic carry-on luggage size is 22 x 14 x 9 inches, but international and regional airline requirements may vary. It's always best to check the policies of the airline you're flying so there are no surprises at the airport.
Weight & Care: Because you will likely be stuffing your carry-on bag to the max, you want a bag that isn't going to add more weight to the equation. When possible, opt for lightweight nylon or polyester that have the added benefit of being easy to clean. (For your convenience, we've noted which bags below are machine washable.) That said, if you're pining for a different aesthetic, a vegan leather or canvas option will be both affordable and sustainable.
Price: We've included carry-on bags that range in price on the list below to help you make an informed choice about what you're willing to spend. There are plenty of affordable bags that are durable, but generally speaking, you get what you pay for.
Ahead, you'll find the best carry-on bags for any kind of mom — and any travel itinerary.
Writer's Choice: The Viral Bag That Lives Up To The Hype
BJLFS Carry-On Duffle Bag
Amazon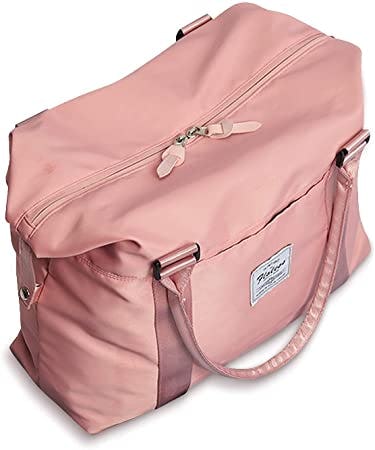 You might have seen this bag pop up while scrolling social media. It's gone viral for its ability to expand and hold so. many. things. This large carry-on bag has a pocket for toiletries that's waterproof in case something spills (or use that wet pocket for soiled onesies or bibs). There's also room for a laptop and a lot of clothes. We love all the pretty pastel colors making it hard to choose just one. The detachable shoulder strap is long so it won't constantly fall, but you can also carry it as a tote or use the back luggage sleeve and roll it on top of your suitcase. There are also options with an included toiletry bag for a cute matching set.
Writer Praise: "I love this big because I carry a lot of stuff while traveling with my kids. Even if I don't start out with a lot, I always end up with other people's snacks, clothes, etc., and this bag can handle it all. I use the wet pocket for toiletries or messes that I can't dispose of right away, and have thrown it in the washing machine several times. It's also easy to spot clean, which I love. I actually own the bag in pink and black because I wanted one for work, too." - Bethany Braun-Silva, Scary Mommy Writer
Available Styles: 22 | Available Sizes: 21.65 x 7.09 x 10.63 inches |Material: Water-Resistant Nylon | Machine Washable: Yes
The Best Rolling Duffle Carry-On Bag
Rockland Rolling Duffel Bag
Amazon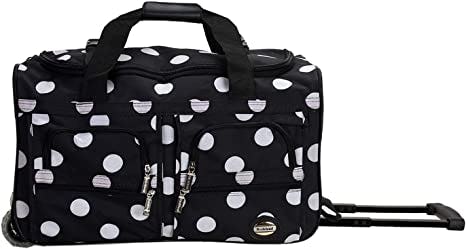 Soft-sided luggage is great for moms who need to stuff it to the max and they also double as pillows or seats for kids. This rolling carry-on duffle can be carried or wheeled and has large exterior pockets and a roomy interior compartment. It comes in many different colors and is affordable so you can assign each member of your family their own duffle. Pretty and practical — it's not surprising that this bag has amassed something of a cult following on Amazon with more than 15,000 reviews (and counting).
Helpful Review: "I have to give 5 stars for the quality for the money. I picked this bag because the wheels seemed larger and more substantial. It went through a large airport just fine. It held a weeks worth of clothes. It fit in the overhead compartment. It worked great for me."
Available Styles: 34 | Available Sizes: 22 x 12 x 11 inches; available in 4 other sizes |Material: Polyester | Machine Washable: No
The Best Diaper Bag Carry-On
7AM Voyage SoHo Satchel Diaper Bag
Amazon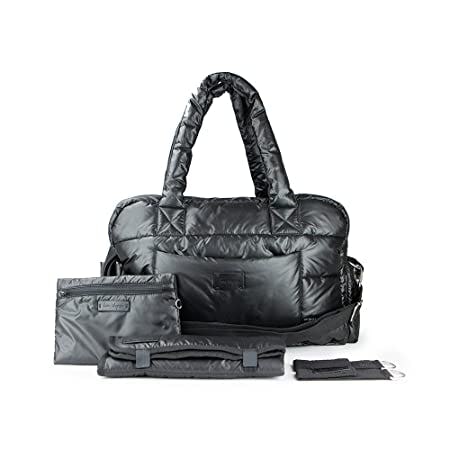 With this stylish, gender-neutral bag from 7AM, you get a diaper bag and carry-on in one. It comes with tons of travel-friendly features like five interior pockets, a storage pouch, and a changing pad. It can be worn over the shoulder, across the body, or attached to a stroller. The roomy interior leaves plenty of space for clothes, shoes, and other essential items
Helpful Review: "Love this diaper duffle! It is like a puffer jacket material so water bounces off and I don't imagine it can get very dirty. It's about the size of a tote purse but can squish into spaces and also hold so much inside. I can't believe how much stuff I have in there… but I'm always glad I have it. It doesn't look like a diaper bag I think it's super cute."
Available Styles: 5 | Available Sizes: 18.5 x 7.5 x 11 inches | Material: Water-Resistant Nylon | Machine Washable: Yes
The Best Carry-On Backpack
Coowoz Carry-On Backpack
Amazon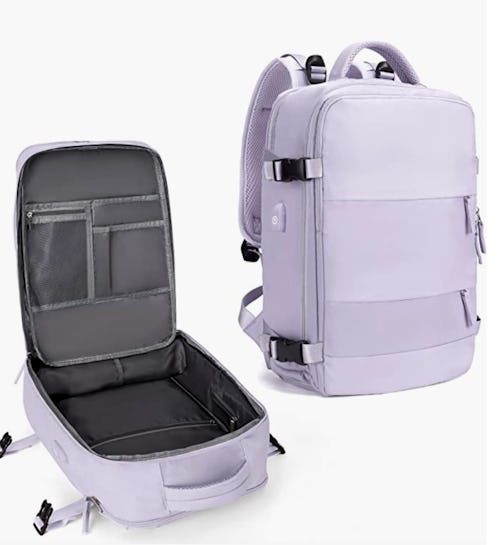 A bag that can carry everything and leave you with your hands free is a must-have for moms. This carry-on backpack can fit clothes, shoes, and two tech devices (up to a 14-inch laptop and 13-inch tablet). It also has pockets for wet items to keep that moisture (and possibly odor) thankfully contained from the other items in the bag. It also has a charger port right in the bag and exterior pockets for storing things that you need to access quickly. It also has a luggage strap and a separate compartment for shoes.
Helpful Review: "Love it! Best baby's bag I have ever owned and I have three kids. Amazing bag with tons of hidden pockets!"
Available Styles: 21 | Available Sizes: 16.4 x 10.62 x 6.7 (Small, featured); Larger size also available |Material: Polyester | Machine Washable: No
The Best Weekender Carry-On Bag
Wogarl Canvas Weekender Bag
Amazon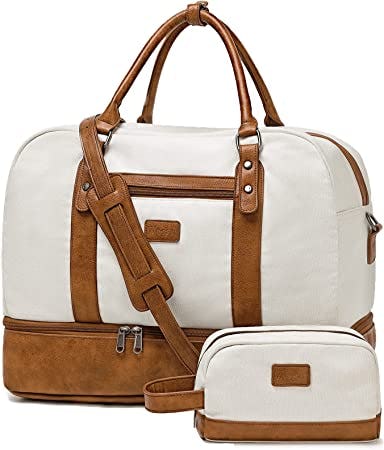 This luxe-looking weekender carry-on bag is made from durable canvas and soft PU leather. It has a luggage sleeve and removable, adjustable shoulder strap for easy carrying. There's a bottom compartment to keep shoes or dirty clothes separate and a roomy interior pocket with an included toiletries pouch. There's also a waterproof interior pocket that will come in handy if your kid has a spill mid-flight and you need to do a clothing switcheroo.
Helpful Review: "For the price, you seriously can't go wrong here. I read some reviews prior to purchasing and I'm glad I went with this bag. The zippers work great, there's a ton of storage, and it's the best size for a weekend getaway or a carry-on for a short trip. Highly recommend!!"
Available Styles: 6 | Available Sizes: 19.7 x 9.8 x 14.6 inches |Material: Canvas and PU Leather | Machine Washable: N/A
Editor's Choice: A Carry-On Bag You'll Use For Every Trip
Baggallini Large Carryall Tote
Amazon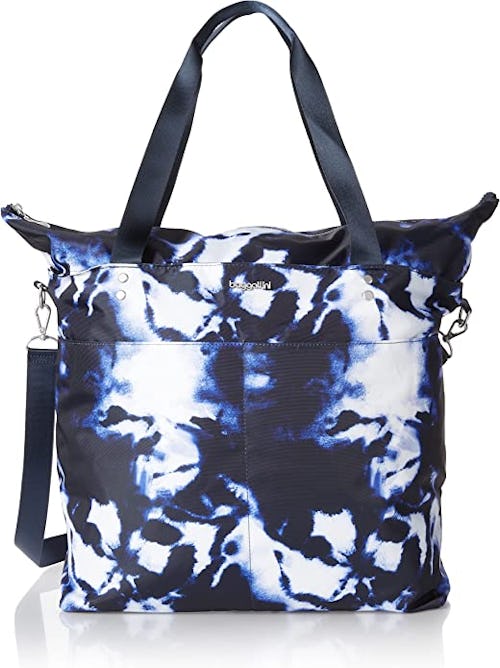 As the name suggests this bag really does carry it all. The large Baggallini tote can fit clothes, shoes, and toiletries with ease while leaving plenty of space for other items. The bag has a shoulder and detachable crossbody strap, as well as a wide luggage sleeve for slipping it on your trolly suitcase. There are plenty of pockets to keep all your stuff organized — including one interior zip pocket. And the best part is that the bag is machine washable so all the sand, dirt, and airplane germs can be washed away.
Editor Praise: "This bag is so versatile. I love that there are four deep exterior pockets for quick access to snacks, water bottles, and sanitizing wipes. And I use the two surprisingly spacious interior side pockets to separate my must-haves (phone, keys, wallet) from the kid essentials (more snacks, toys, etc). The whole thing zips shut with ease — I'm never cramming stuff down to close it. It's so roomy, that I use it as a weekender bag too." - Kate Miller, Scary Mommy Editor
Available Styles: 7 | Available Sizes: 22 x 14.75 x 7 inches |Material: Nylon | Machine Washable: Yes
The Best Spinner Carry-On Bag
Wrangler Smart Luggage
Amazon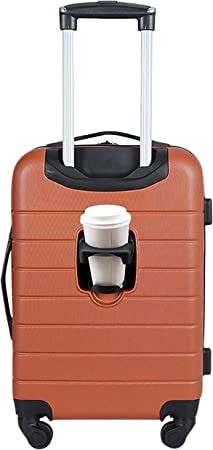 Thanks to this spinner carry-on luggage you no longer have to worry about spilling your coffee while you navigate the airport with your kids. This carry-on has a cupholder, USB port, and phone holder, three features that are clutch when you're traveling with kids. It also has a roomy interior that compresses your clothes so that you can pack more. The luggage also expands and has 360-degree swivel wheels.
Helpful Review: "This is the perfect size. I love that it has a built in cup holder. The wheels roll easily. The handle adjusts easily. This holds the perfect amount of items for me. Great carry on bag and it looks great. This is by far the cheaper good quality piece of luggage I've been able to find."
Available Styles: 6 | Available Sizes: 20 x 13. 5 x 11 inches |Material: N/A | Machine Washable: No
The Best Carry-On Garment Bag
Seyfocnia Carry-On Garment Bag
Amazon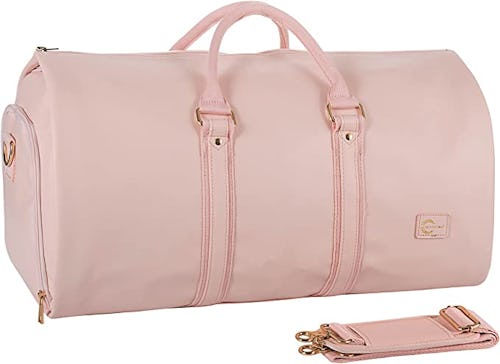 Sometimes the trip calls for packing "fancy clothes." Maybe your kid is part of a wedding party and you'll need to pack something in a way that minimizes wrinkles. That's where a carry-on garment bag comes in. Shoppers report being able to pack several dressy outfits with room for shoes and accessories — there's even a designated shoe pocket and tie pocket. The bag also has a waterproof exterior to keep everything safe and dry. The shoulder strap is detachable and the bottom comes with feet to keep this good-looking bag off the floor.
Helpful Review: "This bag is excellent! I was traveling and needed take dress clothes , I didn't have a garment bag. I always travel lite, usually with just a backpack, but this trip called for something different. I think it's excellent! It is made well, durable, and looks great! I was able to take my "required" clothes, and put everything else in around it. Had plenty of room, and still able to take it as a carry on! And as far as wrinkles go, what I didn't want to wrinkle , did not wrinkle! Would definitely buy again!"
Available Styles: 10 | Available Sizes: 22 x 12.5 x 12.2 inches |Material: PU Leather | Machine Washable: No
The Best Rolling Carry-On Backpack
Kroser Rolling Backpack
Amazon
Backpacks are ultra-convenient because they leave your hands free for wrangling your kids while traveling, but add some wheels into the mix, and you're really maximizing convenience. We especially love this rolling backpack carry-on because it has an extra-long telescoping handle, several internal dividers, a luggage strap for slipping this onto a trolley suitcase, and sturdy wheels. The padded laptop compartment can fit a 17-inch device, too.
Helpful Review: "This is a very versatile bag, ideal in size, and made with durable material and good zippers, etc. It has sufficient pockets for organizing your stuff. With the roller option, it saved my back on a recent trip to Greece since I had usually used just a standard backpack. Fits nicely into the plane's overhead bin. Nice pockets for not just your laptop but other travel items you may need in the plane cabin."
Available Styles: 1 | Available Sizes: 19.8 x 13.7 x 10.2 inches |Material: Water-Repellent Dobby Fabric | Machine Washable: No
The Best Carry-On Luggage Set
AMKA Gem Hardside Carry On and Weekender Luggage Set
Amazon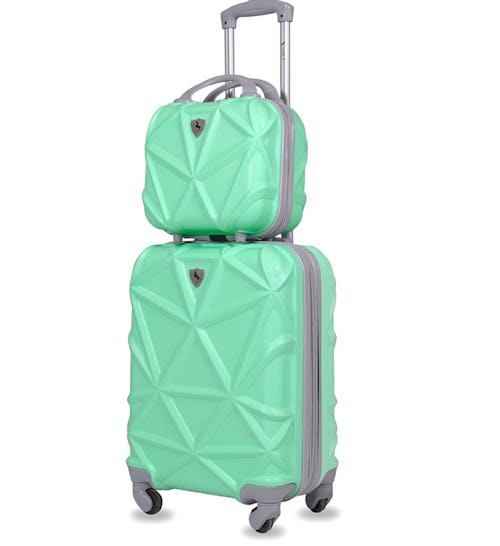 Whether you're traveling for a week or a weekend, having a hard-side carry-on bag with an adorable matching cosmetic case means your stuff will be organized in style. The 12-inch toiletry bag slides onto the handle of the trolley suitcase, so you have haul everything in one easy roll. If you're in ultimate mom mode, you could even choose to use that smaller bag as a "kid bag" for tech, snacks, wipes, and more. Available in three pretty pastel colorways, you'll be the most stylish mama in the terminal.
Helpful Review: "This is a lightweight carry-on overnight suitcase made with durable solid-quality material. Not only that the unique color looks attractive. It is made with an easy-to-operate zipper. It is a piece of a fixable extendable suitcase with larger space to hold more stuff.The easy to spin and roll wheels are also another great feature.This set is looking good and very functional inside too."
Available Styles: 3 | Available Sizes: 20 x 14 x 9 inches (larger bag); 12 x 11.25 x 6.5 (toiletry bag) |Material: ABS Plastic | Machine Washable: No
Source: Scary Mommy https://www.scarymommy.com/parenting/best-carry-on-bags-for-moms