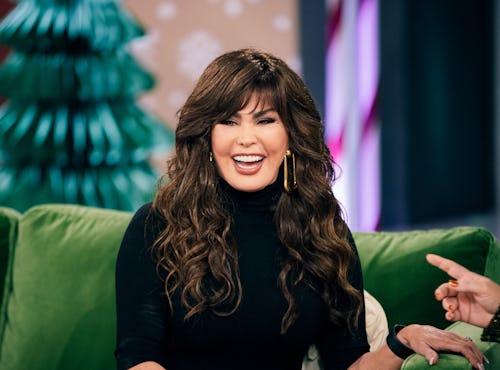 "Nepo baby" is a term that's been trending lately in the media. The term calls out actors, singers, and entertainers in Hollywood that have a leg up on the competition due to their parents, grandparents, or other relatives who laid the foundation for their success before them. While many have leaned into that narrative, Marie Osmond wants to make sure her kids will not have that label.
The mother of eight told US Weekly that she has no plans to leave her children any sort of inheritance, saying the idea of leaving behind wealth for your kids enables them to not try in life.
Instead of handing over money, she believes that not giving cash is an even greater gift and allows her children to work hard and find out what they want to pursue in life.
"Honestly, why would you enable your child to not try to be something? I don't know anybody who becomes anything if they're just handed money," the 63-year-old grandma said.
"To me, the greatest gift you can give your child is a passion to search out who they are inside and to work. I mean, I've done so many things from designing dolls [and much more]. I love trying [and] I wanna try everything. I'm a finisher."
She then explained that giving her children an inheritance will only "breed laziness and entitlement." Instead of setting up trust funds for her kids, she is going to spend her money on herself and live out the rest of her days with her husband. After she's gone, she plans to give her money to charity.
"That's one of my rules with my kids. If you start it, you finish it, you don't ever have to do it again, but you gotta finish," she continued. "And, I just think all [an inheritance] does is breed laziness and entitlement. I worked hard and I'm gonna spend it all and have fun with my husband."
Osmond remarried her first ex-husband — Steve Craig — in 2011 after divorcing in 1985 after three years of marriage.
This is not the first time that Osmond has made headlines for her views on inheritance and generational wealth. During a 2020 episode with the women on CBS' The Talk, the Donnie and Marie star explained that, in her opinion, just handing over money to your kids is actually doing them a disservice, granting them the freedom to just float through life with no drive or purpose.
"I think you do a great disservice to your children to just hand them a fortune because you take away the one most important gift you can give your children, and that's the ability to work," Osmond said. "You see it a lot in rich families where the kids, they don't know what to do and so they get in trouble. Let them be proud of what they make. I'm going to give mine to my charity."
Though she has no plans to spoil her children with her bankroll, she does enjoy spoiling her eight grandchildren.
The former Dancing With The Stars contestant gushed to US Weekly that being a grandma has been the best time in her life.
"Now I'm a grandma and I get to just spoil my grandkids," she explained. "I don't have to raise them. Good luck. It's fun … I feel like I have the best life."
Source: Scary Mommy https://www.scarymommy.com/entertainment/marie-osmond-will-not-leave-inheritance-for-her-kids