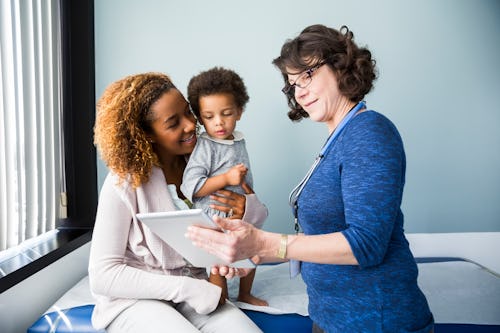 There's been a lot of talk about kids' vaccines these past couple of years. While many of those conversations not surprisingly surrounded the new COVID-19 vaccines, it's important to remember all of the other recommended immunizations for children from birth through adolescence. It's a lot to keep track of, though, and with everything else you're juggling — hello, mental workload of motherhood — it's possible to fall behind schedule or occasionally miss an immunization appointment. So, how bad is that, really? Does the standard pediatric vaccine schedule leave any wiggle room for catching up? Fortunately, staying up-to-date doesn't have to be as overwhelming as it may seem.
Immunizations like those that can prevent measles have been studied for decades, and carefully planned schedules have been created to lower children's risks of infection. Pediatricians around the globe agree — including those we spoke to recently, who shared their advice on the importance of immunization schedules and what to do if you miss a vaccine appointment.
Why is the immunization schedule important?
According to Sandra Bonat, MD and Pediatric Physician Advisor at VIP StarNetwork, "The immunization schedule is based on extensive research and data, and delaying or skipping vaccines leaves a child at higher risk of contracting vaccine-preventable diseases. We do not have data that supports the effectiveness of alternative vaccination schedules." Bonat pointed out that many factors have entered the CDC's recommended pediatric vaccine schedule, including age and maturity of the immune system, risks of specific disease exposures, and the number and interval of doses.
Here's an overview of the schedule (it can vary per child):
Birth
HepB: Hepatitis B vaccine
1–2 Months
2 Months
DTaP: Diphtheria, tetanus, and acellular pertussis vaccine
Hib: Haemophilus influenzae type b
IPV: Inactivated poliovirus vaccine
PCV: Pneumococcal conjugate vaccine
RV: Rotavirus vaccine
4 Months
6 Months
6 Months and Annually
Influenza (Flu): The flu vaccine
6–18 Months
12–15 Months
Hib
MMR: Measles, mumps, and rubella (German measles) vaccine
PCV
Varicella (chickenpox)
12–23 Months
HepA: Hepatitis A vaccine
15–18 Months
4–6 Years
9–16 Years
11–12 Years
HPV: Human papillomavirus vaccine
Tdap: Tetanus, diphtheria, and pertussis booster
MenACWY: Meningococcal vaccine
16–18 Years
MenB: Meningococcal vaccine (type b)
Are some immunizations more important to get in a specific window than others?
Jessica Madden, pediatrician and Medical Director at Aeroflow Breastpumps, highly suggests "[...] that all infants receive the 2, 4, and 6 month DTaP vaccines to be protected against pertussis (whooping cough), an extremely contagious bacterial infection that can cause babies to get pneumonia and respiratory failure," as well as the MMR vaccine at 12 months and again between the ages of 4-6, stating, "It protects against measles, which is one of the most contagious viruses that circulates and is very dangerous for babies and toddlers. Measles can cause encephalitis (brain inflammation), which can lead to permanent brain damage."
What happens if you miss a vaccine?
As anybody with children knows, staying on schedule with kids can be a tall order. That's why doctors do their best to take the guesswork out of immunizations, offering them at each yearly exam. But what if you miss or are late in taking your child to their routine checkups?
The CDC offers robust vaccine catch-up resources, which Madden says are a great starting point for parents who may have fallen behind on their kids' immunization appointments. Madden also assures parents, "It is never too late to 'catch up' on missed vaccines — late protection is better than no protection!"
While being late a couple of weeks is an unlikely reason to panic, parents should aim to stay as close to the schedule as possible. Bonat believes that "Every recommended dose for each vaccine [...] is equally important to the health of the child and the overall health of the community."
Source: Scary Mommy https://www.scarymommy.com/parenting/pediatric-vaccine-schedule