FDA Proposes Limits Amount Of Lead In Processed Baby Foods
Published: in Moms News by 1news.info.
The proposed limits would decrease young children's potential dietary exposure to lead by 24-27%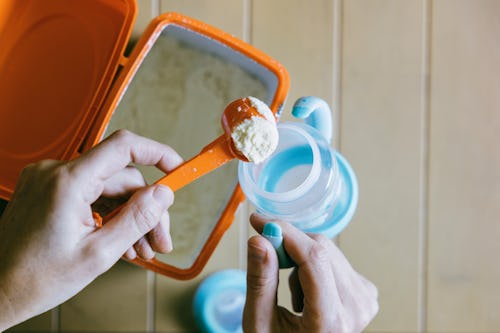 The Food and Drug Administration (FDA) has just proposed maximum limits for how much lead can be in processed baby foods like mashed fruit and vegetables. The move is part of the agency's Closer to Zero project, which aims to reduce childhood exposure to heavy metal contaminants with known health hazards like lead, arsenic, cadmium, and mercury from baby food.
"For more than 30 years, the FDA has been working to reduce exposure to lead, and other environmental contaminants, from foods. This work has resulted in a dramatic decline in lead exposure from foods since the mid-1980s.
"The proposed action levels announced today, along with our continued work with our state and federal partners, and with industry and growers to identify mitigation strategies, will result in long-term, meaningful and sustainable reductions in the exposure to this contaminant from foods," said FDA Commissioner Robert M. Califf, M.D.
"For babies and young children who eat the foods covered in today's draft guidance, the FDA estimates that these action levels could result in as much as a 24-27% reduction in exposure to lead from these foods."
The new guidance, which would not be mandatory for food manufacturers until after a 60-day period for public comment, includes a limit of 10 parts per billion of lead in fruits, some vegetables, and yogurts and 20 parts per billion in root vegetables and dry cereals. The agency could start taking enforcement action against food manufacturers that do not adhere to the guidelines following this period.
"This is really important progress for babies," Scott Faber, vice president of public affairs for the Environmental Working Group, a nonprofit organization working to have metals removed from foods, told New York Times. "We were grateful that F.D.A. has and the Biden administration has made reducing toxic metals in baby food a priority."
"The baby foods have differing action levels, to account for variances in consumption levels of different food products and due to some foods taking up higher amounts of lead from the environment," the FDA said in its guidelines, noting that "certain level of a contaminant is unavoidable, for example due to environmental factors."
The new guidance comes on the heels of a 2022 study conducted by the Healthy Babies Bright Future alliance that found 95% homemade and prepackaged baby foods contained some levels of toxic heavy metals such as lead and arsenic.
According to the CDC, childhood exposure to lead, through food or otherwise, can lead to "damage to the brain and nervous system, slowed growth and development, learning and behavior problems, [and] hearing and speech problems."
Many child health advocates believe more needs to be done. As it stands, the guidance does not include limits for grain-based snacks, or limits for levels of other contaminants of metals like arsenic, cadmium, and mercury.
It doesn't go far enough to protect babies from neurodevelopmental damage from lead exposures," she said. "Lead is in almost every baby food we've tested, and the action levels that F.D.A. has set will influence almost none of that food," Jane Houlihan, research director for Healthy Babies Bright Futures, told New York Times.
Still, the new lead level guidance is a step in the right direction — even if there is a lot more to be done to eliminate potential toxins from baby food.
Source: Scary Mommy https://www.scarymommy.com/parenting/baby-food-lead-limits