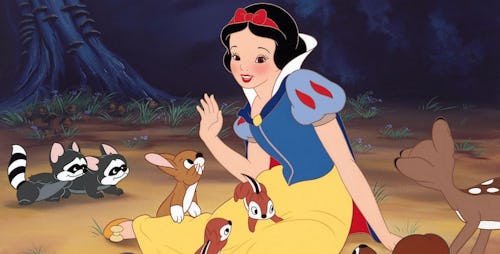 Disney's first animated feature film Snow White and the Seven Dwarfs is getting the live-action treatment.
The live-action revival of the 1937 film stars Rachel Zegler as the titular Disney Princess and Wonder Woman's Gal Gadot as the infamous Evil Queen who cannot stand the thought of anyone else being the fairest in the land. Marc Webb, who directed 500 Days of Summer and the Amazing Spider-Man movies, helmed the fairy tale reimagining, and Greta Gerwig and Erin Cressida Wilson wrote the script.
Zegler, who is of Colombian descent, talked about her casting during Variety's 2022 "Actor on Actors" series, saying, "Never in a million years did I imagine that this would be a possibility for me. You don't normally see Snow Whites that are of Latin descent. Even though Snow White is really a big deal in Spanish-speaking countries."
"[Y]ou don't particularly see people who look like me or are me playing roles like that. At the end of the day, I have a job to do that I'm really excited to do. I get to be a Latina princess," Zegler said.
Still, while Disney has made some strides with inclusive casting, there is a lot wrong with rebooting the 1937 animated feature — namely how the original film portrays people with dwarfism in a dehumanizing manner — have already been criticized.
"Literally no offense to anyone, but I was a little taken aback when they were very proud to cast a Latina actress as Snow White — but you're still telling the story of Snow White and the Seven Dwarfs. Take a step back and look at what you're doing there," Peter Dinklage explained on an episode of Marc Maron's WTF podcast back in January 2022.
"It makes no sense to me. You're progressive in one way, but then you're still making that f—king backward story about seven dwarfs living in a cave together? What the f—k are you doing, man? Have I done nothing to advance the cause from my soapbox? I guess I'm not loud enough."
Disney responded to Dinklage's and others concerns, saying, "To avoid reinforcing stereotypes from the original animated film, we are taking a different approach with these seven characters and have been consulting with members of the dwarfism community. We look forward to sharing more as the film heads into production after a lengthy development period." According to The Hollywood Reporter, the characters are set to be CG/animated.
The live-action Snow White remake is set to premiere in theaters on March 22, 2024.
Source: Scary Mommy https://www.scarymommy.com/entertainment/disney-snow-white-live-action-movie-details-release-date