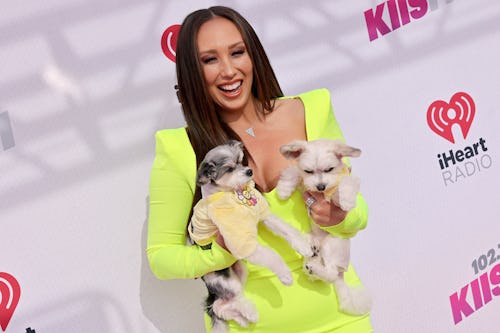 Cheryl Burke is starting the new year with a win, literally. The DWTS alum shared on her Instagram on Monday that after a long divorce settlement from Matthew Lawrence and an even longer custody battle for their dog, Ysabella, she is finally a full-time single mom.
"Officially a FULL-TIME dog mom… 2023, we're off to a great start!" Burkey captioned her post. She shared a photo of her and Ysabella sitting on a bench and overlooking the sunset over the water together.
Cheryl and actor Matthew Lawrence were married for three years before their separation in February of 2022. Their divorce was finalized in September of the same year. However, the decision of who Ysabella would remain with was still ongoing.
She spoke about the difficult situation with Entertainment Tonight back in October, saying, "It sucks because, for me, it's just cruel. She's my dog, and it was a gift from my ex, and I hope that this soon, you know, dies down, and he calls it off. Because you're taking, like, my daughter away from me."
She later revealed on her podcast, Burke In The Game, that the two were not able to hash it out on their own and decided they would need to go to court, lamenting, "We are going to go to trial — unless he all of a sudden calls it off, but that would happen… and that will happen in January. I'm just still really hurt by the whole situation. You know, that's my dog. Ysabella is my daughter."
Followers flooded the pro dancer's post with love and support, sharing, "I am thrilled for you! As it should be … and a great start for a brand new year!!!"
"So happy for this victory! I'm so sorry you had to go through any of the drama surrounding this. She is your fur baby, end [of] story!" one person wrote. "Congrats Cheryl! I follow your podcast and was thinking of you this month. Glad you have your baby girl officially! Blessings and all the best in 2023," another added.
While Cheryl has found solace in her new chapter with Ysabella, Matthew Lawrence has moved on with TLC singer Chili. The pair confirmed to PEOPLE they were dating earlier this month, with a rep for Chili revealing, "I've been with Chilli since 2005, and I've never seen her this in love," Jordan tells PEOPLE. "She is glowing. They are really cute together."
Looks like 2023 is off to a good start for everyone involved!
Source: Scary Mommy https://www.scarymommy.com/entertainment/cheryl-burke-wins-custody-of-dog-divorce-matthew-lawrence