Baby Monitors give parents peace of mind that their new bundle of joy is safe and secure.
But shopping around for a Baby Monitor can seem overwhelming. There are so many on the market now that offer so many different options. You need to find a Baby Monitor that fits your needs and wants and your budget! So we have done all the research for you and found the 12 Best Baby Monitors in Australia 2022.
Table of Contents:
More Reading:
1. Why Use a Baby Monitor at All?
Baby Monitors certainly aren't essential – but they do give new parents a whole lot of peace of mind. After doing five years of IVF to have my first baby, I was paranoid that he would stop breathing in the middle of the night and was constantly getting up to check on him. I purchased a baby monitor that went underneath him (it was padded – so comfortable) – and it alerted us if there was no movement after 30 seconds.
That was a long time ago now – and baby monitors have come a really long way! Now modern baby monitors can:
Baby monitors give you the ability to keep an eye on your child from anywhere in your home. In this section, we'll go over some of the top reasons why having a baby monitor is a good idea.
1. Peace of mind.
2. Convenience.
3. Sleep training your child.
4. Keep track of your child's health.
5. Communicate with your child and soothe them.
But if you have a baby with any medical conditions, or a sick baby with a cold or flu or croup, a baby monitor is a must-have item!
Have clear HD Displays
Smart Phone Apps so you can check baby from anywhere around the world
Infared Night Vision
Temperature Alerts
Have playback video
Be compatible with Alexa or Google Home
Rechargeable Batteries
Parents talk-back
Can play lullabies or white noise to help baby sleep
Heartrate Monitor
Motion Activation Alerts
2. The Benefits of Buying a baby monitor
Knowing that you can always check in on your child gives you peace of mind, especially if you have to leave them alone in their room for a short period.
By using a baby monitor to listen and watch your child as they sleep, you can catch any signs that they are starting to wake up and put them back to bed without having to leave your bed.
3. The Different kinds of Baby Monitors Available
There are all sorts of different monitors on the market these days- from traditional audio monitors to WiFi-connected video monitors. So, what's the difference between all these different kinds of baby monitors?
Video baby monitor
A baby monitor is a device that lets you see your sleeping baby from a distance. It will alert you if the baby starts crying so that you can go to his or her side and comfort him or her.
Audio baby monitor
Most models come with lullaby songs and a two-way voice system like a walkie-talky. That way, you can soothe your baby with your voice.
Sensory baby monitor device
These devices are designed to continuously monitor the breathing movements of your baby and audibly alarm in case it changes. There's also a wearable option, which will let you know about things like heartbeat or body temperature with just one press on their device!
Features to consider when buying the best baby monitor
Different models come with different features! Here are some aspects to consider when choosing a baby monitor:
Portability and range. Some monitors have a range of several hundred feet, while others are limited to just a few rooms.
Two-way communication. A two-way voice speaker is a lifesaver if you need to calm your baby down without going into their room.
Vision clarity. Newer baby monitors with HD video devices have quality contrast and resolution – making them an excellent choice for parents who want to see their little ones clearly in all their glory!
Camera lenses, tilt, and zoom. If you're looking for the best baby monitor with a camera, our favorite has pan-tilt or rotation. These types of monitors let us rotate 360-degree viewing and wide-angle shots.
Type of monitor. When choosing a baby monitor, be sure to consider what you need: audio or video?
Choosing the right baby monitor is an important decision, but, you don't have to worry about being overwhelmed.
Our list of 10 best baby monitors will help you narrow down your options and quickly find a model that suits your needs perfectly.
4. How Did We Choose the Best Baby Monitors?
When Stay at Home Mum looks at product – we look at the following:
Number of Customer Reviews
Number of Star Ratings
Number of Products sold both in Australia and Internationally
We ask our readers for their input and feedback on the best baby monitors
We analyse the buying trends of our Mums
Then we put all of the data into a spreadsheet that spits out the top 10!
5. List of the Best Baby Monitors
If you're looking for the best baby monitors in Australia, then you've come to the right place! We've compiled a list of the 10 best baby monitors on the market, and we're sure that you'll find the perfect one for your needs.
Price: RRP $649.00
Stockist: Baby Bunting
EASIEST BABY MONITOR TO USE WITH ALL THE BELLS & WHISTLES
The new and updated Owlet Smart Sock not only can it monitor your baby's oxygen levels and heart rate, but also notifies you when readings fall outside of safe zones. Plus, you can track your baby's sleep trends with ease, like view the total hours slept, number of waking, quality of sleep, and more.
The Owlet Baby Monitor Duo Smart Sock can track baby's heart rate, oxygen levels, sleep quality, number of wakings and more. You can check your baby's stats in real-time – wherever you are in the world!
The Smart Sock has 16 hours of battery life, and can be charged in as little as 90 minutes.
Best of all – you can set 'Safe' zones for your baby – and anything that falls outside of this zone, the Owlet will alert you – so you will always know when your baby needs you!
| | |
| --- | --- |
| Pros | Cons |
| High accuracy rate in algorithms | Hefty price than older versions |
| Long hours of usage | Easily taken off by children |
| Fewer false alerts in monitor | |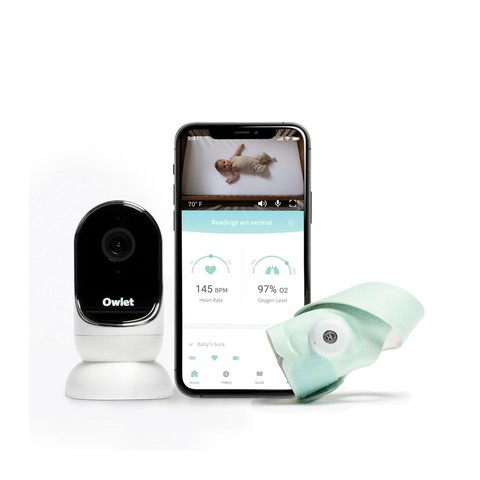 If you're looking for a fast and easy way to set up a baby monitor, Lollipop is the perfect solution. Just bend the tail and wrap the camera anywhere; then connect it to your phone using the app. It has advanced night vision to ensure that you'll be able to see your baby clearly at night.
| | |
| --- | --- |
| Pros | Cons |
| High clarity in night vision | Some delays in notifications |
| Good distinguishing between baby's cry and room noises | No camera remote control |
| Ease of use and setup | |
Price: $199.99
Comes in two colours – Green and Pink
Stockist: Amazon Australia
WE LOVE THE HIGH TEMPERATURE ALERT
Sense-U Baby Monitor is a small, lightweight monitor that clips onto your baby's nappies and transmits data to your smartphone or other mobile devices. It tracks their breathing, skin temperature, and sleeping position, and alerts you when something happens.
The one aspect of this baby monitor that we are loving is the 'High Temperature' alert. So if baby gets a fever during the night – the app will let you know!
| | |
| --- | --- |
| Pros | Cons |
| Little to no false alarms | Doesn't have video monitoring |
| Clings well to your baby's nappies or clothes | Need requirements from WiFi network and won't settle for 5G or hotspots |
| Audible alarm for breathing or movement changes | |
With VM350-2 by VTech 5″ high-resolution display and two cameras, you can see your little one in full color during the day or switch to greyscale infrared images at night for a view. The camera even zooms in 2x so you can get a close-up view if needed. Whether you want to view your baby solo, in split-screen mode, or use patrol mode to keep an eye on them from different angles, this monitor has it all covered.
There are two models available, this one with two monitors, and a cheaper version with just one monitor.
This Baby Monitor has over 2446 4 Star and better ratings!
| | |
| --- | --- |
| Pros | Cons |
| Good monitor with decent resolutions | Sensitive to noises in the background |
| Large screen size and camera zooming | Short battery life |
| Lullaby songs are great | |
Price: $573.59
Stockist: Amazon Australia
Over 4,359 Positive Reviews!
THE BABY MONITOR WITH ALL THE BELLS & WHISTLES
Keep an eye on your little one with ease with the Nanit Pro Smart Baby Monitor. This incredible piece of technology not only comes with a handy Floor Stand for easy placement but also boasts crystal-clear two-way audio so you can always hear and talk to your child.
Plus, background audio will let you keep tabs even when the screen is turned off!
| | |
| --- | --- |
| Pros | Cons |
| Secure encryption to parents and nannies | App integration, like with Alexa, can be a sore |
| Quality readings of humidity algorithms | Sleep statistics aren't always correct |
| Quality picture, as well as camera shots and movements | |
This monitor is easy and convenient to operate, with a simple plug-and-play setup, and the rechargeable Parent Unit gives you full mobility in the house. The infrared night vision ensures that you can keep an eye on your baby even in the darkest of rooms, and the automatic light sensor will shift between day and night modes.
With two-way talk, room temperature monitor and alert, night vision, lullaby, and sound level LED indicator, you can ensure that your baby is always safe and comfortable.
| | |
| --- | --- |
| Pros | Cons |
| Large screen and monitor | The range can viewing angle can be a tad short |
| The audio is clear and can pick sounds between your baby and background noises | You can't pan or tilt the camera remotely |
| Clear picture | |
Price: $273.80
Stockist: Amazon
Over 42,212 Positive Ratings!
The DXR-8 Video Baby Monitor is perfect for parents on the go! This lightweight and portable monitor features a ten-hour battery life, so you can keep an eye on your little one even when you're out and about. The range of up to 700 feet means you can stay connected even when there's no obstruction between you and your child.
This amazing Baby Monitor was the 2020 Award Winner for the Babylist Best Baby Monitor of 2020.
| | |
| --- | --- |
| Pros | Cons |
| Video quality is good and smooth | Screen light is quite bright even at low settings |
| Energy-efficient design | The display screen is a bit smaller than other brands |
| Great camera features | |
Add this wireless security camera to your home and always feel confident that you're keeping an eye on things, even when you're not there. It's got a 5″ screen for easy control, and built-in infrared night vision so you can see what's happening even in the dark. Plus, it's voice-assisted enabled, so you can easily access its features with Alexa or Google Assistant.
Plus, the camera can be used to monitor other things than your baby – use it to keep an eye on elderly loved ones at home, your pets, or your personal belongings for added security while you're away.
| | |
| --- | --- |
| Pros | Cons |
| Versatile use for family needs | Annoying blinking and flashing blue light |
| Battery life is long and good | Not enough house range |
| Audio and visual quality is great | |
And if it doesn't? Well, just let us know! We're happy to answer any questions or concerns before making a purchase – one way or another we want you to be satisfied. So go ahead, make this big first step in keeping your little one safe by choosing between our favourite picks for top-rated baby monitors today!
Source: Stay at Home Mum https://www.stayathomemum.com.au/my-kids/kids-and-technology/best-baby-monitors/