Beauty Fridges are the hottest 'Must Have Item' for Christmas Beauty Gift for any girl over 15 years of age that loves makeup. But if you haven't heard about beauty fridges before – here is what all the hype is about! What is a Beauty Fridge? A Beauty Fridge is a mini-fridge that you can
Beauty Fridges are the hottest 'Must Have Item' for Christmas Beauty Gift for any girl over 15 years of age that loves makeup.
But if you haven't heard about beauty fridges before – here is what all the hype is about!
What is a Beauty Fridge?
A Beauty Fridge is a mini-fridge that you can keep in your bathroom or bedroom that stores all of your skincare and makeup products. Keeping cosmetics cool (particularly here in Australia) is a great way to make your skincare products last a lot longer – and it feels amazing to apply cold products to your face.
What Do You Keep in Beauty Fridges?
Keep your expensive makeup items in there to extend their life. Any cleansers or moisturisers are good to keep in a beauty fridge to make them lovely and cool when applying them to your skin.
Any skincare products that contain AHA's or BHA's or Benzoyl Peroxide can be kept in a beauty fridge to decrease any oxidisation of the active ingredients.
Plus sheet masks that are refrigerated before applying to feel next-level luxurious!
Can I Keep Food in My Beauty Fridge?
Yes if that's what you want to keep in it. A Beauty Fridge is just a miniature fridge – so you can keep anything you like in there!
They would be a great idea for students going to university!
Is It A Best Fit for a Christmas Beauty Gift?
The Beauty Fridge is a must-have for any beauty lover's wish list. Every skincare fanatic needs a special place to store their favourite products, and storing them in a cooler environment extends their shelf life while also allowing for deeper skin penetration to soothe and calm irritated skin conditions.
Cosmetic mini-fridges make great gifts for women because they're both stylish and useful. So don't hesitate to buy one for your fave gal!
So, here are the 10 best beauty fridges for your Christmas beauty gift!
Best Full-Sized Beauty Fridge:
Price: $219.95
Stockist: Adore Beauty
Colours: Blush, White, Black
Afterpay, Klarna and Zip Pay available
Ships from Australia
The original and the best beauty fridge from the original stockist. Experience luxury at your fingertips with your own Beauty Fridge. Adding that special touch to your beauty routine that you never knew you needed.
The beauty fridge comes in three colours (blush (pictured), black and white and features deluxe 10-litre storage. It has a premium tempered glass door, a car power adaptor and side handles for easy portability.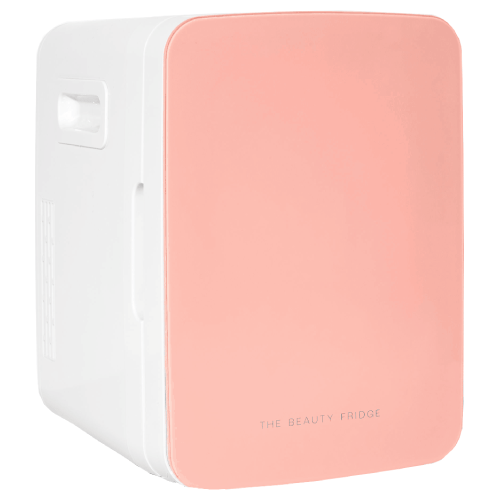 Most Affordable Beauty Fridges:
Price $129.99
Stockist: Oz Hair and Beauty
Ships from Australia
Cold 4ºC-10ºC at 25˚C ambient
Heats up to 40ºC-50ºC with a flick of a switch.
This fridge has both cold AND hot settings— yep, you read that right. This Beauty Fridge is a revolutionary way to keep your skincare and beauty products fresher! Measuring: 26 x 18 x 24cm with a 4L capacity, includes a removable middle shelf and door shelf for maximum storing space. With the classic vintage fridge look it will really spruce up any bathroom.
Price $149
Stockist: MCo Beauty
Ships from Australia
Dimensions 24.5cm W X 26cm D X 32cm H
With dual cooling and warming functions, the fridge prolongs your product shelf life and delivers a refreshing chilling sensation, while allowing you to create those warm day spa vibes at the same time.
It even has a reflective mirror and in-built selfie light with three brightness settings for ultimate visibility. With 12L capacity and two removable shelves and one door shelf allows for maximum storage.
Price: $159.95
Stockist: Adore Beauty
Afterpay, Klarna and Zip available
Ships from Australia
Most Beauty Fridges are 10 litres in size, but if you don't have loads of makeup and skincare or you want a budget fridge that is still fantastic – then this is the best pick.
Comes with a car power adaptor and removable shelves as well as duel cooling and heating functions. All the power and style of a 10-litre beauty fridge – just smaller!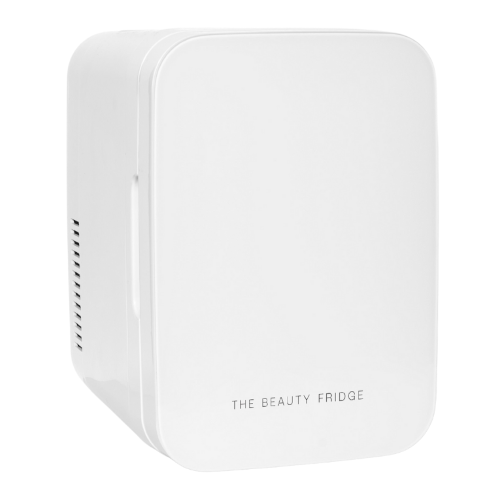 Best Looking Beauty Fridge
Price: $458.99
Stockist: Amazon
Ships from The United States
The "Creme de la creme' of Beauty Fridges. Comes in a huge 12-litre size, this premium beauty fridge is perfect for all your skincare and beauty utensils keeping them cool at a steady temperate which optimises the shelf life of your beauty products – and looks good too.
Has an eco-mode so uses minimum power to run, has LED lighting and comes in four colours to match the decor of your room.
Best Extra Large Sized Beauty Fridge
Price: $353.47
Stockist: Amazon
Ships from The United States
The largest beauty fridge on the market (that we could find) – a huge 20 litres of storage capacity – perfect for the Professional Makeup Artist or Skincare Professional.
With the super-quiet operation, highly efficient with low energy consumption and the ability to be totally portable, it has all the functionality of the smaller beauty fridges, with the larger sizing.
More Beauty Fridges Worth Considering
Price $148.99
Stockist: Amazon
Ships from AU
Want a glossy and compact mini fridge for your beauty needs? Well, say no more! A compact cabinet with a unique mirror and LED light design is ideal for placing on a make-up desk because of its small size.
The makeup mirror with LED lighting keeps you looking fresh without requiring you to walk in front of the mirror every time you put on makeup. It's possible to do your makeup right in front of the fridge!
Price: $154.71
Stockist: Amazon
Ships from AU
Preserve the freshness of your beauty products for as long as possible! Because it cools to 20°C below room temperature, the envie mini fridge keeps your skincare and cosmetics fresher, longer.
The Envie beauty fridge comes with a 13A mains power cord, a DC car power cord, and a USB charging cable, so you can power it up at home or on the go with ease.
Price: $93.18
Stockist: Amazon
Ships from AU
Russell Hobbs' compact refrigerator/mini beauty fridge is adapted to suit neatly into tiny spaces. This 14-litre device is perfect for your bedroom, private offices, or kitchen countertop because it can hold 14 330ml drink cans, 2 1.5-litre bottles, or your favourite snacks and even your beloved beauty products! With its small but stylish design, it will look great on your vanity.
The advanced thermoelectric system can quickly heat up to 65°C above ambient temperature, perfect for warming up pastries or paninis! Whether you're at work or on the go, you'll be able to enjoy a hot lunch. Approximately 42.2 x 32.3 x 32.5 centimetres in size and it's covered by a one-year warranty.
Price: $158.14
Stockist: Amazon
Ships from AU
With the Crownful mini-fridge, switching from cooling to warming is as simple as flipping a switch. It has a sleek appearance and is small enough to be used on a desk at the office. There are a variety of colour options so that you could find something that matched the aesthetic of your home or office.
What's even better, though? To ensure long-term durability and energy efficiency, this refrigerator is ETL certified and free of Freon and other harmful substances. Plugs can be used in both standard home outlets and 12V automotive charging stations.
Recommended Reading:
The list of beauty-friendly Christmas gift ideas is looooong, but these beauty fridges are well worth your time and attention because they are super iconic! So, all you have to do is follow our list if you want to have a unique and something amazing but useful for your mother, sister, or girlfriend. There is no chance of failure! Enjoyyy!
Source: Stay at Home Mum https://www.stayathomemum.com.au/bodyandsoul/diy-beauty/beauty-fridges/