We're looking at the most popular DPS for Mythic+ in 2021.
DATA RELIABILITY: The data we use in this post is from benched.me. Reddit user OtherwiseUniversity7 plotted all keys available from the Blizzard API (excluding the CN region) on a single ridge plot to gather the data.
Total Runs Recorded
Here are all the runs recorded since Mythic Season 2 started. We use the data further to determine the most popular ranged and melee DPS specializations.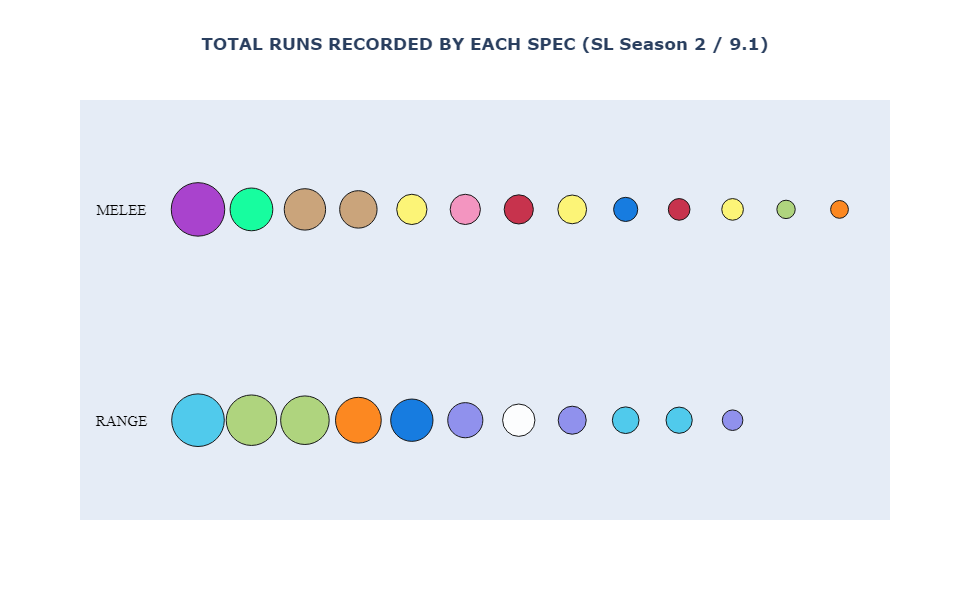 Most Popular Melee DPS for Mythic+
The most popular melee DPS is Havoc Demon Hunter with more than 3.5 million completed runs. In second place is Windwalker Monk with 2.2 million runs. In third place is Fury Warrior with 2.1 million.
The least popular melee DPS is no longer Survival Hunter, but Feral Druid with 389K runs.
Havoc Demon Hunter - 3,511,656 runs
Windwalker Monk - 2,241,444 runs
Fury Warrior - 2,102,514 runs
Arms Warrior - 1,717,567 runs
Outlaw Rogue - 1,124,991 runs
Retribution Paladin - 1,123,239 runs
Unholy Death Knight - 1,046,178 runs
Subtlety Rogue - 1,013,426 runs
Enhancement Shaman - 716,137 runs
Frost Death Knight - 576,562 runs
Assassination Rogue - 575,553 runs
Survival Hunter - 414,950 runs
Feral Druid - 389,059 runs
Detailed Look at Spec Performance
The meta starts kicking in once rewards are no longer relevant. In other words, when you pass the level needed for the Great Vault reward. That's where casuals stop playing, and dedicated pushers (and the metaclasses they play) take over the population.
Certain non-meta specializations stay stable (or even gain share) in mid-range keys.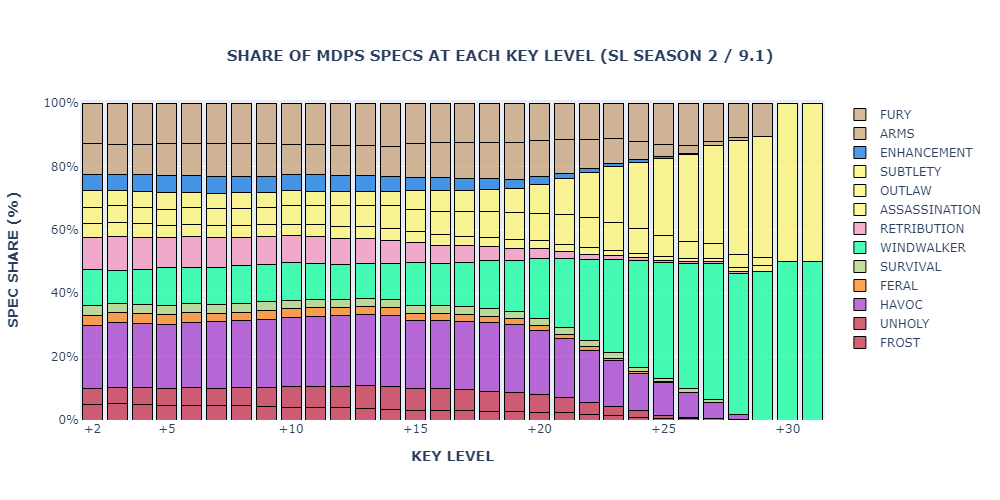 Total Runs By Spec and Key Level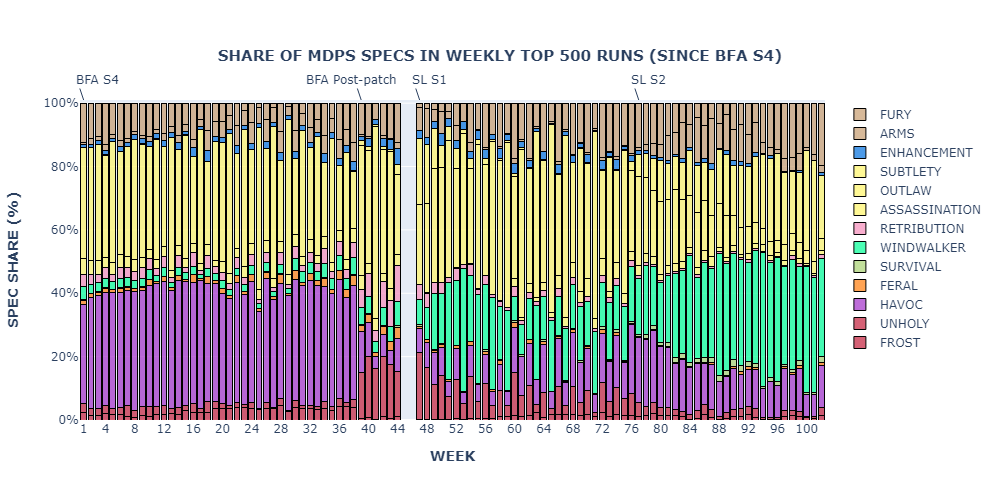 Most Popular Ranged DPS for Mythic+
Top 3 of the most popular ranged DPS includes Frost Mage (3.3 million), Beast Mastery Hunter (3.1 million) and Marksmanship Hunter (2.8 million) runs.
The least popular ranged DPS for Mythic+ is Demonology Warlock with just 519K runs completed so far in Season 2.
Frost Mage - 3,399,666 runs
Beast Mastery Hunter - 3,129,831 runs
Marksmanship Hunter - 2,893,614 runs
Balance Druid - 2,566,073 runs
Elemental Shaman - 2,198,112 runs
Destruction Warlock - 1,513,057 runs
Shadow Priest - 1,285,464 runs
Affliction Warlock - 964,110 runs
Fire Mage - 872,966 runs
Arcane Mage - 844,884 runs
Demonology Warlock - 519,583 runs
Detailed Look at Spec Performance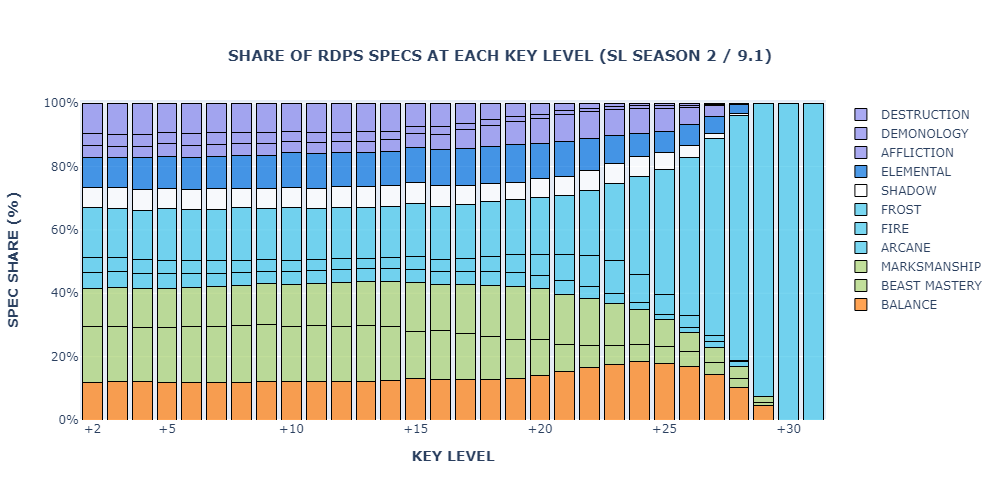 Total Runs By Spec and Key Level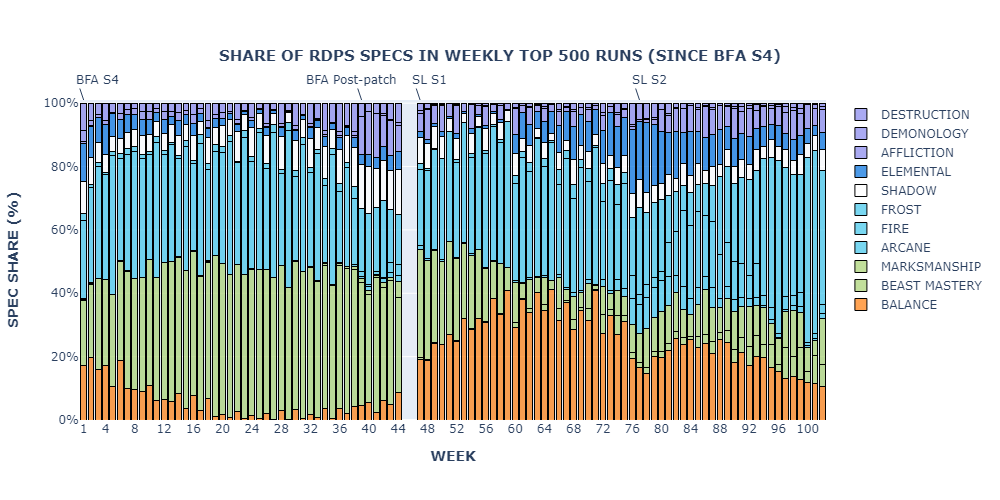 Source: News Latest Topics https://www.icy-veins.com/forums/topic/63369-the-most-popular-dps-for-mythic-in-2021/