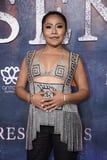 The premiere of Alfonso Cuarón's 2018 drama "Roma" completely transformed the life of the film's lead actress, Yalitza Aparicio, known now for her Oscar-nominated role as Cleo. It would make her not only the second Mexican actress to land an Oscar nomination but the first Indigenous woman ever. It's a record she by no means takes for granted. She would also go on to be included in Time magazine's list of the 100 most influential people. But while the film fast-tracked Aparicio to stardom in a way she likely never anticipated, it would be years before viewers would see the actress star in anything again. After playing the role of a white Mexican family's housekeeper and nanny, inspired by director Cuarón's nanny growing up in Mexico City, Aparicio has been very intentional about the roles she chooses to take and turns down. With the severe lack of Indigenous representation that exists in Hollywood and being aware of how much of a symbol for Mexico's Indigenous people she has become, it's become crucial for her, she has said, not to sign onto projects that could potentially perpetuate negative perceptions and stereotypes of Latinx Indigenous communities.
Four years after "Roma," Aparicio is back with plenty of projects under her belt, including her latest: Luis Mandoki's "Presencias" on TelevisaUnivision's Vix+. In it, she plays the supporting role of Paulina, a part that demonstrates both her growth and range. She goes from playing the main role of housekeeper and nanny Cleo in "Roma" - who she is nothing like in real life, mind you - to a supporting role in a modest horror film. She's also starring in "Midnight Family," Apple TV+'s first original Spanish-language drama, based on Luke Lorentzen's 2019 documentary of the same name. Aparicio is also in the second season of "Los Espookys" on HBO Max, which premiered on Sept. 16. And it doesn't end there. You can also expect to see her in Netflix's "The Great Seduction," slated to release in 2023. Our girl is busy, and that's because she's real clear on using her platform to create more and better representation of Indigenous Latinxs. She's creating much-needed visibility, and part of that is steering away from roles that feed into stereotypes about people who look like her.
There's a certain perception the media have created about Aparicio. While they celebrate her success, they also often portray her as shy and timid - much like Cleo in "Roma." The truth is, that's not her at all. Aparicio isn't Cleo. That's just a character she played - it's called acting.
From the second she appears on the Zoom screen, Aparicio seems confident and enthusiastic about jumping into the conversation. She never chokes up her words or speaks too quickly like some celebs or subjects do when finding themselves off guard after an unexpected question. While she's grateful to be where she's at, she also knows she deserves to be here. That quality shines through.
Cuaròn has said in interviews that Aparicio is nothing like the character she plays in his film, and he is correct. He has referred to her as "a person incredibly rooted in her truth" who "is not easily swayed by the glitz and glamor of Hollywood" and "focuses on being a force for change and empowerment for indigenous women, accepting the symbolic value of what she has done and carrying that responsibility with her dignity and grace."
"It was shocking to read this script and to realize that I had the opportunity to explore another area of acting. It has been wonderful to have the opportunity to be part of 'Presencias' and get over my own fears of if I was going to make it as an actor or not."
Aparicio recognizes the much-needed change that's finally happening in Hollywood and the role she's played and will continue to play in making more change a reality. "I feel very happy to be back. I mean, we've started something amazing, changing the idea that the public had by exploring a different genre," Aparicio tells POPSUGAR in Spanish over a Zoom call with a graceful smile across her face. She explains how working on a horror movie wasn't something she necessarily saw herself doing before. But everything changed once she was handed the script. "It was shocking to read this script and to realize that I had the opportunity to explore another area of acting. It has been wonderful to have the opportunity to be part of 'Presencias' and get over my own fears of if I was going to make it as an actor or not. [Luis Mandoki and I] had talked years ago about the possibility of doing something together, so when the opportunity finally came, of course, I didn't hesitate."
For Aparicio, taking this role was about growth and trying something new to show the world she can play all kinds of roles - not just a maid. "You know, one of the narratives that I have always had to remember personally is that each of us has the opportunity to experiment in different roles," she says assuredly while explaining the importance of challenging ourselves to get out of our comfort zones and try different things. "Because at one point you are scared or scared to perform or get out of that area that you have always repeated. I am very happy that this opportunity is being given and to be considered and seen in different, more diverse roles. And of course, there is also work on our part to show that we can do it."
"You know, one of the narratives that I have always had to remember personally is that each of us has the opportunity to experiment in different roles."
Aparicio is on the road to success, and she's clearly already manifesting that. You can credit that to her infinite curiosity. She's the type of person who really embodies the idea of staying a forever student. There's a desire to learn, grow, and challenge herself, no matter how hard or uncomfortable the obstacle or challenge presented to her might be. You feel that with the energy she brings in her role as Paulina in "Presencias."
"I think the character of Paulina is a woman who has autonomy and independence and lives in a small town that is not used to seeing that in their town or from a woman," Alberto Ammann, who plays the lead, Victor, in "Presencias," tells POPSUGAR in Spanish. "At her age, she has her own business, she swims in the lake every day even though they tell her it's dangerous, and she has a motorcycle. In other words, the thing I find interesting about Yalitza's character is a different kind of woman; she's special. She's different from society's model of a small town and how women have to be a certain thing. And there is a kind of rebellion within her character, and that is why I think she approaches Victor. She's interested because she has an interest in the world around her, right?"
Aparicio is set on making a difference in this industry - in this world - whether it's taking on a challenging role that will help the world reimagine the types of roles Indigenous women can play, repping hard for her community, or even in the ways she chooses to address the colorism and erasure of Indigenous communities that still very much exist today. She's even paying it forward by giving back and partnering with organizations like Cine Too, an organization spearheaded by Mexican filmmaker Juan José Garcia Ortiz that helps fund a small movie theater in the town of Guelatao de Juárez, Oaxaca.
Aparicio has shared in a number of interviews how before "Roma," she never imagined herself being an actress. She barely even watched films because in the town she grew up in there wasn't a movie theater and the films released in Mexico rarely portrayed women that looked like her as anything more than servants or maids. For Aparicio, bringing the arts to areas like the town of Guelatao de Juárez doesn't just bring young kids access to the arts, it allows them to actually imagine themselves having dignified careers in film and acting for the first time. It allows them to see themselves in the lives of people society has discouraged them from ever becoming. And that is exactly what Aparicio is providing for Latinas and Indigenous girls and women that look just like her. She's proudly representing Indigenous communities with every role she takes. She's broadening representation in Mexican cinema, but she's not stopping there. Aparicio is making positive representation of Indigenous communities more than just a dream or hope - she's making it a reality. She's embodying the change we're longing to see.
Source: POPSUGAR Celebrity https://www.popsugar.com/celebrity/roma-star-yalitza-aparicio-is-back-48963566