Why Sandra Bullock didn't want to end up with either Channing Tatum or Brad Pitt's characters in new action rom-com The Lost City
Published: in Celebrity News by 1news.info.
If there's anyone who can do romantic comedies on a blockbuster scale, it's Sandra Bullock. The actress was both lead and producer in her new film, The Lost City, and she had one goal top of mind: to make the movie bigger and bolder. And with a budget …
If there's anyone who can do romantic comedies on a blockbuster scale, it's Sandra Bullock. 
The actress was both lead and producer in her new film, The Lost City, and she had one goal top of mind: to make the movie bigger and bolder. And with a budget of $89 million — a decent chunk of change for your average rom-com — she was able to do just that. 
"I wanted to be in a movie that had action and adventure and comedy and elements of romance, and have it be on a big scale like the guys have it," she tells 9Honey via Zoom while promoting the film from LA.
READ MORE: Alex Fevola opens up about 'gut-wrenching' confrontation with Lara Worthington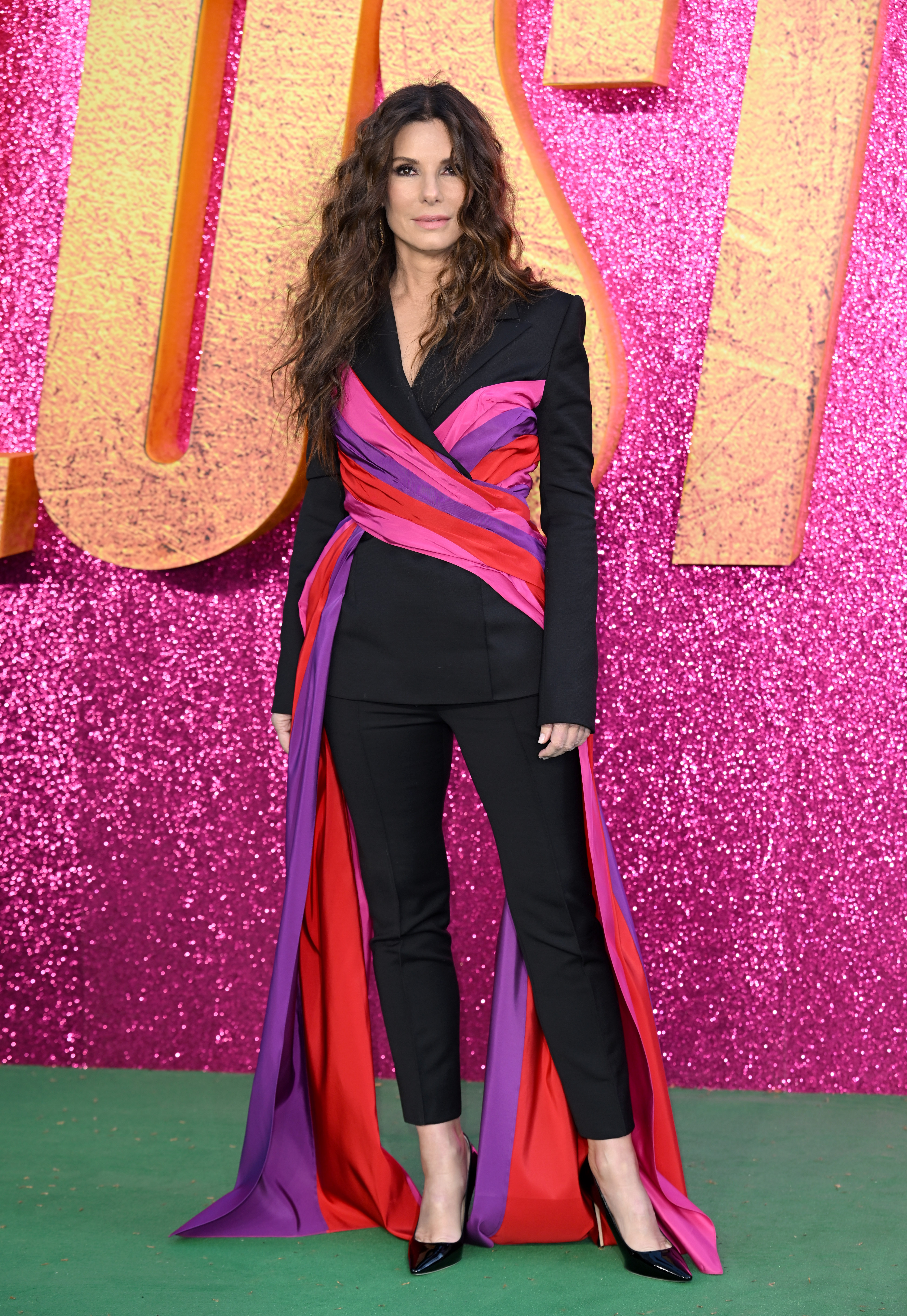 "Usually, when you see rom-coms, it's very, very small scale and we don't get the action, we don't get the adventure. But this felt like the movies of 20 or 30 years ago where you went on an adventure, there was escapism, there were all kinds of elements that made it exciting to watch, not just people giving each other googly eyes."
READ MORE: Costco vs Aldi: Which is cheaper when it comes to essential items
In the film, Bullock plays reclusive author Loretta Sage, who writes about fantasy places in her novels. To sell her books, she uses the services of a cover model named Alan, aka Dash (played by Channing Tatum), who is overzealous and harbours a crush on Loretta.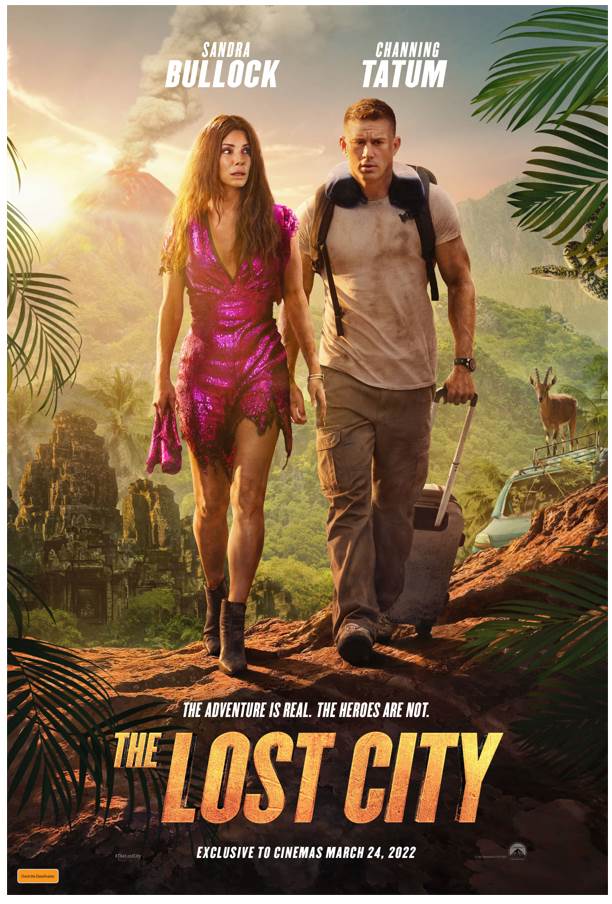 When she is one day kidnapped by crazed billionaire Abigail Fairfax (Daniel Radcliffe) — who believes she can lead him to an ancient city's lost treasure, like in her novels — it's Alan who takes it upon himself to come to her rescue, with the help of Brad Pitt's character Jack Trainer.
But Bullock turns the rom-com genre on its head, because her character is very capable of saving herself. The essence of the story is about Loretta — who is also a widower — coming back to life and loving her next chapter, and she doesn't need a man to help her do so. Even if that knight in proverbial shining armour is Tatum or Pitt.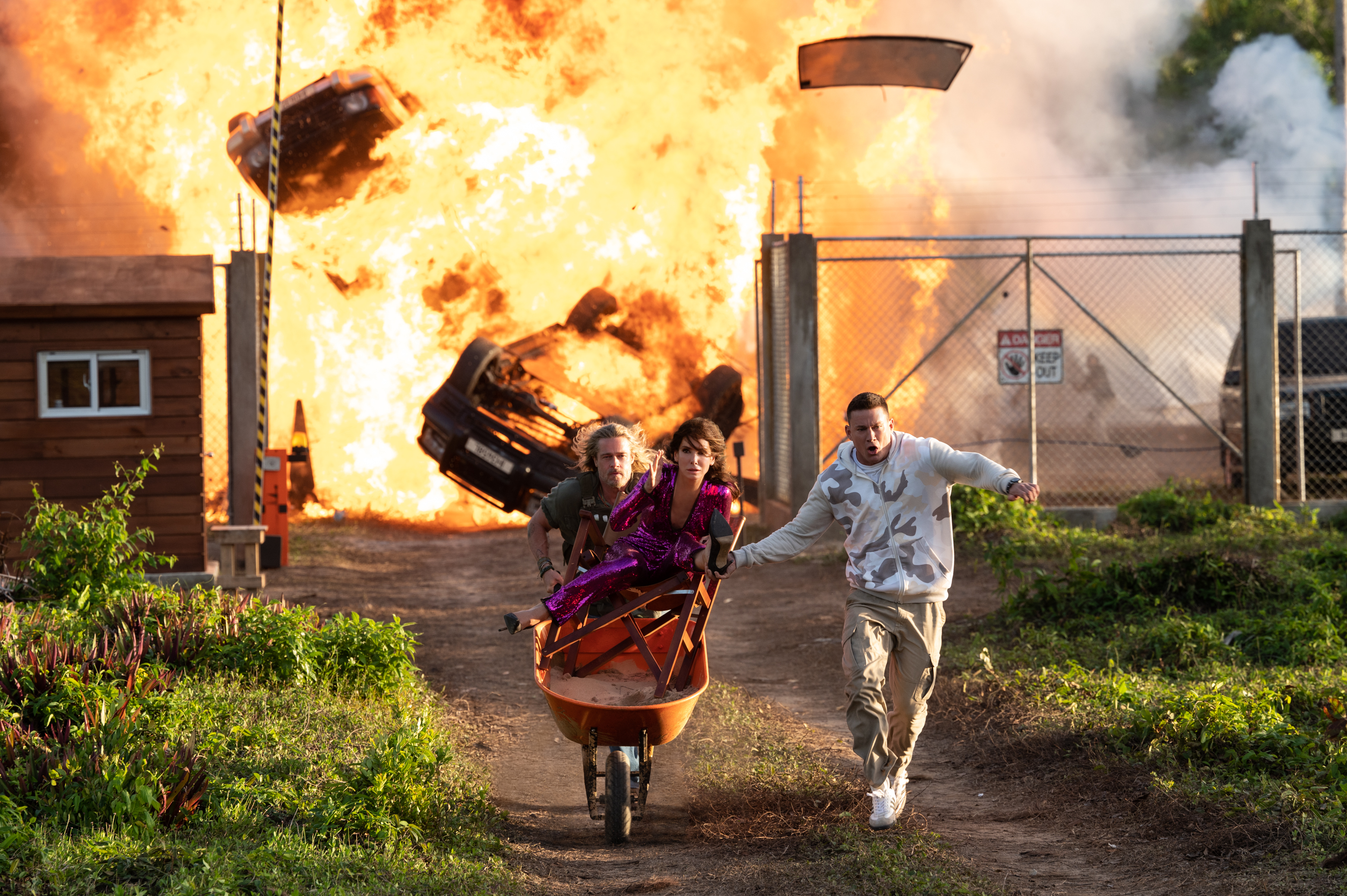 "Neither," Bullock laughs when asked who she wanted Loretta to end up with. "The nice thing about this story isn't about someone falling in love with someone — it's about falling in love with your own life again. She had to fall with what her new chapter is and be OK with it."
"It wasn't her being rescued by someone. She was part of the rescue, she was part of the saving," she adds of her character. "They all went on a journey, they all sort of were judged. But by the end, they all realised who they were was kind of great."  
READ MORE: Will and Kate's bold new move to happen 'within months'
The aforementioned Radcliffe also stars in the film, playing the antithesis to his beloved Harry Potter character we all know and love.
However, portraying the bad guy for once was a welcome departure for the Hogwarts alum.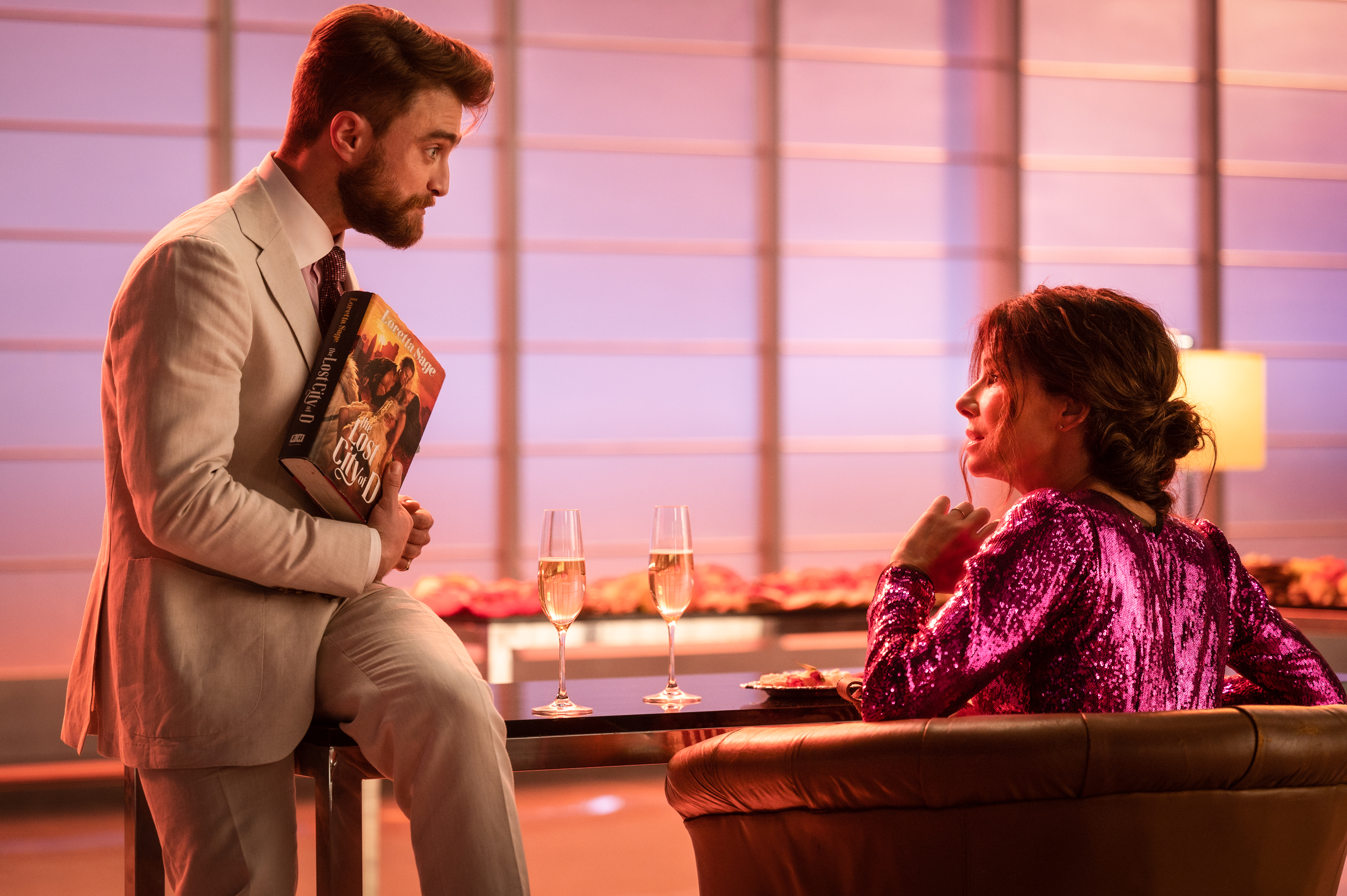 "I feel like there was a lot to latch onto about this bad guy that made him, if not relatable, just very, very human and understandable," Radcliffe tells 9Honey Celebrity.
"Obviously no one is a villain of their own story. He thinks he is very heroic, he thinks he's an Indiana Jones discovering stuff when he actually doesn't have the skill or the talent to do any of those things."
"He's just kind of cosplaying it being an archaeologist, and he's just desperate to impress his dad and he's kidnapped Loretta and desperately wants her to think he's cool. So there were a lot of funny things about him that enabled me to get a hand on who he was."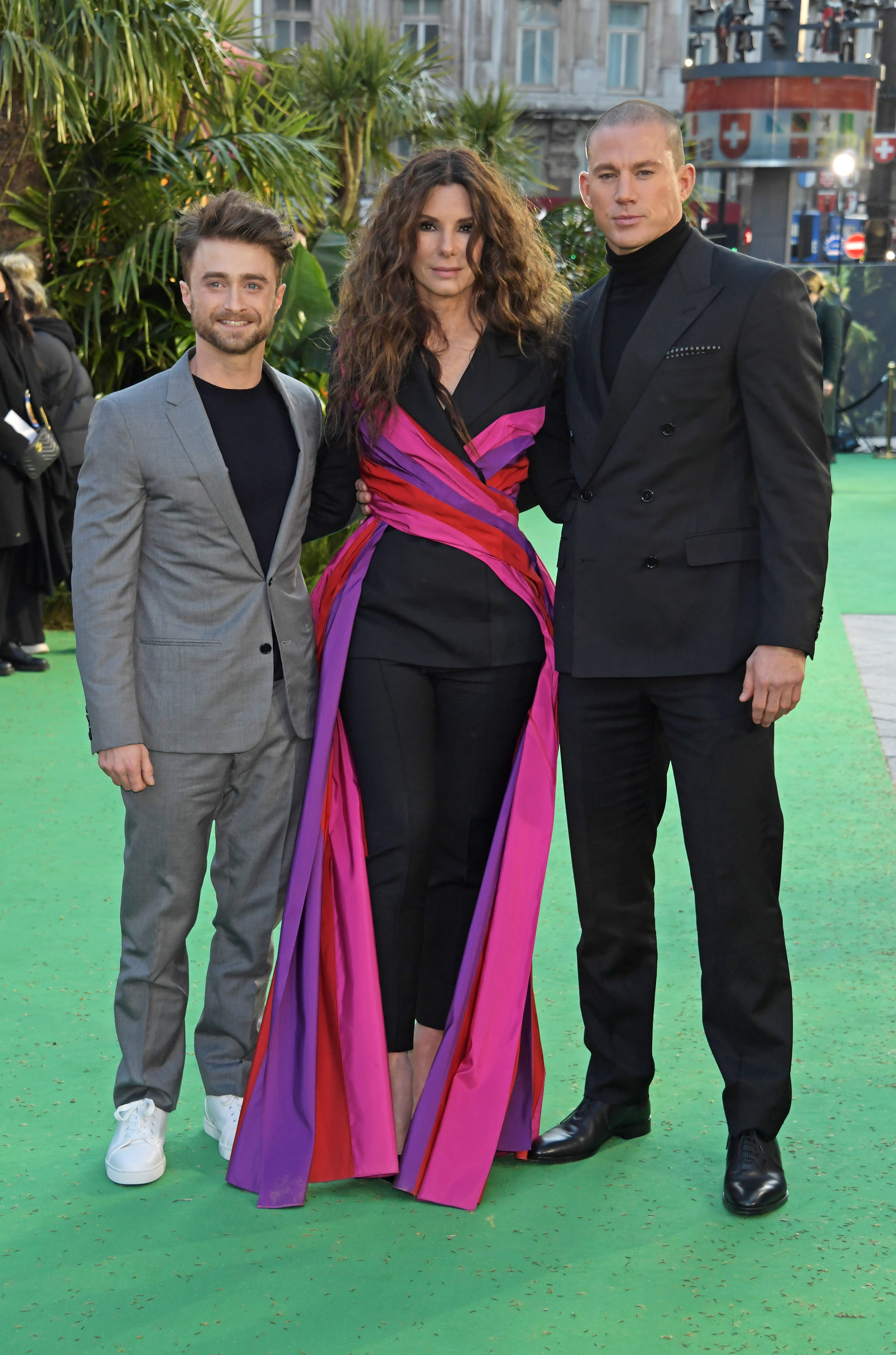 The film also reunites Bullock with Oscar Nuñez, who she starred alongside in the 2009 rom-com The Proposal. The actor — hilariously known for his stint on the US version of The Office — was not only excited to see Bullock again but he was keen to return to the Dominican Republic, where the movie was filmed.
READ MORE: Ex-nanny Lola reveals how the dads treated her on the job
"I was there when I was 13 years old with my family and it was wonderful to go back," Nuñez tells 9Honey Celebrity.
"I loved going back there again with my wife and kid, and what better reason than to go and work at the same time and have a little vacation."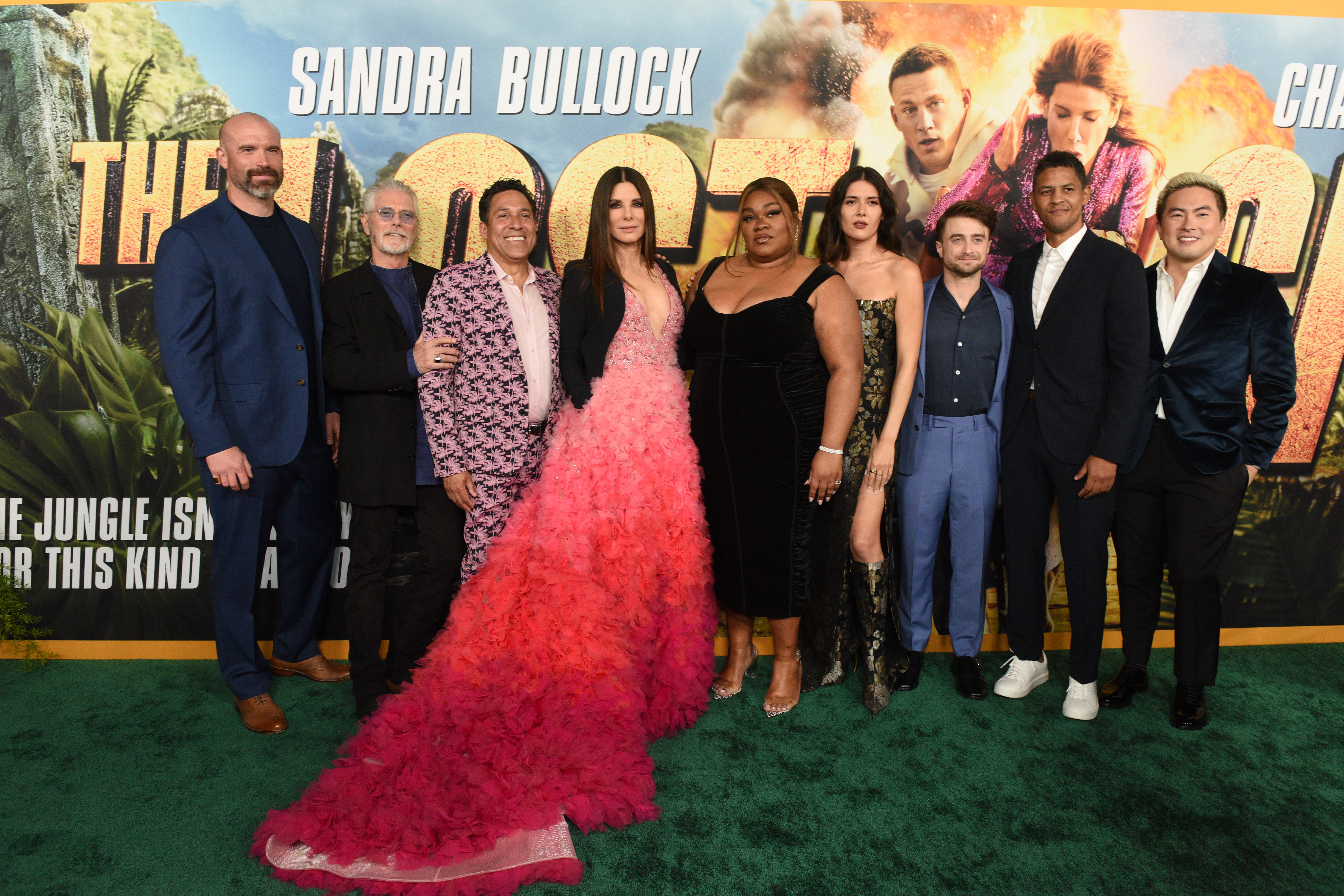 "Sandy's the best, and Channing Tatum was amazing — he took his dogs there and that was great, too," he adds, before expressing his only regret.
"Brad Pitt was there. Did I meet him? No. We didn't cross paths, we weren't there at the same time. But that would've been cool. That would've been the pièce de résistance."
READ MORE: How to make your groceries go further and save money on food waste
Rounding up the cast are Da'Vine Joy Randolph, who plays Loretta's publicist Beth, and comedian Patti Harrison, who is laugh-out-loud funny as Loretta's social media manager, Allison. And for Randolph, her pièce de résistance was working with Bullock.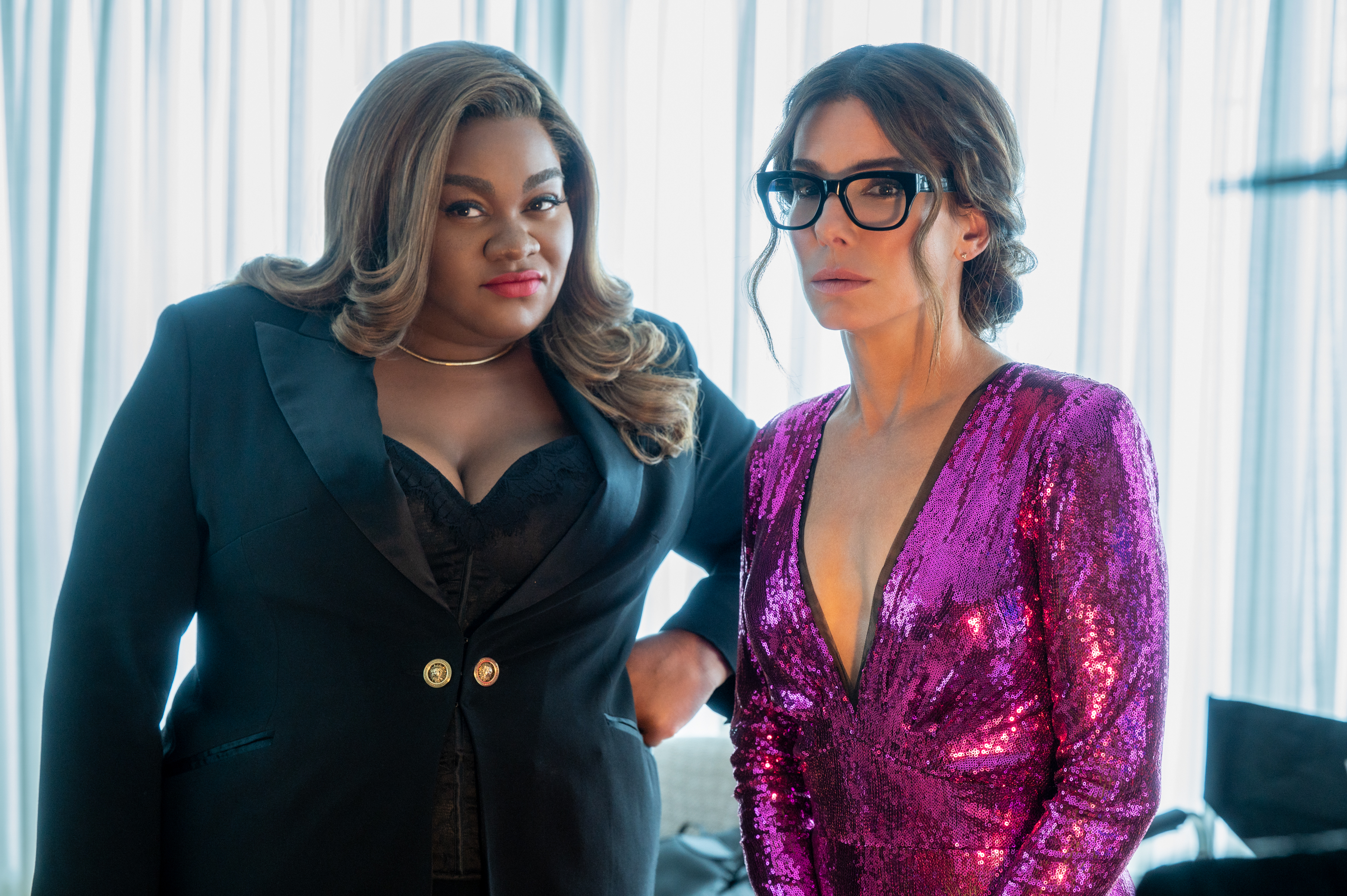 "It was amazing, I'm very grateful for this opportunity to have worked with Sandy and everyone," the actress tells us. "I loved the sense of play that Sandy has. In many ways, she's like a big kid in the best ways possible, and yet has this ability to switch to be an excellent producer. It truly was one of those jobs that I think you'll never forget you were a part of."
The Lost City is exclusive to cinemas from April 14.
For a daily dose of 9Honey, subscribe to our newsletter here.
Source: Entertainment News, TV and Celebrity Gossip - 9Celebrity https://celebrity.nine.com.au/latest/sandra-bullock-the-lost-city-talks-channing-tatum-brad-pitt-interview-exclusive/08e023b7-958b-4d4e-b4d4-4c2c3a019e2b