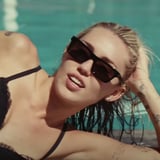 Miley Cyrus is making quite a statement with her latest single, "Flowers," which seems to be full of hidden messages and references. The visual for the upbeat track, which boasts an ode to self-love, dropped on Jan. 12, featuring scenes of Cyrus prancing around in a gold dress and stripping down to black lingerie by her pool. However, the carefree, summeresque song itself includes lyrics that seemingly allude to Cyrus's ex-husband, Liam Hemsworth, and the home they once shared.
"We were right 'til we weren't / Built a home and watched it burn," she sings in the first verse, referring to the house she and Hemsworth shared in Malibu that was destroyed by the 2018 Woosley Fire. In the hook, she also adds, "I didn't wanna leave you / I didn't wanna lie / Started to cry / but then remembered I," which seems to refer to the final days of Cyrus and Hemsworth's marriage.
Cyrus and Hemsworth first met in 2009 and dated on and off for a decade before they tied the knot in 2018. The two were only married for seven months before Hemsworth filed for divorce in August 2019. That month, shortly after news of their separation broke, People reported, per a source, that Cyrus "really fought to make it work" with her ex. However, she's since moved on to Liily drummer Maxx Morando, whom she's been dating for a year now.
Although Cyrus has a new love in her life, it's clear her newest song from her upcoming eighth studio album, titled "Endless Summer Vacation," is still hashing out her romantic past. But the Hemsworth references aren't the only thing fans have picked up on in the song. Upon a closer listen, it appears that part of "Flowers" mirrors a Bruno Mars song, his 2013 breakup anthem "When I Was Your Man," as the chorus replicates similar lyrics from the old smash.
If you listen closely, Cyrus's lyrics "I can buy myself flowers / Write my name in the sand / Talk to myself for hours / Say things you don't understand / I can take myself dancing / And I can hold my own hand" sound an awful lot like Mars's "I should have bought you flowers / And held your hand / Should have gave you all my hours / When I had the chance / Take you to every party 'cause all you wanted to do was dance."
Rumor has it, Hemsworth once dedicated Mars's song to Cyrus. On Jan. 9, a Twitter user wrote in a viral tweet, "miley cyrus wrote a song as a response to this bruno mars' song which liam once dedicated to her, and she's releasing it on his birthday 💀." Considering the timing of "Flowers"'s release (one day before Hemsworth's birthday, Jan. 13), it seems the song has a lot more significance beyond its theme of self-love.
Listen to Cyrus's "Flowers" above, and see if you can catch all the similarities from Mars's "When I Was Your Man" ahead.
Bruno Mars's "When I Was Your Man" Music Video
Source: POPSUGAR Celebrity https://www.popsugar.com/entertainment/miley-cyrus-flowers-easter-eggs-49061906