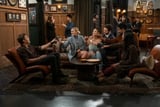 Now that "How I Met Your Father" season one has passed the halfway mark, our curiosity about who the titular father is is higher than ever! The Hilary Duff-led Hulu reboot of the CBS fan-favorite sitcom "How I Met Your Mother" has drawn more than its fair share of comparisons to the original, and while we had to wait for nine long years to find out who Ted (Josh Radnor) eventually married and had children with, it seems that the identity of Sophie's (Duff) son's father might be revealed sooner rather than later.
The writers for "How I Met Your Father" have decided to keep the physical appearance of Sophie's son under wraps, as to avoid giving anything away about the possible identity of the father among its diverse cast. So fans truly have nothing to go on but the story as it unfolds. Thus, we put on our sleuthing hats and uncovered several strong candidates that could fill these formidable shoes.
Ahead we've rounded up every promising theory about who the potential father might be, and ranked them from most to least likely. While Sophie tells her son that she met his father on the night of the premiere episode, they can introduce characters Sophie met that night in later episodes, like they did with Drew (Josh Peck) in episode three. In other words, the possibilities are endless! Assuming the father has been introduced in the show already, these are our top theories!

Source: POPSUGAR Celebrity https://www.popsugar.com/entertainment/how-i-met-your-father-who-is-father-theories-48710919