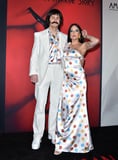 Evan Peters is one of the biggest heartthrobs in Hollywood, but when it comes to his real-life romances, his dating history is actually pretty small. While the 35-year-old actor - who currently stars on Netflix's new true-crime series "Monster: The Jeffrey Dahmer Story" - is known for his on-again, off-again romance with Emma Roberts, she certainly isn't the only star he's fallen for over the years. In fact, he actually dated one of his "American Horror Story: Murder House" costars way before the series even began.
In a 2015 interview with Cosmopolitan, the actor opened up about his dating preferences. Of the way to his heart, he said, "I guess girls who give me a chance, you know? If I say the wrong thing or do something stupid or fumble or spill sh*t on my shirt, she's OK with it. She's cool with that and will give me another chance to say the right thing, and get past my nerves and insecurity. Gotta give a guy a chance, essentially. There are a lot of girls out there who don't really want to do that. But there are a lot of girls out there who do, and those are the ones - the only ones - I can really go for. I need a couple more chances than just the first one."
See everyone who has called Peters their boyfriend, including Halsey, ahead.
Source: POPSUGAR Celebrity https://www.popsugar.com/celebrity/Who-Has-Evan-Peters-Dated-43987366