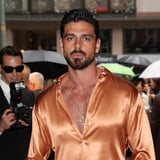 Khloé Kardashian is making headlines once again after she was spotted out hanging out with Michele Morrone at Milan Fashion Week. On Sept. 24, the two sent fans into a frenzy when the Italian actor posted a photo of them cozied up on his Instagram Stories.
Morrone is best known for starring as Massimo Torricelli in Netflix's 2020 film "365 Days," which he previously described to People as a "major turning point in my life." "Before the movie came out I had 4,000 followers on Instagram. And the night after the movie was released on the platform, I woke up and had 2.6 million followers," he told the outlet.
While "365 Days" may be his biggest project to date, Morrone has been on his acting grind since 2011, with appearances in TV shows like "The Teacher," "Medici," and "The Trial." He also starred in the "365 Days" sequel "The Next 365 Days" earlier this year, and he's showing no signs of slowing down. With passions for acting, music, and fashion, he has the potential to be around for a long time. While we wait to find out if that includes being a part of Kardashian's life, read ahead for everything we know about Morrone - including how close he is with one of his "365 Days" costars.
He Was Previously Married to a Fashion Designer
From 2014 to 2018, Morrone was married to fashion designer Rouba Saadeh. The two share a son named Brando, and Morrone has another son named Marcus from a previous relationship.
Morrone confirmed to People in June that he's "absolutely single" now. "It's not because I want to be single, but I have no time," he explained to the outlet. "I'm focusing so much on my career, my kids. And I probably haven't found the right person yet."
Harry Potter Inspired His Acting Career
According to Morrone, he caught the acting bug after he watched the first Harry Potter movie as a kid. "I thought, 'Hey, I would love to do this movie,'" he told People. "After that I started researching everything about people who make movies and stuff. It was incredible to me to see magic onscreen, that wasn't real but felt real. I started thinking, 'How do they do these things?' And then I started building up my passion for it."
He's Close Friends With His "365 Days" Costar Anna-Maria Sieklucka
Though "365 Days" fans are secretly hoping Morrone and Sieklucka get together in real life, the actor previously said the two are nothing more than friends. "We have an amazing friendship," he told People. "We are partners in crime. We love each other so much, but there's nothing more than that."
He's Also a Musician
When he's not busy booking acting roles or being a father, Morrone is focused on another passion: music. On YouTube, he has music videos that date back to July 2020, and he released his first album, "Dark Room" in February of that year. Most recently, he dropped his single "Angels" on Aug. 18.
He's a Tattoo Enthusiast
Morrone is a bit of an ink fanatic. He even told People he lost track of how many he has currently. "I think I have 30 tattoos all over my body. And I don't want to stop it," he said. "I see my body as a book. I like to ink every important thing that happened in my life. I recently added a tattoo that I inked myself which reads 'Angelica, Margarita and Stefania,' which are my sisters, my siblings. There was a huge misunderstanding about it, people thought it said 'Anna-Maria.'" If you want a closer look at Morrone's inked bod, just scroll through his Instagram page (there are plenty of shirtless photos).
He Wants to Star in a Marvel Movie or a Period Piece One Day
While Morrone pretty much has sexy roles down pat with "365 Days," the actor has his sights set on other movie genres and franchises. "I'd love to do an action-comedy or a historical drama," he told People. "It's very satisfying always to change your personality to show the public that you are a chameleon, you can do a lot of things. I love Marvel movies and it would be really fun to play the evil wizard in one of these magical movies."
Source: POPSUGAR Celebrity https://www.popsugar.com/celebrity/michele-morrone-facts-48961072