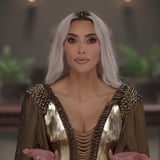 She's blond, she's powerful, and she's got a very dramatic family. No, we don't mean Rhaenyra Targaryen - it's Kim Kardashian! On the Sept. 22 episode of "The Late Late Show With James Corden," Corden and Kardashian teamed up for a "House of the Dragon" and "The Kardashians" mashup - "The Targashians." Watch the funny video above!
In the parody, Corden is the Westeros king Keith Targashian. He's locked in a power struggle with his sister Kim Targashian, who also wants to sit on the throne. The whole thing is shot just like the famous family's reality show, complete with talking heads.
The satire also finds some funny parallels between the life of Kim Targashian and the real Kardashian. In the clip, she tells King Keith that she's in charge of armor shapewear, grayscale cosmetics, and dungeon reform. Keith eventually goes to complain to their mom, who is, of course, Kris Jenner playing Kris Targashian.
Kris Targashian is just as much of a momager in Westeros, of course. Kim Targashian is posing for the painted cover of Jouster's Illustrated while King Keith recently covered Plague magazine. And when he finally decides to mend fences, King Keith gives his sister some "revenge bodies" - literally the dead bodies of her haters. Kim also gives him a gift - a dragon egg she says she stole from sister Khloé's baby.
But just when the duo think their power is secure, someone comes and kills them with an axe - Kylie Jenner as Kylie Targashian. She declares herself King Kylie (which longtime fans will remember used to be her social media handle), and in a look at the "next episode," she sings a silly version of her famous "Rise and Shine" song.
The good news for people who are fans of both "House of the Dragon" and "The Kardashians" is that both shows are releasing new episodes right now. "House of the Dragon" will finish its season at the end of October, while the first episode of season two of "The Kardashians" was released Sept. 22 on Hulu.
Source: POPSUGAR Celebrity https://www.popsugar.com/entertainment/house-of-the-dragon-kardashians-48957470