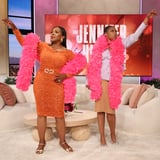 Jennifer Hudson and Sheryl Lee Ralph treated fans to a bit of nostalgia on Tuesday when they teamed up for an epic "Dreamgirls" performance. On Sept. 20, the "Abbott Elementary" star's episode of "The Jennifer Hudson Show" aired just a week after her groundbreaking Emmy win, and she stopped by to reflect on her emotional acceptance speech. But, of course, Hudson couldn't pass up the chance to have some "'Dreamgirls' fun."
"I'm following your lead. You're the original Dreamgirl, baby, not me."
As some may recall, Ralph portrayed Deena Jones in the original 1981 Broadway production of "Dreamgirls," decades before Beyoncé took on the famous role alongside Hudson and Anika Noni Rose in their eight-time-Oscar-nominated film. Forty-one years later, Ralph is still a scene stealer. After Hudson and Ralph took a trip down memory lane on the former's daytime talk show, the Emmy winner gave the host a mini "Dreamgirls" masterclass with a few steps of her choreography. Draped in their hot-pink feather boas, the two took fans back with a duet of their famous titular song.
"I'm following your lead. You're the original Dreamgirl, baby, not me," Hudson joked. "You want them to see that you're wonderful, that you love being here on stage, come on," Ralph said, before Hudson began singing the "Dreamgirls" chorus: "We're your Dreamgirls, boys, we'll make you happy." "Now make it sway," Ralph instructed, "and you look at them, look up. That's right, sing it, baby!"
The two ended their quick performance with a warm hug and an emotional Hudson telling Ralph, "Thank you." "I'm so proud of you. Do your thing, girl," Ralph sweetly told her. To which Hudson said, "She's amazing. I can't believe I just got to have that moment with you. That was a dream. She's a dream!"
Watch Hudson and Ralph's dazzling "Dreamgirls" duet above.
Source: POPSUGAR Celebrity https://www.popsugar.com/entertainment/jennifer-hudson-sheryl-lee-ralph-dreamgirls-video-48955085