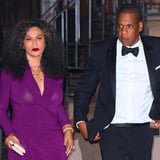 Tina Knowles-Lawson is shedding light on the harmful stereotypes Black men often face in her new docuseries "Profiled: The Black Man." While discussing the series on Thursday's episode of "CBS Mornings" with Gayle King, Beyoncé and Solange's mother, recalled an uncomfortable encounter she once had with a white woman on a plane.
"I can remember getting on a plane and an older white woman saying, 'Oh, your son is a gangster rapper, right? How did you let him marry your daughter?'" Tina said, referencing Jay-Z, who is married to Beyoncé. "It was just shocking to me and I said, 'No, actually, my son is a CEO.' She didn't think of him as a CEO, or even a talented celebrity that was a great businessman. At that time, I remember thinking, 'I can't be mad at her, because that is what the media portrays.'"
In addition to being a CEO and proud father of three, Jay-Z became the first hip-hop artist to ever become a billionaire in June 2019. His impressive portfolio includes lucrative investments in companies like Tidal, Roc Nation, and his D'Ussé cognac.
Knowles-Lawson is the executive producer of the four-part Discovery+ docuseries, which is hosted by Tristan "Mack" Wilds. "Profiled: The Black Man" premieres on Feb. 12.
Source: POPSUGAR Celebrity https://www.popsugar.com/celebrity/tina-knowles-lawson-gangster-rapper-comment-about-jay-z-48714866