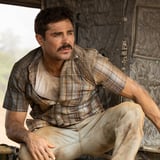 Image Source: Everett Collection
Portraying a real-life figure is not out of the realm for Zac Efron. The actor previously transformed into the terrifying but charismatic serial killer Ted Bundy for Netflix's "Extremely Wicked, Shockingly Evil and Vile," and now, he's returning to the screen in another true-story adaptation, "The Greatest Beer Run Ever." The upcoming Apple TV+ film is based on the 2020 memoir "The Greatest Beer Run Ever: A Memoir of Friendship, Loyalty, and War" by Joanna Molloy and John "Chickie" Donohue, the latter of whom is played on screen by Efron.
Directed by "Green Book" and "Dumb and Dumber" filmmaker Peter Farrelly, the movie follows Donohue as he travels to Vietnam at the height of the Vietnam War to bring beers to his friends in combat. Seriously. The plot itself sounds wild, so let's dig into the real story behind "The Greatest Beer Run Ever," which hits Apple TV+ on Sept. 30. Here's what actually happened.
Who Is John "Chickie" Donohue?
Donohue was born in 1941 and grew up in Inwood, NY, as reported by The New York Times. From 1958 to 1964, he served in the United States Marines Corps as a merchant seaman, though he did not enlist in the Vietnam War upon his return from the Philippines and Japan. By 1967, Donohue had already lost countless neighborhood friends and childhood buddies to the war and was angered by the growing antiwar demonstrations across the country, which he felt were disrespectful to those fighting.
One night in November 1967, Donohue took a seat at Doc Fiddler's, an Inwood bar he frequented, and watched antiwar protests unfold on the TV screen in front of him with other patrons. Upon seeing the news report, the bar's owner, George Lynch, allegedly vocalized his support for the soldiers and said (via The New York Post), "Somebody ought to go over to 'Nam, track down our boys from the neighborhood, and bring them each a beer!"
Donohue took Lynch's comments to heart - literally. He made it his personal mission to bring some brews to his Inwood friends in Vietnam. But how to get there? The age-old saying "Where there's a will, there's a way" certainly applied to Donohue, who got a job as an oiler on the Drake Victory, a ship responsible for delivering ammunition from New York to Vietnam.
With a duffel bag filled with beer and information on where to find his soldier friends, Donohue set sail to complete his mission.



Zac Efron and John "Chickie" Donohue
Image Source: Getty / Matt Winkelmeyer
What Did John "Chickie" Donohue Do in Vietnam?
It took over two months for Donohue to arrive in Qui Nhon harbor in Vietnam, per the Times. Upon his arrival, he first met friend Tom Collins, who later recalled saying at the time, "Chickie Donohue, what the hell are you doing here?" From there, Donohue traveled throughout the war-ridden country in search for his friends, bypassing intense checkpoints and combat zones with little to no information about their whereabouts. According to the Post, he hitchhiked and was able to talk his way onto military helicopters and planes, in part due to fabricating a story that a friend, Sergeant Rick Duggan, was his stepbrother.
Throughout his beer run, Donohue successfully reached four of his friends - Collins, Duggan, Kevin McLoone, and Bobby Pappas - all amid deadly battles like Khe Sanh and even the Tet Offensive. In all, he spent two months in Vietnam and safely returned to New York in April 1968.
Where Is John "Chickie" Donohue Today?
Upon his return to New York, Donohue was met with joy and celebration from his friends at Doc Fiddler's, including owner Lynch. In his book, "The Greatest Beer Run Ever: A Memoir of Friendship, Loyalty, and War," Donohue recalled Lynch saying to the patrons in the bar (via the Post), "To Chickie, who brought our boys beer, respect, pride - and love, godd*mn it!"
Donohue eventually bought Doc Fiddler's in 1970 and operated the bar for several years, per HistoryNet. For the remainder of his career, he worked as a miner, digging train and water tunnels in New York. After retiring, Donohue teamed up with New York Daily News writer Molloy to write the book in 2020, and he often recounts his story to veteran circles in the greater New York area.
"The Greatest Beer Run Ever" is a wild ride from start to finish. Catch the unbelievable story on Apple TV+ on Sept. 30, and watch the trailer below!
Source: POPSUGAR Celebrity https://www.popsugar.com/entertainment/the-greatest-beer-run-ever-true-story-48932274