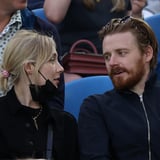 One topic of conversation you'll never hear Saoirse Ronan talking about is her love life. The actor, who won fans over in 2017's "Lady Bird" and again in 2019 in "Little Women, is very tight-lipped when it comes to disclosing details about her romantic relationships.
Of Ronan's suitors, only one has been confirmed - though, it wasn't her who spilled the tea. Ronan and fellow actor George MacKay reportedly started dating while filming their 2013 movie "How I Live Now." The film's director, Kevin Macdonald, confirmed that his two lead stars "fell in love" in a 2013 interview with the Irish Mirror. "What happened during the course of film, and I'm hoping that I'm not speaking out of turn, is that they fell in love and it was very easy," he said of Ronan and MacKay. "It was Saoirse's first proper boyfriend and, in a way, I think she was living through the same thing that the character is going through." Ronan never publicly addressed Macdonald's comments.
Interest surrounding Ronan's love life picked up after she and her "Mary Queen of Scots" costar, Jack Lowden, were spotted getting cozy in 2018. "Am I allowed to ask if you're going out with the person that everyone thinks you're going out with?" a reporter for The Telegraph probed Ronan in 2019. When Ronan said no, the reporter poked back, "I'm not allowed to ask you or you're not going out with him?" to which Ronan doubled down with "Just no."
Lowden, for his part, has stayed mum about the status of their rumored relationship as well. During an interview with ES Magazine in 2019, the "Dunkirk" actor said he would not be addressing anything regarding his love life after he was asked if Ronan was the woman in a Twitter post of his. "I don't like talking about that side of life," he said.
Since then, however, Ronan has made multiple appearances on Lowden's social media. He even showed off Ronan's look at the 2019 Met Gala. "Met Gala Casual," he captioned the photo. Aside from photos of the two out and about, these brief glimpses into their life together on Lowden's social media is the closest thing fans have to a confirmation that they are indeed a couple.
Source: POPSUGAR Celebrity https://www.popsugar.com/celebrity/who-is-saoirse-ronan-dating-48952254