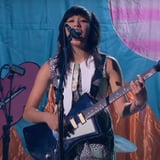 Ever since their mainstream debut in Netflix's "Moxie," The Linda Lindas have been rocking our ears with songs like "Oh!" and "Racist, Sexist Boy." The teenage punk-rock group is made up of guitarist and vocalist Bela Salazar (17), bassist and vocalist Eloise Wong (13), guitarist and vocalist Lucia de la Garza (15), and her sister, drummer and vocalist Mila de la Garza (11). On Feb. 2, the band took the stage on "The Late Late Show With James Corden" to play the title track from their upcoming debut album, "Growing Up."
In full Bikini Kill fashion, the girls rocked out to a rapid drumbeat and stripped-down guitar riffs, singing about a feeling we know all too well: growing up. "We'll take the good with the bad / All of the times that we'll have / Make every moment last / We'll have each other's backs," Salazar sang into the mic as Mila banged out an edgy drum tempo behind her. "And when we get burned from / jumping in the fire / We'll never tire, cause we'll / always find ways to fly higher."
Dressed in floral jumpsuits, button-up shirts in vibrant colors, and collared cottage dresses with puffed sleeves, the band proved that punk can be cute and badass at the exact same time. If their performance on "The Late Late Show" is anything to go by, their upcoming album is going to radiate a rebellious, take-no-sh*t energy that most of us dream we'd had at 15, and we can't wait. Watch the band play "Growing Up" above, and prepare yourself for The Linda Linda's debut album release on April 8 with more rocking punk songs here.
Source: POPSUGAR Celebrity https://www.popsugar.com/entertainment/linda-lindas-growing-up-live-performance-video-48705450