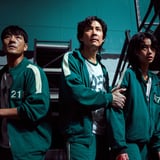 As we eagerly await the return of Squid Game, the show's creator, Hwang Dong-hyuk, is already hinting at a possibility of a third season! "I'm in talks with Netflix over season two as well as season three," he said in a recent interview with Korean outlet KBS. "We will come to a conclusion any time soon."
Dong-hyuk was even gracious enough to reveal more about season two's plot, teasing what could be next for Gi-hun. "The focus [of the season] will be the story of [Lee Jung Jae's character] Seong Gi Hun unraveling [the mysteries of the organization behind the game]," he told KBS. "The overarching plotline of season two will be the story of the people that Gi Hun meets and the people he chases after."
Squid Game quickly became Netflix's most-watched series of all time after debuting in mid-September, reaching the top spot in over 90 countries. A month after its release, Dong-hyuk confirmed a second season while on the red carpet. "There's been so much pressure, so much demand and so much love for a second season," he told the AP at the time. "So I almost feel like you leave us no choice! But I will say there will indeed be a second season." Until then, we'll just be over here rewatching the first season while donning green Adidas tracksuits and white Vans . . .
Source: POPSUGAR Celebrity https://www.popsugar.com/entertainment/squid-game-will-there-be-season-3-48664452