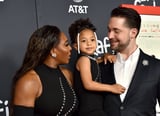 Olympia Ohanian is having quite the summer. The four-year-old daughter of Serena Williams and Alexis Ohanian just followed up her tour of the United Kingdom with a trip to Greece. In an Instagram post on July 14, Williams shared a photo of the family posing in front of the centuries-old Parthenon located at the Acropolis in Athens. "Just the 3 of us," Williams wrote in the caption.
Williams also shared a TikTok with a few highlights from the family's day of sightseeing. In addition to more shots in front of the Parthenon, the video included selfies of Williams with a panoramic view of the city in the background. A tour guide can also be heard pointing out the site where the first modern Olympic Games were held in 1896. A fitting detail, given Olympia's name, and also the four gold medals Williams has earned over the years. Her caption read, "A moment in Athens, a lifetime of memories."
This visit to Greece comes days after Williams and Ohanian showed Olympia all sorts of London sights, including the London Eye, Natural History Museum, and a "Bridgerton" tea experience. The family was originally in the UK for Wimbledon, and set aside some vacation time after Williams exited after the first round. "That was insane and intense. Not the result I came for, but my goodness I enjoyed that. I hope you did as well," she wrote on Instagram. "Onward and up."
Source: POPSUGAR Celebrity https://www.popsugar.com/celebrity/serena-williams-olympia-ohanian-athens-vacation-photos-2022-48885940