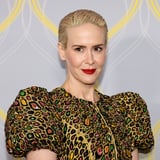 Sarah Paulson will star in and executive produce a movie about Gwen Shamblin, the woman who ran a cult-like diet program and church beginning in the 1980s, Deadline revealed on Sept. 19. The film will be a scripted adaption of the HBO Max docuseries "The Way Down," which chronicles Shamblin's rise and downfall.
Shamblin, who died in 2021, ran a diet program called the Weigh Down Workshop. She quickly amassed a devoted following and went on to found the Remnant Fellowship Church. But she was eventually accused of physical, emotional, and psychological abuse by followers, some of whom said the church advocated abusive discipline and encouraged eating disorders, among many other critiques, per The Guardian. Two of the church's members were also convicted of murdering their own son in 2007, per NBC.
"The Way Down" chronicles Shamblin's rise, as well as the plane crash that led to her death just before the series' completion. It also features stories from many survivors and followers of Shamblin's program and church.
No release date or additional information about the cast has been released yet, and reps for HBO Max did not immediately respond to POPSUGAR's request for comment. One thing is certain, though: Paulson, who received an Emmy nomination for her role as Linda Tripp in FX's "Impeachment: American Crime Story," will definitely have another iconic wig to add to her collection after her performance as Shamblin, who was known for her stratospherically high blonde updo.
Source: POPSUGAR Celebrity https://www.popsugar.com/entertainment/sarah-paulson-gwen-shamblin-biopic-48955583