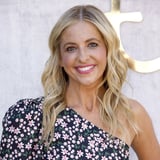 Sarah Michelle Gellar doesn't know the exact secret to a successful marriage, but she does have an important tip on how she's managed to make things work with her husband, Freddie Prinze Jr. "If I really had the secret sauce, I would retire on my island for selling it," she tells POPSUGAR. "But I think, ultimately, it's just remembering to put the work in. That relationships, whether they're marital or friendships, you have to put work into it. They're not just a given. And you have to be always willing to devote that time and that attention."
Gellar and Prinze first met on the set of their 1997 slasher flick, "I Know What You Did Last Summer," and began dating three years later. While neither of them were "into marriage" at the time, Gellar recalled to People Now in 2020, "One day, I just knew we were gonna get married, and I knew I was gonna propose." Their wedding took place in Puerto Vallarta, Mexico, on Sept. 2, 2002.
Fast-forward two decades, and she and Prinze are still going strong. The couple recently celebrated their 20th anniversary, and this year also marks the 25th anniversary of "I Know What You Did Last Summer." When asked about how she feels about the movie and her other previous projects, Gellar only has good memories. "I feel great," she says. "As an actor, you hope to make film and television that people remember and that you have a legacy. The fact that people are still watching and still enjoying and still remaking and all of that, it's great."
As time passes, the actor feels increasingly grateful for her old work. "Sometimes you need a little distance to be able to understand the impact and the importance. You forget the bad and you remember only the good after a certain time," she says. "You can appreciate things that you can't in the moment because you're so much in the minutiae of especially filming and how grueling it can be. Afterwards, you just really remember the positive sides of it."
While Gellar enjoys reminiscing about the past, she also has a lot to look forward to. In September, she starred in Netflix's "Do Revenge" alongside Maya Hawke, and she's set to appear in the "Teen Wolf" prequel, "Wolf Pack," in 2023. This comes after taking a break from acting to focus on her kids, Charlotte Grace, 13, and Rocky James, 10. "I had young children, and I understand that our business is a lot of travel and a lot of hours away," she says. "We might live in Hollywood, but nothing shoots in Hollywood anymore. I wanted that time, because you never get that time back."
Now that her kids are older, she's ready to get back to work. "They get to an age where they're so much more independent," she says. "Thanks to the invention of FaceTime and all the things, you can still be connected and in a different way - and it just felt like that they were of an age where they could handle it."
Prinze Jr. also took a break from acting to focus on their family, but he's been slowly dipping his toes back into acting, appearing in Peacock's "Punky Brewster" reboot in 2020. In early 2022, he teased his desire to appear in another horror film. "I've wanted to make another horror movie ever since IKWYDLS wrapped. Never found the right one but I think this year it's gonna happen," he tweeted.
Looking ahead, Gellar says, "This year is the year that I said I was really going to finally go back to work, and my kids were old enough to be able to do that. It's been nice to be able to see that I can manage both." In fact, right now she's preparing for Halloween. "I'm an actor, right? I love a costume," she says. "I miss the days when kids would actually dress up with us. Now it's always, it's just Friday night. They'll usually capitulate and give into whatever costume I want to do. But the kids, there's no more family costumes."
As for their Halloween costumes this year, Gellar wants to keep that a secret. "We never tell," she says.
Source: POPSUGAR Celebrity https://www.popsugar.com/celebrity/sarah-michelle-gellar-marriage-acting-interview-48961350