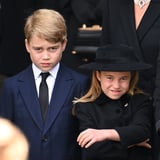 Princess Charlotte, 7, lightened the mood a bit when she reminded older brother Prince George, 9, of royal protocol at her great-grandmother Queen Elizabeth II's funeral on Sept. 19. Per People, while the queen's coffin passed by them at Wellington Arch, Charlotte leaned over to her brother and whispered, "You need to bow."
The two siblings, the eldest of Prince William and Kate Middleton's three children, participated in the queen's funeral procession, joining the royal family behind the coffin as it entered Westminster Abbey. However, 4-year-old Prince Louis was not in attendance.
The incident wasn't the first time Charlotte has been seen giving George advice on protocol. As "God Save the Queen" played at the Platinum Jubilee back in June, she nudged her older brother until he removed his elbow from the balcony ledge and corrected his posture, per People.
Elizabeth's state funeral provided a chance for the world to mourn the queen, who died on Sept. 8 at age 96. Charlotte and George's aunt and uncle Meghan Markle and Prince Harry were in attendance as well, while their two children, Prince Archie and Princess Lilibet, were absent. Several major figures and celebrities from around the world were also present, from President Joe Biden to French President Emmanuel Macron and Sandra Oh.
Source: POPSUGAR Celebrity https://www.popsugar.com/celebrity/princess-charlotte-instructs-prince-george-bow-queen-funeral-48954263