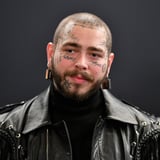 Post Malone had a scare on Saturday night. The rapper was playing a concert at the Enterprise Center in St. Louis when his performance of "Circles" was derailed after he stepped into a hole on the stage that his guitar had just been lowered into. According to the St. Louis Post-Dispatch, Malone seemingly didn't notice the hole hadn't been covered. In a video from the concert obtained by TMZ, he appears to hit his ribs in the fall, then proceeds to lie on the stage in pain.
Medics quickly rushed to his side, where they treated the rapper for several minutes before he exited the stage, promising fans he would return shortly. After 15 minutes, Malone returned and explained to the crowd, "There was a big-ass hole in the stage!"
He reportedly went on to hold his rib cage as he sang "Rockstar" and "Cooped Up." He then performed at least three additional songs for a set total of 17, before apologizing to his fans and ending the concert slightly early. The Post-Dispatch reports that even after he said goodnight, he remained on stage to sign autographs before leaving the venue.
It's unclear if Malone sought medical treatment after the concert ended or what his condition currently is. As of writing, the 27-year-old is scheduled to perform in Columbus, OH, on Sunday, Sept. 18, as part of his ongoing Twelve Carat Tour. Malone has not shared an update on his condition with his fans just yet. POPSUGAR reached out to the "Circles" rapper's reps for comment but did not receive an immediate response.
Source: POPSUGAR Celebrity https://www.popsugar.com/celebrity/post-malone-concert-injury-48952773