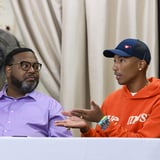 The upcoming Netflix music series Voices of Fire features Pharrell Williams as one of its biggest draws, so exactly how did he get involved with the show? As it turns out, he's not just a celebrity guest, but the main force behind the show even existing. It's pretty personal for him - here's why.
Pharrell both stars in and produces the show, but that's not where his personal connection with it ends. The other main figure in the cast, religious leader and musician Bishop Ezekiel Williams, is actually Pharrell's uncle, according to The Hollywood Reporter. It's also set in Pharrell's hometown community of Hampton Roads, Virginia, (in the Virginia Beach area). THR shared Netflix's description of the show as a search for talented musicians to "[build one of the world's most inspiring gospel choirs . . . With the belief that diverse backstories can give their collective voice a greater meaning, the bishop and his team will search for people of all ages, ethnicities and backgrounds."
Along with his uncle, Pharrell first announced the news of the series at the Essence Festival in July. Unlike some of Netflix's other reality TV programming, the first trailer for the series seems to show more of a feel-good documentary-style show, rather than focusing on cutthroat competition or dramatic twists. Rolling Stone reported that the series will have six episodes and will debut on Nov. 20.
Aside from his musical career, Pharrell has been a producing name behind some major projects focused on diverse voices - especially Black voices - in the past few years. He was an Oscar nominee in 2017 as one of the producers of Hidden Figures, the historical drama about Black women who broke barriers at NASA. In addition to Voices of Fire, Deadline reported that Pharrell is in talks with Netflix to produce a musical film about Juneteenth, alongside Black-ish creator Kenya Barris. No further details about that project have been announced at this time.
Source: POPSUGAR Celebrity https://www.popsugar.com/entertainment/how-is-pharrell-involved-in-voices-fire-on-netflix-47925393