Orla Gartland Discusses Writing an Album About the "Unglamorous" Chaos of Her 20s
Published: in Celebrity News by 1news.info.
Image Source: Karina Barberis
At the age of 14, Orla Gartland could be found in her bedroom strumming away on her acoustic guitar daydreaming of crowds to serenade with her favorite songs. Now at 26, the London-based Irish singer-songwriter – who's bee…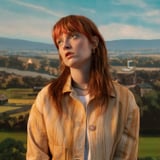 Image Source: Karina Barberis
At the age of 14, Orla Gartland could be found in her bedroom strumming away on her acoustic guitar daydreaming of crowds to serenade with her favorite songs. Now at 26, the London-based Irish singer-songwriter - who's been compared to St. Vincent, Stevie Nicks, and HAIM - has just released her Woman on the Internet debut album, in which she explores the ups, downs, and "unglamorous" chaos of her 20s.
Born and raised in Dublin, Gartland kickstarted her music career as a YouTuber in 2009 when she posted a cover of "Broken Strings" by Nelly Furtado and James Morrison under the name MusicMaaad. "I was obsessed with the song when I was learning to play guitar," she told POPSUGAR. "So, I, very early on, made my guitar teacher teach it to me. That was my first YouTube video. That's how f*cking cocky I was."
"I was obsessed with YouTubers at that time - people putting music up specifically - and I didn't even feel like one myself."
In the span of the next four years, she put out her first single "Devil on My Shoulder," shot her first music video, appeared as an opener on Britain's Got Talent, and announced her first tour in the UK and Ireland when she was 18. As soon as the tour wrapped, she packed her bags and moved to London, where she took odd jobs - like working at a novelty cereal shop - and pursued her passion to write, record, and tour.
Brought up on "weird country music" and Irish singers like Van Morrison, Gartland's taste in music is a mashup of different genres. But she does have a notable respect for the "spirit and weirdness" of influential women songwriters like Regina Spektor, Imogen Heap, Avril Lavigne, Fiona Apple, and Dolores O'Riordan from The Cranberries. A self-described folk pop artist, Gartland's sound is peppered with punk rock influences that can be found in lyrics like, "Now you're living in my memory / Living in my mouth / Living in the four f*cking walls of my house," from "Did It To Myself" - off her fourth EP Freckle Season from 2020.
In honor of the release of her debut album, read ahead as Gartland discusses the weird and wonderful moments from the last six years that made it onto her debut album and the true identity of the "woman on the internet" with POPSUGAR.
Image Source: Karina Barberis
On Going From YouTube to Releasing Her First Album
Today, content creators like Salem Ilese - the artist behind TikTok's "Mad at Disney" - can go viral overnight, building a fanbase of millions with a single post. But when Gartland got her start in 2009, the idea of internet success translating to real-life stardom and building online communities around the world was just starting to become a possibility. "[It felt] like night and day," she admitted. "That girl does not feel like me. That just feels like little baby me. I was obsessed with YouTubers at that time - people putting music up specifically - and I didn't even feel like one myself. I just wanted to invite myself to the party because I was watching loads of other people do that and I thought it was really fun."
On Moving to London and Reinventing Herself
For Gartland, moving to the UK didn't spell out instant musical success, but it was an opportunity to reinvent herself. "The first year or two, I had no money, running around and loads of different jobs, trying to do music, trying to do this," she said. "[I was] sharing houses with friends in London, living in sh*t, small rooms to keep the rent down, that are right beside the road so you can't sleep. In my case, doing a lot of very unglamorous tours in splitter vans and sharing hotel rooms. Just total un-glam but very fun chaos . . . [London is] big and scary until you know people. But I think I've finally found my feet."
Starting from scratch, Gartland was able to drop any preconceptions about who she was, make new friends - including fellow singer-songwriter Dodie Clark - and explore a different version of herself. Where some people might be able to look back on the experiences of their early 20s in a college yearbook, Gartland wrote down what she learned and compiled her life lessons into Woman on the Internet, resulting in songs that touch on everything from insecurity and imposter syndrome to platonic love and "trying on different versions of yourself."
Image Source: Karina Barberis
On the Identity Behind the Woman on the Internet
Riding on good summer vibes, the album is a stark but comforting reminder to move past the chaos and make room for the good, especially in your 20s when everything seems strange but exciting. "It's a time where you are kind of your fully formed self, but also not," Gartland said. "I think the growing that you do in your teens is so rapid and charged and emotional and you're 16, and then you're 17. That's a huge jump. And I think you reach your 20s and that slows down. I'm not a completely different person every year, but I get a little bit closer and it's just weird - you're an adult but you're kind of not."
"It's going to be up, it's going to be down, but it's going to be fine."
The title of the album, Woman on the Internet references a "Wizard of Oz-type" online role model - mentioned in "More Like You" and "Pretending" - who provides guidance when she's feeling lost. "I'm so susceptible to self-help nonsense when I'm feeling low in myself and I'm just searching for anything," Gartland said. But her years online have taught her that it's easy to get caught up in what people have to say online, which is why she warns that it's important to be careful about where you get your advice from. "I'm not a role model. I'm just a person that makes music," she said. "And equally, these even bigger and more prolific and influential people with millions of followers, they're just people. They're just flawed and normal and they're not qualified to tell you what to do. So, [have a] pinch of salt with all of it."
In the span of 11 tracks (just under 40 minutes), Gartland creates an album that exemplifies what it means to be a 20-something-year-old in 2021. Through self-deprecating humor and lyrics that explore the complexities of growing up, she captures the feeling that, despite the uncertainty, everything is going to be OK. "It's going to be up, it's going to be down, but it's going to be fine," she explained. "I guess just by telling a couple of my stories of the last couple years and seeing the world through my lens and different experiences, I would like people to take that, to know that life is f*cking messy. It's fine. It is for everyone, and everyone that you think is nailing it and is super perfect, it's messy for them as well."
Give Woman on the Internet a listen for yourself here, and get to know Gartland through her favorite songs ahead.
Image Source: Karina Barberis
Her Favorite Song to Sing in the Car
"I'm learning to drive at the moment, so soon I will answer that with my own car, but in someone else's car, maybe something from Melodrama. 'Green Light' is just a banger, isn't it? . . . [Dodie Clark and I] were on one of her first tours and I was just having the best time ever, because it was my first time in a sleeper bus with the bunks. And it was like, this is it. We've all made it. This is so fun. And then 'Green Light' came out."
A Song That Reminds Her of Her BFF
"My best friend's probably my friend, Lauren, who I live with, loves Avril [Lavigne] so much. She loves, 'Anything But Ordinary.'"
A Song That Reminds Her of Middle School
"Probably some of that early Paramore stuff. I remember being really obsessed with 'Misguided Ghosts' and stuff in secondary school. When you're that age, you're just like, 'No one understands me. Don't look at me, I'm listening to 'Misguided Ghosts.''"
Her Favorite Song to Dramatically Stare Out of a Window To
"Like when it's raining and you're going to pretend that you're in a music video? . . . It's such a specific feeling because it's not sad per se. It's not obviously sad [but] here's this girl that I've found called Allison Ponthier recently. She's an American artist and she has this song called 'Cowboy.' That song is so good. It has touches of Lana [Del Rey], but also touches of Kacey Musgraves, and it's super dramatic."
Her Dream Artist Collaboration
"Imogen Heap. I think her production style is so inspiring and I think she has done so much to inspire artists that have come after her. She probably doesn't have any idea how much. When she started working with other artists and doing stuff with Taylor Swift I was like, 'That has to be me someday. I need to go.' She lives in a big converted lighthouse, so as soon as I saw that she was starting to open things up and do stuff with artists, I was like, 'I'm going to that lighthouse one day. It has to happen.'"
Source: POPSUGAR Celebrity https://www.popsugar.com/entertainment/orla-gartland-woman-on-the-internet-album-48448787