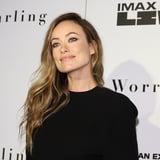 Olivia Wilde opened up about life as a single mom on a Sept. 21 appearance on "The Kelly Clarkson Show."
"I think reshaping a family is tricky," Wilde, who separated from her fiancé Jason Sudeikis in November 2020, said. "The one benefit is it's allowed for some really deep conversations with my kids about emotions, and about happiness, and about what family means, and love, and it's actually allowed me to get to know them in a different way."
Her kids, she said, have always come first. "My priority is them. That's what it is. It's as long as they're happy and they're healthy then, my ex and I, we agree on that," she said. "They are everything to us."
She also said that raising her kids in the public eye has added an extra level of complexity to her family life. "If you can surround them with so much love, then it's OK," she said. "But, you know, it's tricky because we're not doing it in private."
Wilde and Sudeikis's separation has been making headlines over the past few months thanks to Wilde's highly publicized relationship with Harry Styles, the star of her upcoming film "Don't Worry Darling." Wilde was also served custody papers while she was presenting on stage at CinemaCon in April, though a source close to Sudeikis told People that the "Ted Lasso" star was unaware that the papers would be delivered on stage.
In the wake of that incident, Wilde's main concern was the pair's kids, 8-year-old Otis and 5-year-old Daisy. "For me, it was appalling, but the victims were an 8- and 5-year-old, and that's really sad," she said. "I chose to become an actress; I willingly walked into the spotlight. But it's not something my children have asked for."
Still, at the end of the day, Wilde told Clarkson that it helps her to keep everything in perspective. "The thing is it's hard. It's hard sometimes," she said. "But at the end of the day, I'm so lucky . . . There are people everywhere dealing with real health crises and, you know, my stuff is out there but I'm alive and my kids are alive and that's what gets me through. I remind myself of that every single day."
Source: POPSUGAR Celebrity https://www.popsugar.com/celebrity/olivia-wilde-kids-jason-sudeikis-split-48956249