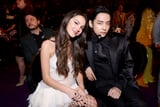 BTS rocked the audience with a secret-agent-themed performance of "Butter" at Sunday night's Grammys. Putting on a full production, V, Suga, Jimin, Jungkook, RM, and J-Hope - minus Jin, who stayed seated for most of the performance - danced their way through a laser security system like true spies on a mission. V took on the role of spy-movie protagonist and made sure to set the mood as soon as the stage lit up. Dressed in a sleek black suit, he dropped down from the ceiling on a rope before he strolled into the audience to flirt with Olivia Rodrigo.
As members of the band lounged alongside the screaming audience, the spotlight shined on them to create the illusion of a sexy film noir scene, with V sitting down beside Rodrigo and draping his arm on the table behind her seat. Rodrigo, smiling and blushing, listened as V whispered in her ear to the tune of some smooth jazz. She then watched as he unleashed his inner magician, pulling a small card out from behind her back. Turning on the charm, V showed Rodrigo the card before expertly flicking it on stage for J-Hope to catch with one hand. It's unclear what V whispered into Rodrigo's ear before he made the card appear, but it was definitely preplanned from the look on Rodrigo's face.
Following BTS's performance and Rodrigo's performance of "Drivers License," the "Brutal" singer took home Grammys for best pop vocal album and best new artist.
See Rodrigo and V's cutest photos together - and BTS's best celebrity selfies - at the Grammys here.
Source: POPSUGAR Celebrity https://www.popsugar.com/celebrity/bts-v-olivia-rodrigo-2022-grammys-48777392