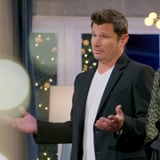 Nick Lachey is just as surprised as the viewers at home by "Love Is Blind"'s most dramatic moments. From called-off engagements to complicated love triangles, the Netflix series has seen it all. Lachey, who's cohosted three seasons of the Netflix franchise alongside wife Vanessa, recently spoke to POPSUGAR about the show's most shocking scene and his favorite couple ahead of a 98 Degrees reunion concert at Beaches Turks & Caicos.
"You spend time with these people when they're going through a really, really vulnerable place in their life."
"You spend time with these people when they're going through a really, really vulnerable place in their life," Lachey tells POPSUGAR. "So my goal is always to be as supportive as I can, emotionally and otherwise. And in doing that, you get inevitably close to people and you truly go on this ride with them."
In fact, the 98 Degrees member, who also cohosts Netflix's "The Ultimatum," says he still remains close to many of the "Love Is Blind" contestants. But when asked about the couple he's rooting for the most, one in particular stands out to him. "I really gravitated towards [Matt] Barnett and Amber [Pike]," he says. "I just love them. They have a genuine love of life together. They're wild and crazy, and I love them being wild and crazy together. For whatever reason, I feel a special connection to those two."
In addition to glimpses of true love and romance, the series showcases a range of drama. Among heated reunions and abrupt exits, Lachey admits the moment that stunned him the most was when Giannina Gibelli was left at the altar in season one. "When she ran out in her dress and into the street, I was just like, 'Wow, you can't script stuff like that," the 98 Degrees member says. Fans might remember Gibelli and Damian Powers were the first to walk down the aisle in the first season. In a blowup moment following Gibelli's tearful proclamation of love, Powers said he didn't feel they were ready to take the leap, and Gibelli ran out of their wedding in tears, though the two ended up leaving the show as a couple.
Despite it all, Lachey tries to be as empathetic as possible and continues to uplift the castmates. "I keep up with what they're doing and try to always support them because again, they've put themselves out there in a way that's really vulnerable and hard."
Source: POPSUGAR Celebrity https://www.popsugar.com/entertainment/nick-lachey-love-is-blind-interview-48948386