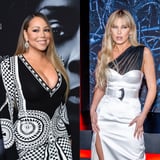 The D.U.N.C.E. agents have gotten a whole lot younger since 1995. On Saturday, Mariah Carey recreated the classic opening scene of her "Honey" music video on TikTok - with a little help from a certain resident of Hawkins, Indiana. In the video, which the Grammy-winner also posted on her Instagram, "Stranger Things" star Millie Bobby Brown joins in the fun as the D.U.N.C.E. agent who has no idea that Carey's Agent M is making fun of their hair.
"I got two choices for ya, the easy way or the hard way," Brown lip-syncs to the audio from the original video. Meanwhile, Carey's Agent M pretends not to understand her kidnappers, which in this instance, also include the "Enola Holmes" actor's boyfriend Jake Bongiovi and her own kids, 11-year-old twins Monroe and Moroccan. In fact, the twins pull off a comedy moment for the ages as they shout Eddie Griffin's famed line "go eat a buffet" near the end of the skit.
Carey captioned the video, "Reliving the splendor of the Honey video with surprise guests! @milliebobbybrown #butterfly25." The "Honey" love comes just one day after the singer celebrated the 25th anniversary of her sixth studio album, "Butterfly." On Sept. 16, she shared a celebration post on her Instagram highlighting all the ways the album marked a turning point in her life and career.
"Happy BUTTERFLY anniversary! 🦋🦋 I will never forget the day I released this album to the world," she wrote. "I had never felt more exposed and vulnerable yet free and euphoric at the same time. It was a true EMANCIPATION (no pun intended!) of my spirit, soul and innermost feelings which I poured into every lyric and every note on every song. 25 years (😳) later and it's still one of the proudest moments of my life and career. I hope you enjoy reliving this journey with me. To celebrate #Butterfly25, I'm releasing new remixes, live performances, acapellas, and a brand new version of "The Roof" with the one and only @brandy! More to come 🦋🦋."
As for her hangout with Brown, this isn't the first time the two stars have gotten together. In fact, they appear to have been friends since at least August 2020, when Carey shared a casual photo of the two them together at her house on Twitter. "A surprise visit by Enola Holmes a.k.a. princess Millie! 💖," she tweeted at the time.
Brown's presence in Carey's "Honey" tribute is a reminder of just how timeless the singer's music is - after all, the 18-year-old Brown wasn't even alive when the song was originally released, but she still knows it's a total bop.
Source: POPSUGAR Celebrity https://www.popsugar.com/entertainment/mariah-carey-millie-bobby-brown-recreate-honey-48952587