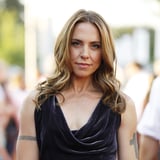 Content warning: the following story contains descriptions of sexual assault.
Mel C is opening up about her experience of sexual assault. In the Sept. 13 episode of the "How to Fail" podcast, the star discussed her memoir, "Who I Am: My Story," revealing that she was sexually assaulted shortly before her first-ever full-length concert with the Spice Girls. She was 23 at the time.
"We were in Istanbul," she recalled. "We did two shows over there, and we'd never done a full-length concert before, so obviously we'd rehearsed for weeks ahead, costume fittings, makeup here, everything was leading towards the pinnacle of everything I'd ever wanted to do and ever wanted to be. So here we were the eve of the first-ever Spice Girls show, so I treat myself to a massage in the hotel."
According to Mel C, it took her a long time to process what happened. "What happened to me, I kind of buried immediately because there was other things to focus on. I didn't want to make a fuss, but also I didn't have time to deal with it. Because I didn't deal with it at the time, I realize that I allowed that to be buried for years and years and years." The singer insinuated that the assault took place during the massage and said that she never really acknowledged what happened at the time.
"I suppose in a version of sexual assault, it's a mild version, but I felt violated," she continued. "I felt very vulnerable. I felt embarrassed, and then I felt unsure. Have I got this right? What's going on? I was in an environment where you take your clothes off with this professional person. It has affected me. But I buried it - lots of people do."
Mel C said that the experience came up for her during the process of writing her memoir. "It came to me in a dream, or I kind of woke up and it was in my mind," she said. "And I was like, 'Oh my gosh, I haven't even thought of having that in the book.' Then, of course, I had to think, 'Well, do I want to reveal this?' And I just thought, actually, it's really important for me to say it and to finally deal with it and process it."
The star has previously opened up about her experience of mental health issues during her time in the Spice Girls, detailing her bouts with depression and an eating disorder in an interview with Mail Online earlier in September. "Well, it is such a mixed bag of emotions when I look back, because us girls achieved so much, we accomplished our wildest dreams," she told the outlet. "I never want to look back on that time negatively, but it is important for me to tell the difficult parts of my past. Our culture has changed so much and so many young people are hungry for fame. And I just want them to be prepared. It's not plain sailing."
Today, Mel C has a 13-year-old daughter named Scarlet Starr, and she remains close with the other Spice Girls. After attending Brooklyn Peltz Beckham's wedding to Nicola Peltz Beckham in April, she told the Sunday Times, "Brooklyn [Beckham] was the first Spice baby to get married, so it was lovely to be there and to support Victoria."
She's also learned to feel proud of her resilience over the years. "I think of what I have done and what I now deal with every day - with work, with being a mum, with family stuff," she said. "And I'm like, f*ck, I'm still standing."
"Who I Am: My Story" was released on Sept. 15.
If you or someone you know would like to speak with someone who is trained to assist sexual-assault survivors, please call the National Sexual Assault Hotline at 1-800-656-4673.
Source: POPSUGAR Celebrity https://www.popsugar.com/celebrity/mel-c-spice-girls-sexual-assault-48949858