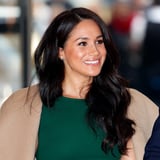 Meghan Markle has just made history as the first-ever British royal to cast their vote in a US presidential election. On Nov. 3, E! News confirmed that the Duchess of Sussex did indeed exercise her right to vote in this year's election, though it's unclear if she participated at a polling place or voted by mail.
"I'm so excited to see that kind of representation [with Kamala Harris]. You know, for me, being biracial - growing up, whether it was a doll or a person in office, you need to see someone who looks like you in some capacity," Meghan previously said in a discussion with Gloria Steinem. "As many of us believe, you can only be what you can see. And in the absence of that, how can you aspire to something greater than what you see in your own world? I think maybe now we're starting to break through in a different way."
Meghan's latest move should come as no surprise, given how hard she worked to get the word out on the importance of voting. It's also worth noting that Meghan's activism may not have been possible if she and Prince Harry hadn't stepped down as senior royals back in March. The royal family never vote in elections, and they typically remain politically neutral, but because Meghan is no longer a working member of the royal family and remains a US citizen, it was her civic duty to make her voice heard. Harry, on the other hand, is British, therefore he is not eligible to vote.
Source: POPSUGAR Celebrity https://www.popsugar.com/celebrity/meghan-markle-is-first-british-royal-to-vote-in-us-election-47941127