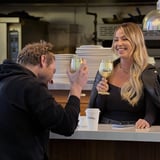 Apparently, the "Love Is Blind" drama never ended after season two wrapped with its reunion in early March. If you're caught up on the show's three-part reunion special, "After the Altar," that premiered on Sept. 16, then you know much more has transpired between castmates Shaina Hurley, Natalie Lee, and Shayne Jansen.
"I have nothing to say to her because there was nothing [that happened]."
In season two, both Hurley and Lee had romantic connections with Jansen in the pods, though he ended up getting into an on-again-off-again romance with Lee during and after the season ended. Lee broke off their relationship during the season two finale; however, the two continued to see each other before ultimately breaking up again before filming for "After the Altar" began - a split that, according to Lee, happened on account of some "flirty messages" Jansen and Hurley allegedly exchanged while they were still together.
The rumored messages were a topic of discussion throughout "After the Altar." Hurley tells POPSUGAR that she and Jansen did, indeed, send each other "friendly messages," but they were "platonic" and something her husband, Christos Lardakis, was already aware of. "[Lee's] timeline [of the messages] has no validity," she says. "Which we were laughing at. We're like, wait, what? There's so much trust between [my husband and I]. We have access to each other's things - there are no secrets." In regard to whether or not Jansen and Hurley sent each other flirty messages, Lardakis adds, "Not in a million years."
"She never even tried to ask me about it. She was just trying to spread fake rumors."
Hurley confirms she and Lee never had a face-to-face conversation about the alleged messages, even though they were in the same room at Lee's birthday party during "After the Altar." "I didn't know it was Natalie's 30th birthday," she shares, adding that she was hesitant to attend the party even though she didn't know it was for Lee at the time. "I was told it was an '80s costume party, so when I showed up, it was definitely awkward because you could tell that there was a lot of chatter about the rumors. I didn't know what the rumors were until we got there . . . it was just [really] awkward."
She adds: "I love how [Lee] can run around and chatter to everybody else, but she not once came to me . . . Honestly, I was just grossed out. I have nothing to say to her because there was nothing [that happened]. So that's what I find funny. She never even tried to ask me about it. She was just trying to spread fake rumors."
Hurley says the last time she spoke to Lee was at the season two reunion, which was filmed in Los Angeles. "All of a sudden, we filmed ['After the Altar'] three weeks later and she has allegations," she adds. "And I'm like, that doesn't make sense. So I don't know if she's just using it for a storyline . . . I think everyone's moved on, and I just hope she'll move on soon, [too]."
As of Sept. 8, Hurley says she and Lee still haven't talked about what transpired between them, but she's open to speaking to her. "My door's open," she says. "I have no idea where it's coming from. She's never once, as a woman, came to me and asked [about the messages]. I'm a forgiving person - I try to walk in love. Hopefully, there will be a resolution, because I'm like, let's just move on."
Source: POPSUGAR Celebrity https://www.popsugar.com/entertainment/love-is-blind-after-the-altar-shaina-natalie-shayne-drama-48950897