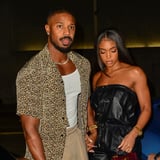 Happy birthday, Michael B. Jordan! The actor rang in his 35th year on Feb. 9, and his girlfriend, Lori Harvey, celebrated with a sweet tribute on Instagram. In addition to posting a cuddly photo of them on her Stories, the 25-year-old Skn by LH founder penned a message for her other half on her feed, writing, "Happyyyyy Birthdayyyyy to my big baby!!! Can't wait to see what amazing things this year brings for you my love 🤍."
Harvey and Jordan first sparked dating rumors over the holidays in 2020, but it wasn't until January 2021 that they finally went Instagram official. The couple have shared a handful of cute moments in their time together, from over-the-top date nights to romantic getaways.
Harvey recently spoke to POPSUGAR about their relationship, noting that communication is the key to a healthy relationship. "Always communicate. Overcommunicate, even, so you are always on the same page," Harvey said. "Also, be friends first. You know how sometimes you fight with your siblings and, of course, you love them, but you're like, 'I don't even like you right now'? It's important to always be friends, whether you like the person."
Given the lavish surprise party Jordan threw for Harvey's 25th birthday, we can't wait to see what else she has in store for Jordan!
Source: POPSUGAR Celebrity https://www.popsugar.com/celebrity/lori-harvey-birthday-message-michael-b-jordan-2022-48711755