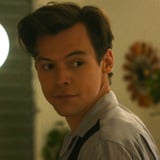 Harry Styles's English accent was put to the test in "Don't Worry Darling," and fans were quick to notice the sudden shift in his typical North London lilt. Throughout the majority of the film, which premiered on Sept. 23, Styles speaks in an altered English accent that, while similar to his own off screen, breaks at certain points throughout the film.
On Aug. 24, a clip of Styles speaking as Jack Chambers circulated on Instagram, sparking criticism from fans who dubbed his English accent "fake" and pointed out slips, adding that his voice "changes twice" in the clip. "Why is Harry Styles, allegedly English, doing such a bad English accent," one user commented.
Other fans were equally confused when full clips of Styles speaking in an American tone began to circulate, leading to confusion about whether his character is English or American. While Styles's performance in the movie has led several fans on Twitter to question his vocal abilities when it comes to acting, a full watch of the film indicates that Styles's "bad" English accent was completely intentional. So what's the real deal with Styles's "Don't Worry, Darling" timbre?
Harry Styles's English Accent in "Don't Worry Darling"
Unlike his English costar Florence Pugh, who used an American accent throughout the entire film, Styles slightly altered his traditional speaking voice for his role as Jack, using a Transatlantic voice that was equal parts English and American. "I can't tell if Harry styles is supposed to have a British accent, american accent, or a South African accent and I feel like any of the above is the wrong answer," one Twitter user said. Another Twitter user added, "Harry Styles either has the worst American accent or the worst British accent."
But one fan quickly came to Styles's defense, pointing out that his English timbre was part of the film's plot. "So y'all saw Harry Styles, an ACTUAL British person, having a weird British accent in one TikTok video of a movie, and decided to just assume it's bad acting, rather than part of the movie plot," they wrote.
By the end of the movie, we discover that Styles's character Jack is actually Alice's unemployed American boyfriend who dislikes that she's constantly busy with her work as a doctor. The movie further reveals that the Victory Project is a Matrix-like simulation that Jack has entered Alice into against her will, while their real bodies lie in a bed with wires and machinery attached to them.
Once it's revealed that Jack is actually American, the slips in his voice start to make a lot more sense. Like the perfectly curated home they live in, manicured lawns, and '50s-style outfits, Jack's entire persona is a lie. For those paying close attention, the breaks in Jack's accent are actually hints at his regular speaking voice and the fact that Alice has more to question about her "reality" than she initially realized. While the actor hasn't commented on whether his accent in the film was intentional, Styles's delivery as Jack acts as a clue to the fragility of their world and adds an extra layer of nuance to the plot.
Neither Warner Bros. nor Styles's management company, Full Stop Management, immediately responded to POPSUGAR's request for comment.
Harry Styles's American Accent in "Don't Worry Darling"
Once the twist ending is revealed, we see flashbacks to Jack and Alice's life in the real world, both before and after Jack decides to enroll them in the Victory Project. During these scenes, Styles's character is notably different, rocking long, unkempt hair and speaking in an American accent. Like his English speaking voice in the film, the cadence and inflection of Styles's American accent left fans puzzled.
In past interviews, Styles has openly acknowledged the impact of his international lifestyle on his personal speaking voice, pointing out that it's "a little bit all over the place" in an interview with Capital FM on April 1. Styles added, "I'm from up north and I've lived in London for 10 years and I've spent a lot of time in America and stuff, so I think when I'm with Americans they don't think I sound American at all." Taking Styles's comments into consideration, it makes sense that Jack's voice is neither completely American or completely English.
Whether he's using his real voice or adding extra inflection to throw us off, the "As It Was" singer's voice is definitely worth a listen.
Source: POPSUGAR Celebrity https://www.popsugar.com/entertainment/harry-styles-dont-worry-darling-accent-48961362