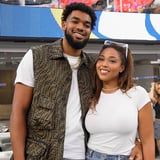 Image Source: Getty / Kevork Djansezian
Karl-Anthony Towns has become known for his romantic gestures, but he truly outdid himself with his unique birthday gift for Jordyn Woods this year. In honor of his girlfriend turning 25 on Sept. 23, the Minnesota Timberwolves star offered to fund two of her business ideas in lieu of "material gifts."
Per People, Woods shared a photo of the letter he wrote to her on her Instagram Stories over the weekend with the caption: "He knows how hard I have been working on these projects, and this is the last step."
"To My Birthday Girl, Happy 25th Birthday! After this, you get to say you 18 every year like your moms lol," his note read. "I know every year I have showered you with material gifts that people wish they could to (King Sh*t) but this year, your 25th year walking this earth, it's time to go from that girl to a full woman. You pick two businesses you want to start, and I will fund them. It's time to take that next step in this thing we call life. Te Amo Mucho, let's take over the world . . . together. Love, KAT."
Towns shared a photo of them together on his Instagram as well, captioning it, "I could write a letter about your greatness. But the world already knows how I feel.. To another 365 love 🤎."
Woods also documented her birthday celebration on her Instagram, sharing photos of her with her loved ones from the festivities. "safe to say we all had a blast.. this may be my fav party yet 💜," she wrote. "thank you to my friends and family for bringing the best energy 💜 backyard wonderland was a success."
Woods and Towns have been dating since 2020. He'll be turning 27 years old on Nov. 15 - we wonder what big plans Woods has in store for him!
Source: POPSUGAR Celebrity https://www.popsugar.com/celebrity/karl-anthony-towns-25th-birthday-present-jordyn-woods-48961293