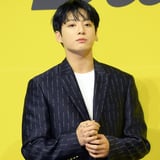 Image Source: Getty / The Chosunilbo JNS / Imazins
Jungkook is effortlessly cool. The BTS member posted a video on Friday of him executing a choreographed routine by Nain to Teyana Taylor's "Bare Wit Me." Jungkook bodies the routine while wearing a black zip-up, a white t-shirt, black sweatpants, and an essential hat - something Taylor always wears when she dances to the song. The K-pop singer is in his element as he makes smooth transitions between fluid dance styles and isolations. At the end of the clip, Jungkook channels Taylor's signature footwork that she does in the "Bare Wit Me" music video.
His post garnered over six million likes by Friday afternoon. Jungkook also got the seal of approval from his BTS bandmate J-Hope. "COOL🔥👏," he commented. I couldn't have said it better myself. Watch the video below!
Source: POPSUGAR Celebrity https://www.popsugar.com/celebrity/jungkook-bare-wit-me-teyana-taylor-dance-video-48706677