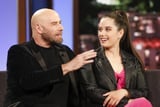 John Travolta's 22-year-old daughter, Ella Travolta, made her New York Fashion Week debut in the Karl Lagerfeld runway show on Sept. 17, and he couldn't have been any prouder. The actor celebrated her achievement on Instagram, writing, "So proud of Ella's debut at fashion week in New York City!"
John constantly supports his kids on social media, regularly sharing glimpses of their achievements and holidays together. Ella also frequently shares her love for her dad online. On Father's Day in June, she wrote, "Happy Father's Day, to the smartest, kindest, most generous man I know. Just by being yourself, you have taught me the most important lessons in life. Thank you for everything you do and for being my friend. I love you Daddy❤️."
The actor was married to Ella's mom, Kelly Preston, for 28 years before she died of breast cancer at age 57 in 2020. John and Preston also welcomed two sons together, Benjamin and Jett, who died at 16 after having a seizure during a family vacation in 2009.
John has been open about supporting his kids through tragedy. "[Benjamin] said to me once, 'Because mom passed away, I'm afraid you're going to,'" he recalled on a 2021 episode of Hart to Heart. "I said, 'Well, it's a very different thing.' And I went through the differences about my longevity and her limited life. I said, 'But you know, Ben . . . you always love the truth, and I'm going to tell you the truth about life. Nobody knows when they're gonna go or when they're going to stay. Your brother [Jett] left at 16. Too young. Your mother left at 57. That was too young. But who's to say? I could die tomorrow. You could. Anybody can. So let's look at it like it's part of life. You don't know exactly, you just do your best at trying to live the longest you can."
Ahead, learn more about John's kids.
Source: POPSUGAR Celebrity https://www.popsugar.com/celebrity/john-travolta-kids-48953634