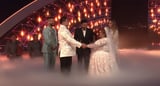 Jennifer Lopez and Maluma are feeling the love with the release of their new film "Marry Me." So much so that they helped four couples get married during their recent concert in Los Angeles. During the show - which streamed live on TikTok - the global superstars were front and center while ordained minister Jay Shetty wed the couples on stage. At one point, J Lo even got a little teary-eyed while the pairs exchanged "I dos."
In addition to the weddings, Lopez and Maluma performed their hit "Marry Me" before Lopez took over and sang more songs from the rom-com's soundtrack, including "Church" and "After Love."
The film - which is out in theaters and available to stream on Peacock now - follows singer Kat Valdez (Lopez) as she prepares to marry fellow singer Bastian (Maluma) on stage during one of their concerts. However, their wedding is called off just moments before when Kat finds out that Bastian has been cheating on her. Instead, Kat marries a person from the audience, played by Owen Wilson.
Check out the weddings and performances from the concert ahead.
Source: POPSUGAR Celebrity https://www.popsugar.com/entertainment/jennifer-lopez-maluma-marry-me-concert-videos-48714736