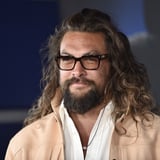 Jason Momoa traveled from Los Angeles to his homeland of Hawaii on Aug. 1, making a special trip in celebration of his water company Mananalu's partnership with Hawaiian Airlines. During the flight, the actor surprised unsuspecting passengers by pretending to be a flight attendant, announcing his presence over the speaker and then passing out Mananalu waters to all.
The journey was documented in a video shot and directed by filmmaker Damien Bray, which Momoa shared on his Instagram page on Aug. 3. It begins with a shot of Momoa stepping out of a black car and smiling. "Bright and early. It should be a good day," Momoa says. "I'm going home to Hawaii with the babies, and we're doing something really cool, very cool, something like how it all started." The word "babies" refers to his two children, Lola Iolani and Nakoa-Wolf, whom he shares with ex-wife Lisa Bonet.
He then explains the purpose behind the collaboration, which is meant to reduce plastic waste from single-use bottles. "Why can't we have aluminum? There's sparkling water, there's sparkling beer, there's soda, soft drinks. Why do I have to have this little single tiny water?" he continues. "I'm going to make the announcement on Hawaiian Airlines . . . I'm excited I'm going home." From there, the video shows him passing out the water bottles to astounded passengers on the flight before having his "Oprah moment" and presenting them all with free miles, courtesy of Hawaiian Airlines.
In the video's caption, he thanked Hawaiian Airlines for the opportunity, which he described as "a dream come true." He also elaborated on his eco-friendly mission. "My idea to create @Mananalu.water came to me while on a flight," he wrote. "We're on a mission to end single-use plastic. Drink one, remove one - For every bottle of Mananalu sold, we remove one plastic bottle from the ocean. We have removed 3 MILLION plastic bottles from the ocean this year. Don't stop making waves to save our beautiful planet. aloha j".
The video comes a little over a week after Momoa was involved in a head-on collision with a motorcyclist, which he fortunately walked away from unscathed. The actor, whose upcoming projects include the next Fast and Furious installment, "Fast X," and "Aquaman and the Lost Kingdom," was spotted spending time with reported ex-girlfriend Eiza González in early July.
Source: POPSUGAR Celebrity https://www.popsugar.com/celebrity/jason-momoa-hawaiian-airlines-flight-attendant-video-48908728